La Crosse's Fall Happenings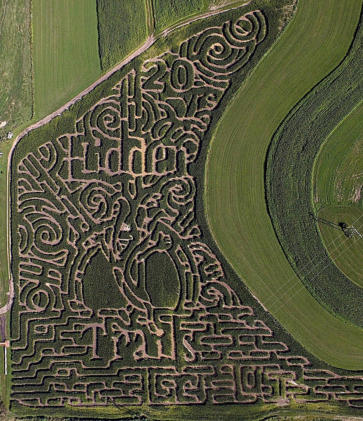 Halloween is creeping around the corner and with trick-or-treating comes the end of the best month of fall. October brings an array or fire-colored leaves, crisp air, and seasonal activities. Fall into the season with these La Crosse area activities! 
 Until November 5, you can get lost for fun. Hidden Trails corn maze is celebrating their 20th anniversary this fall, and miles of mazes isn't the only festivity they host. Hidden Trails is also home to many farm animals that guests can fawn over from the seats of a wagon ride. Swing by the pumpkin patches on your way out to pick up a future jack 'o lantern or pose for Insta-worthy pictures.  
 Looking for a creative fall experience? On Tuesdays you can drop into All Glazed Up! on Pearl Street with your student ID to get 20% off  glass and pottery pieces to paint! Try making a spooky pumpkin mug or decorative plate for caramel apples. Or, if you're more into painting, try out Creative Canvas and Board! On October 27, they're hosting an Autumn Sky painting session. 
 If you want to get outside, join a hike leader on October 28 on Hass Bluff. The hike leader will take you on a beautiful trek through the trees and onto the prairie where they'll lead the group through some basic yoga stretches.  
 The Great Pumpkin Chase 5K Run/Walk is another great way to enjoy the fall outdoors. The event starts at 9 am on October 28 in Upper Hixon Forest. All proceeds will go to WisCorps, so don't forget your costume for this fun event! 
 On the look-out for a spooky, yet memorable way to enjoy the fall colors? Check out Haunted History – A Hike to Remember on October 28 for just that. Join hikers for a guided walk through Chad Erickson Park into a spookier time in La Crosse's history.  
Enjoy delicious treats and create marvelous memories while apple picking! Explore one of the La Crosse area's many apple orchards, like Southwind Orchards (only 10 minutes outside of La Crosse) and experience the picture-perfect fall activity yourself.   
Mark your calendar for the 23rd annual Turkey Trot 5K run/walk on November 18th. This is a UWL hosted event, so show some Eagle pride, toss on a costume and trot to the finish line! 
Join in the fall fun this season and experience the beauty of La Crosse's most colorful time of the year!