17th Street Making La Crosse Safer for Cyclists
Hang on for a minute...we're trying to find some more stories you might like.
You may have noticed 17th Street getting a new look, but did you know that it's also getting a new purpose? La Crosse is implementing its first neighborhood greenway.
Neighborhood greenways are also known as bike boulevards. According to the City of La Crosse, "A bicycle boulevard is a roadway that has been designed to encourage bicycling by making the roadway more favorable to bicycling than to automobiles." They are typically installed in low traffic areas, such as neighborhoods.
UWL student Stacey Harder is well-versed in biking around La Crosse, 17th Street included. "I cycle around La Crosse just about every day, while the weather stays nice."
UWL Associate Professor, Dr. James Longhurst, commented, "I ride a road bike for recreation, but in town I am what's called an "everyday cyclist" — I ride a bike in my work clothes, and just make it part of my daily life."
Longhurst is actively involved in several bike projects, like La Crosse Area Labor Day Bike Fest, as well as being a member of the Committee on Transit and Active Transportation of the La Crosse Area Planning Committee. He also works with the city of La Crosse Bike Ped Advisory Committee.
Longhurst explained, "The goal of the master plan…is to create a basic bike network that allows for safe, understandable, and low-stress ways to bike or walk around the entire city, to increase health, decrease parking costs, reduce traffic and peak-hour congestion, and allow for different ways that people need to get around."
Harder said that UWL "…is a cyclist-friendly institution with its wide sidewalks and many lock-up stations."
Longhurst considered other aspects of what it means to have a cyclist-friendly institution. "…There are no bike lanes anywhere on campus to increase safety for bikers and walkers both; there is some safety education but not enough, and no student bike-walk-bus-advocacy or safety group."
Harder stated, "I think the Outdoor Connection here on campus does a great job training cyclists to ride safely through their Green Bike program, but not everyone takes that training."
Harder had a few ideas for improving cyclist safety. She suggests that every bike-owner on campus should have to register it and then take safety training.
To get people attend the training, Harder thinks incentives such as gift cards, free helmets or bike locks could be an option. Harder's last idea was to "…advocate for safe cycling techniques in coffee shops around town or in the stall seat journals on campus."
Longhurst went on to say, "I think that La Crosse is doing pretty well, but with that early lead, and comparing it to other cities, it might be falling behind a trend in American cities to support active transportation." He added, "For example, there are very few usable bike lanes in the city, and no protected bike lanes of any sort whatsoever."
Looking forward, Longhurst said, "I'd like to see marked bike lanes and signage on campus; I'd also like to see bike lanes or greenway development on Badger, and I'm working on a grant application to develop that project."
Harder ended with a positive remark. "I am glad to have a bike!"

About the Writer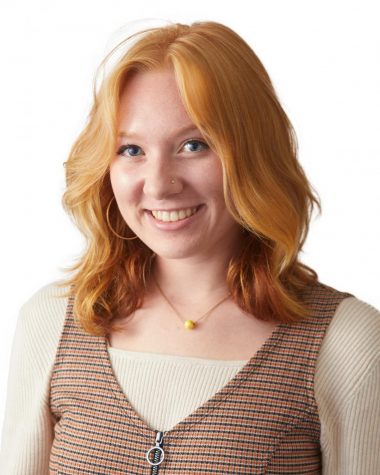 Karley Betzler, Executive Editor

Year at UWL: Senior
Hometown: Anoka, Minnesota
Major: Communication Studies with an emphasis in Media Studies
Minor: Professional and Technical...