Eagle Voice: Jacob Schimmel and Lauren Mason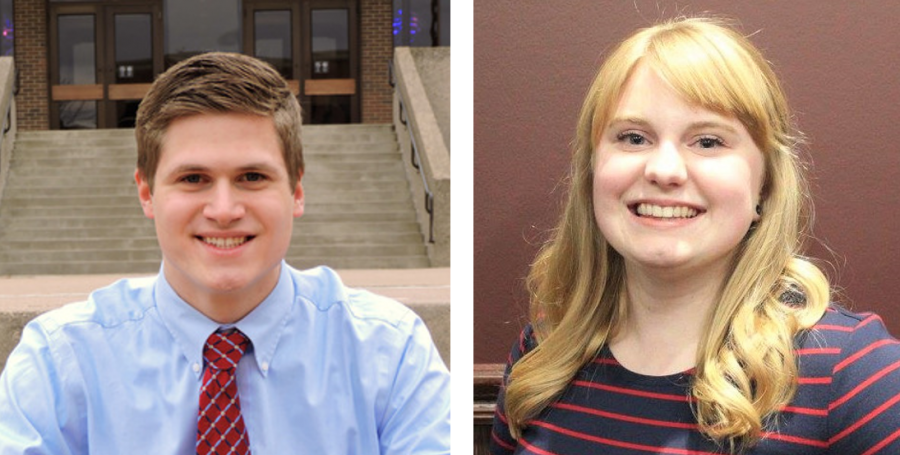 Noah Finco, Managing Editor
October 30, 2017
From passing bills to lobbying at the Wisconsin State Legislature, Student Association President Jacob Schimmel and Vice President Lauren Mason's impact on students is far and wide.
"As President, I serve as the official voice for students and their concerns," said Schimmel explaining his role. "It's a broad definition but it carries a lot of weight and responsibility." Schimmel's typical day, if there is one, involves attending meetings with students and administrators, making sure there is good dialogue between them.
"In addition to being a representative of students I run the Student Senate," explained Mason "I enjoy that I not only get to listen to students, but I get to guide students as well."
The way Schimmel and Mason attained their positions varies greatly. Schimmel came to UWL to play baseball but arrived on campus with the goal of serving as Student Body President.
"When looking at colleges, I wrote down different organizations and activities from different colleges and UWL had the most I was interested in," stated Schimmel. He started as an Resident Hall Advisory Council (RHAC) representative and later a Student Senator before becoming President.
Though Mason also started her career in RHAC, she had no specific aspirations for leadership and only applied for the position after seeing a flyer in her residence hall. Later, she found she had a knack for leadership and climbed the ladder to her current position.
Supplementing his role as President, Schimmel is double majoring in Political Science and Public Administration and hopes to work in government post-graduation.
"I've developed a "you don't know if you try it" philosophy while in college," stated Mason. She started in Pre-Med with aspirations to become a Medical Examiner. Later, she switched to a Statistics major before ultimately settling on Computer Science and Statistics.
Outside the classroom, Schimmel and Mason engage in several hobbies in what time they do have.
"Reading and the outdoors excite and me and I am lucky that I live in a place with such great options," said Schimmel.
In addition to reading, preferably with a cup of tea and a blanket Mason claims, she also enjoys boating and is a self-proclaimed music nerd.
Both claim that their favorite parts about UWL is the passion and involvement from students.
"There are so many opportunities outside of the classrooms that prepares students for the professional world," stated Schimmel.
Regarding something that they would change about UWL, Schimmel stated that he would like to make classes more available to students and to make class registration easier.
"I would like to see growth in the comfortability in civil discourse," answered Mason. "Though this is not an issue specific to UWL, I think it would be valuable to grow in that area."
For more from President Schimmel and Vice President Mason, you can listen to the full-length interview above or at the RAQ Podcasts Soundcloud page.