UWL's #MeToo March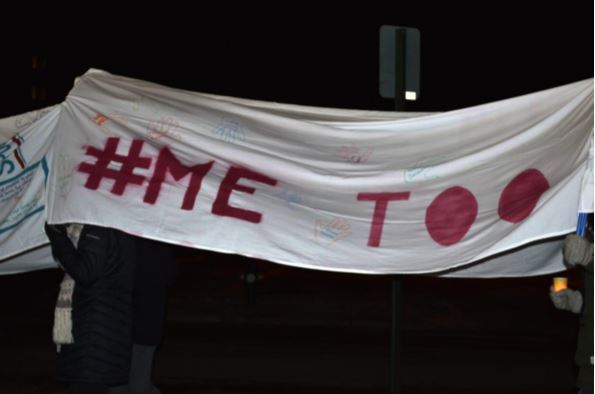 On the bitter-cold night of December 14, members of the UWL community hit the streets with candles in hand and a purpose among them. Billowing above their heads was a long collection of white sheets covered with the phrase "#MeToo."
These people were gathered on the streets to bring awareness to the Me Too Movement. They briefly chanted, "N-O! No means no!" as they walked along West Avenue; those driving nearby gave a friendly honk while their passengers leaned out the windows to wave or give a thumbs up.
The Me Too March was organized by UWL Lecturer, Daniel Green. Green explained that he began organizing this march because he felt "a sense of integrity and responsibility."
Green began spreading the word about the march in his classes and with his friends in the La Crosse area. Green stated that organizing this march has impacted his life by creating, "a sense of shared spirit, both with my students working on the project and those in the media."
Green explained how he hoped this march would affect the UWL community. "UW-L has its share of survivors, I hope this entire movement enables a global change, of which UW-L is a part."
The main fixture at the Me Too March was a structure called the "Consentipede". The pun on consent was thought by some to be making light of the subject. UWL Sophomore Sophie Klein remarked that she thought the bug was funny. Klein went on to say, "I think that people saw it and thought of the movement, so it did it's job, but it's still a bug marching down the street. Posters in the daytime would've done the job better, I think."
This Me Too March follows the recent events of many women and men sharing their stories of sexual assault or harassment in order to expose sexual predators and break a culture of silence. There is also a hope that these events will create a culture of zero tolerance towards sexual misconduct of any degree.