Eagle Voice: Head Football Coach Mike Schmidt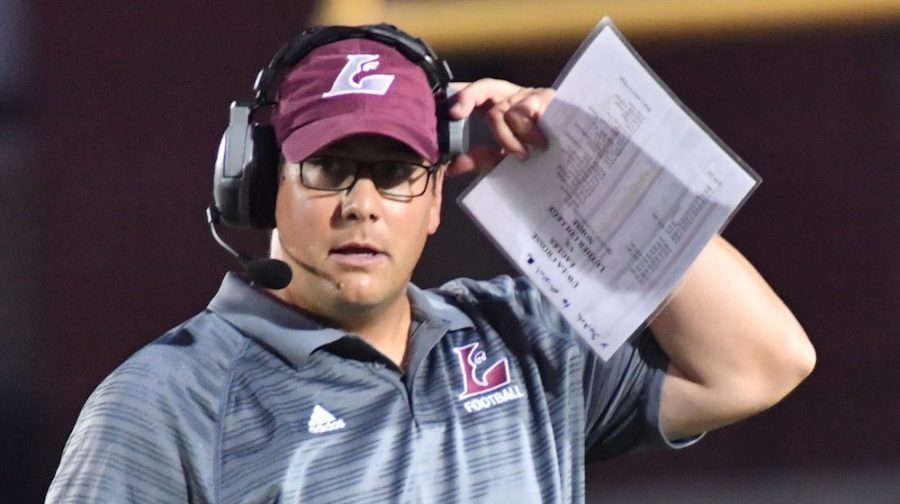 Noah Finco, Managing Editor
February 23, 2018
University of Wisconsin-La Crosse football head coach Mike Schmidt has a big personality with some bigger aspirations. He wants to take a football program that has sat near the bottom of the WIAC for the last few seasons and have them win multiple NCAA Division III National Championships. That's correct, multiple.
Schmidt attained his passion for coaching as an undergraduate student at UWL, serving as captain for both the baseball and football teams. "I studied marketing while at UWL and once it was time to get a real job, I found that I didn't want a real job and instead I wanted to stay in athletics," stated Schmidt.
Through one of his coaches at UWL, Schmidt found a job as a graduate assistant at the University of Minnesota-Mankato before following a Mankato coach to the University of Dubuque. "I had a really great time at Dubuque. I was eventually defensive coordinator and I was voted national assistant coach of the year when we won conference for the first time in almost 40 years."
Though comfortable at Dubuque, Schmidt had his sights set on the head coach position at UWL. To edge closer to that goal, Schmidt took a job at the University of Wisconsin-Platteville as defensive coordinator. Not nine months later, the head coaching position at UWL opened up and Schmidt was hired.
In his first season has head coach, the Eagles attained a conference record of 2-5 with a 5-5 overall record. In his second season however, UWL football amassed an 8-2 overall record with their only conference losses coming to close games with UW-Whitewater and UW-Oshkosh.
Next year, Schmidt aims to go 10-0 and make a playoff run. Though shooting for an undefeated season, Schmidt reiterates that winning is not the most important thing "Winning is never the most important thing here and it shouldn't be. We're at a level where guys aren't going to make it to the NFL and they are paying to be here," explained Schmidt, "However, are we going to win? Yes, a lot, and that's my favorite thing about Division III football is the game is pure, we're doing this because we love it."
When asked to describe a typical day as a head coach, Schmidt joked that "no one wants to hear what my day is like, some days I don't even want to have a typical day as a head coach." Schmidt starts his day by dropping his two kids off at school and the rest of the day, he describes his work as "fostering relationships."
"I meet with coaches and players and make sure they are succeeding in not just football but every facet of life. We do that through meetings, text messages or just hanging out in my office as I truly have an open-door policy because my office doesn't have a door."
When asked about his favorite memory as a coach, Schmidt opted to instead tell a story of his least favorite memory as a coach, but the most powerful. "That moment came right after we won the conference championship at Dubuque. It was something I worked so hard to achieve and I couldn't believe how empty I felt when it actually happened," explained Schmidt, "It turns out to reach this goal I made a lot of sacrifices in my life. It caused me to be a terrible husband, father and friend. That was when I realized that simply winning is not enough. Instead, I realized that coaching is about educating young adults on how to be a well-rounded person and to not compartmentalize your life."
For a coach whose primary objective is not winning, Schmidt plans to continue to do a lot of it. Currently, the coaching staff is on the hunt for a new offensive coordinator. Simultaneously, Schmidt is traveling throughout the Midwest, sometimes up to six high schools a day, recruiting new players. Through this formula of gaining talent, positivity, and enforcing well-roundedness as opposed to just winning, Schmidt believes the Eagles will return to their winning ways and emerge as National Championship contenders reminiscent of the powerhouse that was UWL football in the 1980's and 1990's.
To listen to the full interview with UWL football head coach Mike Schmidt, click the SoundCloud link hosted by RAQ Radio Podcasts.