Sports Club Spotlight: Equestrian Club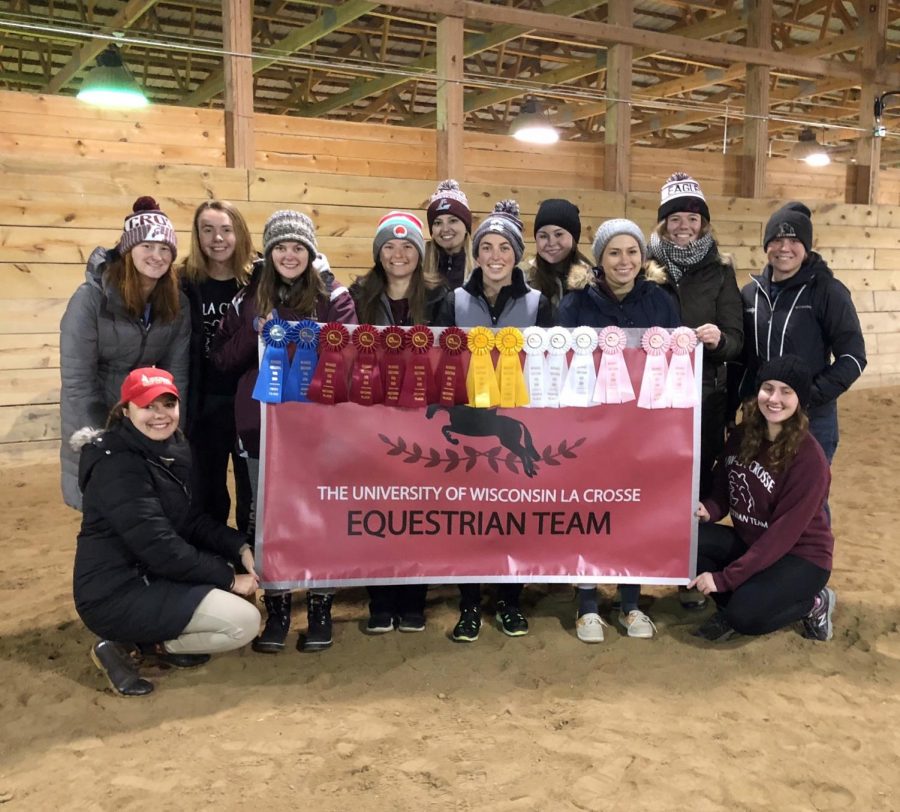 Trevor Kliebenstein, Sports Reporter
April 10, 2019
The UWL Equestrian club is in full gear now that winter is coming to a close. The club is a team comprised of around ten individuals who compete against other colleges in the region through the IHSA (Intercollegiate Horse Show Association).
According to club president Wendy Peotter, a junior at UWL, the club competes against schools in the nearby area. Nine schools the club competes against are Augustans College, Lake Forest College, Purdue University Northwestern, Iowa State University, Northwestern University, University of Notre Dame/Saint Mary's College, University of Wisconsin-Platteville, University of Wisconsin-Madison and the University of Wisconsin-Milwaukee.
"We have practice once a week and about 3-4 show weekends per semester," said Peotter. The club practices at a barn about 20 minutes away from campus.
Senior Danielle Koshak, who has been on the club since freshman year, looks forward to practice day every single week. She said, "My favorite part of being on the Equestrian team is having a day each week to go out to the stables and get away from some of the chaos around campus. The barn we go to has beautiful views and it's so relaxing to take a moment to be around nature and friends and be away from school work."
AT IHSA competitions, the team competes for team points so they can place highly at the competition. Individuals also focus on personal points because if they reach a certain point number within their division, they qualify to compete at Regionals. Recently, Peotter was one of two UWL riders to qualify and compete at Regionals.
If an individual places first or second in their respective division at Regionals, they move onto Zones. At zones, if they place first or second, they move onto Nationals.
Regarding division, Peotter said, "The great thing about IHSA is that the division ranges greatly. The divisions start with walk trot and move up to jumping. This is nice because you do not need any experience to join the team and are able to compete against other riders who are at the same level as you."
Equestrian club members at UWL don't have to worry about bringing and taking care of their own personal horse, as they practice with horses owned by their coach. However, at competitions, the riders are given a horse they are unaccustomed to. "During competitions, we draw horses at random so we're judged as well on how we handle riding a horse we aren't familiar with," said Koshak.
Members also don't have to worry about having a car to commute to the practice barn. "We carpool for lessons so you don't need a car to be on the team," said Peotter.
While shows and competitions are only in the spring and fall semester, the team practices throughout the whole school year. While the club is competitive, they mostly are in to have fun, bond with their teammates and improve on their individual riding skills. "As this is my last year, my goals are to keep improving on my own riding even though I don't have plans to continue competing after I graduate," said Koshak.
All ten Equestrian club members have a different story behind why they love riding horses. In Koshak's case, it's simple. "It's great exercise and the bond you create with the animals while working towards a goal is so unique."
Peotter has a deeper story as to why she loves Equestrian so much. "I have grown up my whole life around horses as my older sister was already riding when I was just two years old," she said. In fourth grade, her family got their first horse. Peotter has never looked back ever since the day she got her horse.
Riding horses has taught Peotter patience, sportsmanship, and hard work. She also added, "I have made many life-long friends through the horse community. Once I moved to college I found that joining the team has helped me meet others with the same interests as me and going out for my weekly lessons has turned into my me time to do something that I greatly enjoy and to forget about the stresses of school for a while."
Those who are interested in joining the UWL Equestrian club can email Wendy Peotter at [email protected]. For more information on the UWL Equestrian club, visit UWL Equestrian Club.
---
Show Global Grounds cashier this article for a FREE bagel with the purchase of a regular-priced drink! Limit one coupon per customer.