Student-Athletes of the Week: Betsy Schreier and Justin Donkin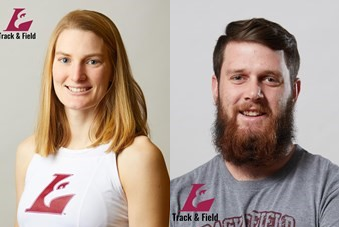 On April 9, University of Wisconsin-La Crosse Eagles track and field standout Betsy Schreier and track and field thrower Justin Donkin were announced as the student-athletes of the week.
Betsy Schreier
At the Ashton May Invitational April 6 in La Crosse, Schreier finished second in the triple jump (38-3 ½) and fourth in the javelin throw (114-0). She now ranks first on the Wisconsin Intercollegiate Athletic Association (WIAC) honor roll and is tied for sixth in NCAA Division III for her 38-3 ½ score on the triple jump. Schreier is also fourth in the WIAC for her javelin throw performance.
The Ashton May Invitational was the first competition this season for the UWL women's outdoor track and field team. This invitational is always a special one for UWL track and field student-athletes as it's in honor of the late Ashton May, who was the former women's assistant track and field coach who passed away in a tragic traffic accident in 2012.
Schreier said that the invitational was a chance to not only compete for her team, but for Ashton May and her family. "Having an intention for what I was doing allowed me to put my desires and fears aside and do something for the greater good of the team," said Schreier.
Since Schreier is a senior, she wants to end her UWL career on a high note. She has big goals for the rest of the season. Regarding the triple jump, she said, "I want to qualify and earn a spot on the podium at the Outdoor National Meet." To do so, she would first have to qualify for nationals by being one of the top 22 triple jumpers in Division III by the end of the season.
Schreier also has goals of winning the outdoor WIAC Conference Championship. "We were not able to bring it home during the indoor season, so we are hungry for the win," said Schreier. She also envisions a top ten finish at the national meet May 23-25 in Geneva, Ohio.
A consistent lifestyle is what Schreier attributed to her consistent success as a UWL Student-Athlete these past four years. "When reminding myself what my goals are, it makes it easier to get up early and lift before class," she said. She also credited her teammates and coaches on her success as a track and field student-athlete.
Schreier is majoring in biology with a pre-veterinary emphasis and a science and health minor. Outside of track and field, she enjoys spending time with friends and family. She loves to ride her Gator with her dog Diesel at home. "I also enjoy doing nothing but sit on the couch and watch movies or tv shows all day," she said.
Schreier's favorite part of La Crosse is the location from her hometown Cashton, Wisconsin. It's just 45 minutes away and she said it's not too close but also not too far from home. She also added, "There is something about La Crosse that makes me feel safe and comfortable. It's the bluffs, the river, the campus, and the great friends that I have met that makes this place so amazing."
Schrier and the UWL Women's Track and Field team compete next Saturday, April 13 at University of Wisconsin-Platteville.
Justin Donkin
Donkin finished second in the hammer throw (189-10) and fourth in the javelin throw (163-2) at the Ashton May Invitational on April 6. He helped his team to an invitational victory while moving up to first on the WIAC Honor Roll and eighth in NCAA Division III for his score on the hammer throw. He is now fourth on the WIAC Honor Roll for his 163-2 throw in the javelin.
While Donkin is very competitive and therefore disappointed he didn't finish first in his individual events, he's glad he finished highly and helped his team to a victory. He said, "This was a great start, but there is so much more room for growth, especially with the highly talented team we have this year. It is going to be very exciting."
Donkin has goals of beating his coaches personal record in hammer throw of 60.40 meters, helping his team win a WIAC Conference Championship, being an All-American in the hammer throw as well as winning a national championship as a team.
Donkin's story of how he got to UWL is an incredible one. He grew up in Durban, South Africa, and that's where he was educated for the majority of his years. However, he decided to take a gap year from school when he was in 12th grade. He became an exchange student through the Rotary Youth Exchange and was sent to Waupaca, Wisconsin.
He explained that he had the greatest year when he was in Waupaca. "My host sister Zoe was on the Waupaca High School dance team and they went to state which happens to be at the La Crosse Center. When we came to La Crosse, I fell in love with it. My host family told me that they were a great school for Sports Science, so I was intrigued. I applied and now I am here in my third year of school."
From South Africa to La Crosse, Donkin credits his success to his family back home and his teammates here at UWL. "They are my support system and are always there to cheer me on even in the bad days," he said. He also attributed his success to his throws coach Philip Whitesitt, his other talented throwing teammates and to all the hours put it on the field and in the weight room.
Donkin is an Exercise and Sports Science Fitness Track major. Besides track and field, he enjoys playing golf, watching Hulu or Netflix and playing Settlers of Catan with his friends.
Regarding La Crosse, he said "I love the bluffs. They are beautiful all year round and are really just a great view all the time. It makes college a little easier when you get to be in a place as beautiful as La Crosse." He also enjoys eating at New Taste of India.
Donkin and the UWL Men's Track and Field team compete next Saturday, April 13 at University of Wisconsin-Platteville.
---
Show Global Grounds cashier this coupon for a FREE bagel with the purchase of a regular-priced drink! Limit one coupon per customer.