Letter to the Editor: A story of activism and the fight for environmental justice in La Crosse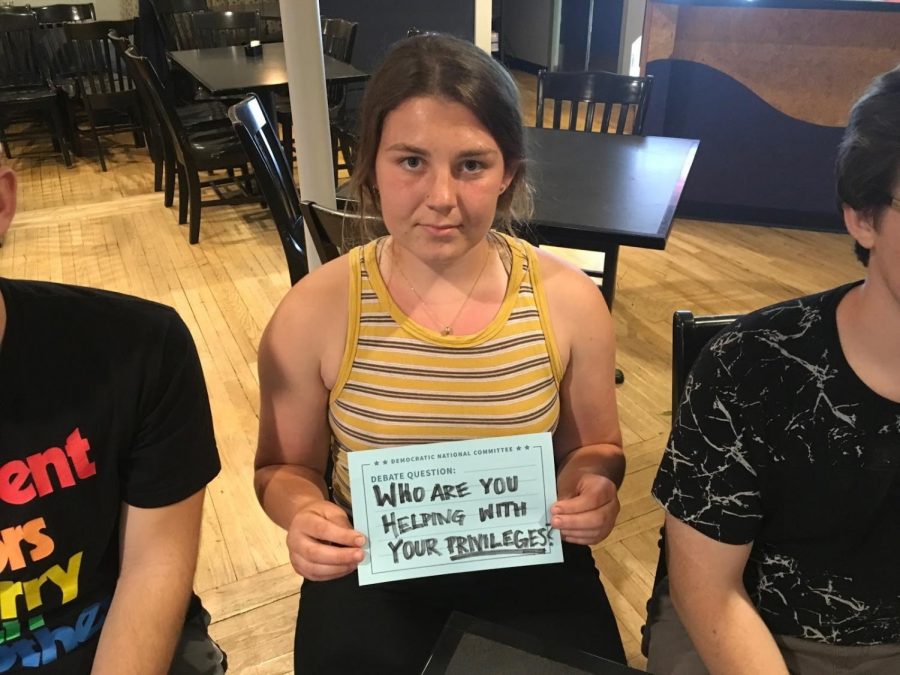 Josie Talbert, Guest Contributor
July 30, 2019
Students often perceive that they cannot make a difference when it comes to political issues. Maybe young people feel like they have no voice because of the time period that we are growing up in–where a portion of the human population is in deep protest of making the big changes that we need. Maybe it is because we grew up feeling small under the looming presence of climate change. Maybe it is because we learned to respect our elders and now those elders complain about our supposed lazy and useless generation.
Simultaneously, we are being told that the world is in our hands. This has the potential to create a negative mindset around participating in climate action. Our political system is not moving fast enough, and we cannot just sit by and accept the state that our climate is in. Every single person matters when it comes to activism. We need to show up, speak out, and be heard.
This summer, I have been able to participate in activities through an internship with Wisconsin Conservation Voters. For this internship, I have been working on expanding early voting in La Crosse. I have also been able to attend meetings with The Driftless Voter Coalition and connect with the River Alliance in Viroqua. During the first night of the Democratic Presidential Debate, I was able to attend a watch party in support of the Green New Deal. We took photos of everyone with a question that they had for the people in power (see below). 
From there, I attended the first and second city council vote for committing La Crosse to 100% renewable energy by 2050. At most of these events, I stayed in contact with Janette Dean from The Sunrise Movement. She is an Environmental Policy Advocate and Organizer from Houston County, MN.
When I asked her to speak about the urgency of student activists, she explained that "…the involvement of younger generations is more important than ever in finally driving action on the worldwide climate crisis. The youth who have been educating themselves on climate science know full well that time is our scarcest resource when it comes to protecting our climate and life on our planet." 
While speaking about the importance of youth in the climate movement, Dean also mentioned an upcoming event: "Adults worldwide will be accepting Swedish climate leader Greta Thunberg's published invitation to join young people in a week of global climate actions beginning Friday, September 20." In order to participate in the event mentioned by Dean, students can call or text the group of co-organizers including Janette Dean (507 – 500-0142) and Coulee Region Sierra Club's Energy & Conservation Chair, Cathy Van Maren (608 – 315-2693). 
When I was increasing my personal activism in La Crosse, I discovered something new. I thought that I would be invisible. I knew that participating would help me feel useful, but I presumed that my voice would not be heard and my stance would not be seen.
I can now tell you that I have felt both seen and heard. In a way, this shows that youth have a long way to go when it comes to showing up. Ideally, there would be so many attendees that only a few would be seen on the news or in social media. This is what we should be striving for.
As a student, it might feel difficult to find event opportunities. These are some resources that could be useful for finding events or contacts: 
The Coulee Region Sierra Club Facebook Page 

The Coulee Region Sierra Club email:

[email protected]

.

Sustain UW – La Crosse Facebook Page 
It is also important to note that no one expects you to do everything. You don't have to take on all possibilities at once, you can just begin attending things that are easy. While attending whatever you can, you also don't have to be vocal–a body simply standing in a room of protesters or lobbyists makes all the difference. You can silently show your support for something by just being there. Then you can work your way up to anything past that.
Sometimes, issues associated with climate change feel overwhelming, and we start to think that one person cannot really matter. Beginning your activism journey might seem daunting, but I want to assure everyone that it is doable and that the reward is worth it. Challenge yourself to find one event for your calendar. Attend that event, and afterwards ask yourself if you felt that you mattered. I bet you that your answer will be yes.