UWL receives 2.1 million dollar donation for the College of Business Administration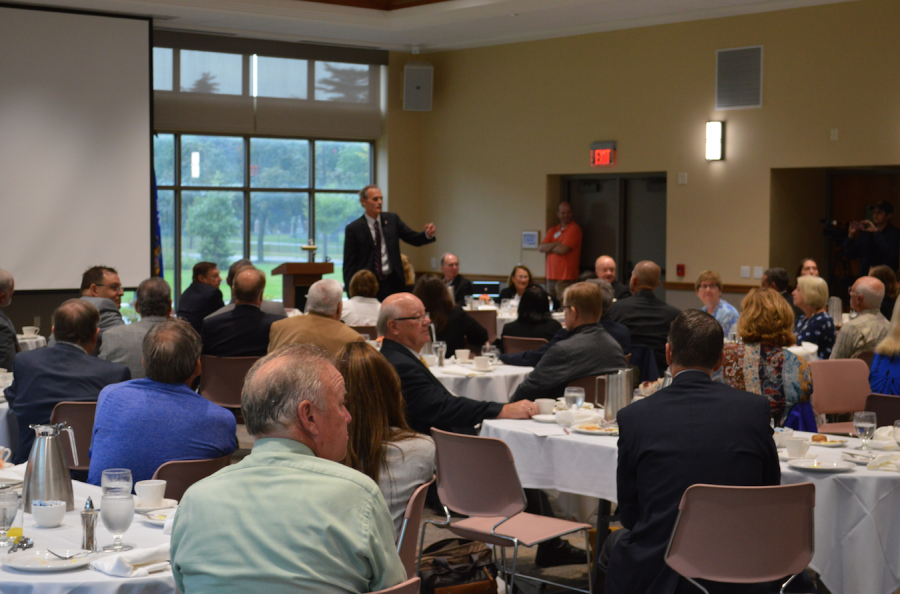 On Thursday, Sept. 19, the University of Wisconsin-La Crosse hosted a News Conference to announce the commencement of a new project in response to its largest donation in university history; a donation of 2.1 million dollars. 
The money will go towards a four-year initiative that Dr. Adam Hoffer, Associate Professor of Economics at the University, has concocted to increase collaboration between UWL, the community, and the greater economic world.
The plan is to create an interactive economics lab that allows UWL students to work on solving real-world economic problems, as well as expand on what was previously the Sports Economics Symposium speaker series, now known as the Menard Family Public Lecture Series.
The students in the College of Business and Administration have enjoyed having professionals from the business world enter their classroom settings for divided academic talks and one-on-one question and answer sessions, with the Menard Family donation, Hoffer hopes to attract higher-profile business leaders who can provide true to life experiences from areas of economics on a larger scale.
The press release stated, "Hoffer says his request not only fits well with the University's strategic plan for advancing transformational education but also efforts to increase community engagement. He says he's enthusiastic to better engage the greater La Crosse area with the great work being done on campus. He's excited to design programs and market them beyond campus."
Chancellor Joe Gow said the two-point one million will "be used to fund some great projects with faculty and students, collaborative research, speakers, and travel, very much what we call active learning."
When asked about the specifics of the students who will feel the impacts, Gow said, "Well I think that when Dr. Hoffer gets the program going it will impact a lot of students. I think it's safe to say initially the students he teaches but then it will grow out from that to impact everybody in the College of Business and Administration."
Taggert Brooks, Professor and Chair of the Economics Department at UWL, says more specifically of the process, "It would be experimental economics, it would be in the lab, like you might think psychologists are working— we're just doing economic type experiments. Maybe we're providing students with money and put them in different scenarios, and allowing them to spend under certain conditions, and testing things, such as mental accounting, and other types of behavioral economics. Why people behave the way they do with their money. But in the lab you can isolate all of the complications of the real world down to one variable."
Brooks also mentioned the potential for the money to be given out in scholarship form and in research grants. "Students will get the experience of seeing how research is conducted. So we'll be helping to facilitate that. We will also need subjects, and oftentimes these students will get an allowance. So they will be the subject of research and get a feel for the research but get paid money to do so." 
The Menard family commented about their donation as well, "We are pleased to support UWL students and scholars as they expand their explorations of the issues impacting the state and the nation. The programs and research undertaken by the university's center will further the school's position as a critical resource of knowledge on economic issues." 
"We have faculty and staff that do fantastic things with students, and donors see that and say — 'I want to be involved, I want to invest in that. We are the first UW system to receive this type of gift," said Gow. Gow also mentioned that UWL would have been completely incapable of initiating this project on their own. "We do appreciate the support that we get from the state of Wisconsin and certainly the tuition that we see from students, but we need these kinds of gifts to do just that little bit extra," said Gow.