Photo series: Indigenous Peoples Day celebration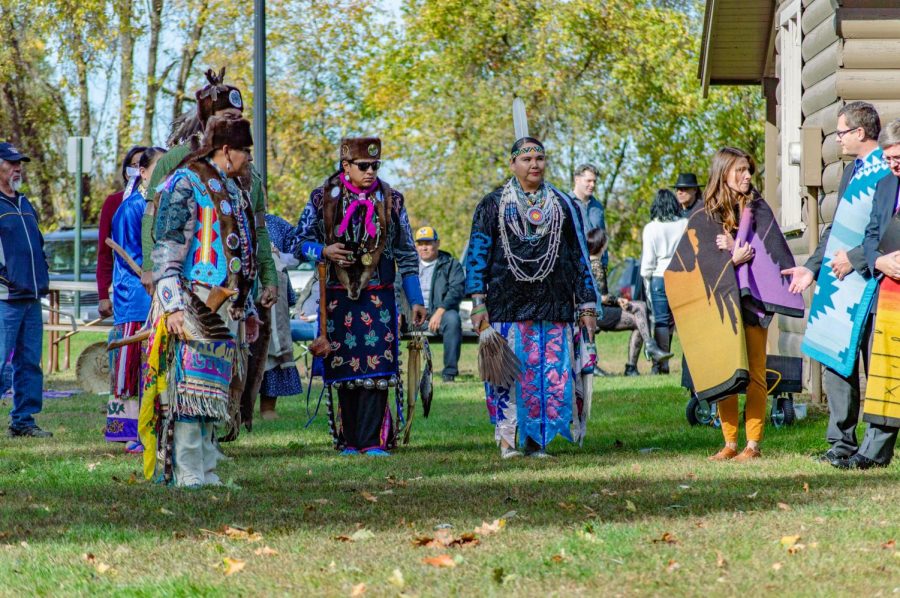 On Oct. 14, many celebrations were held across Wisconsin for the first state-recognized Indigenous Peoples Day. As reported by Wisconsin Public Radio, this day was designated as a counter-holiday to Columbus Day.
"Considering that a lot of my education growing up was, 'Christopher Columbus discovered this and discovered that and did all these great things which isn't an accurate representation of our history and just how little we know about first Nation's indigenous people and Native American's it does a disservice to our country to our history to not be as transparent about what actually happened as we can be. The fact that we're hosting an event like this— it's just amazing that we're finally doing this, I mean it's a hundred years late but better now than never. And I hope we keep bringing them into conversations, especially one's about the land that include them," said UWL student K.C. Cayo.
"I'm Joslyn Diaz, president of the Latin American Student Organization; I came with one of our exec members. It's important to come out and support our people, support who was here before us. As a Latin American… we were also Natives here. I'm Mexican so I have [indigenous] ancestors. Supporting and recognizing and spreading more awareness of our history is important," said UWL student Joslyn Diaz.
"I'm Kelly Johnson I'm also in the Latin American Student Org.. One reason I wanted to come out was to support NASA, the Native American Student Association on campus. It's the second year today's been recognized as Indigenous People's Day. And it's important to acknowledge that we've changed the name from Columbus Day. I also wanted to see what NASA had planned for the day. It's really interesting to see the Ho-Chunk do an actual ceremony and dance and song," said UWL student Kelly Johnson. 
"I'm Matilda Sprain. I am a member of the Ho-Chunk Nation and part of the Santee Sioux tribe. I'm a member of NASA. I was a former co-chair, former senator, former… every position. Indigenous People's day has been a long time coming. It's the least we can do to honor the Ho-Chunk people and all of the indigenous peoples. Right now we're still trying to get the Land Recognition passed through. We've been working that for years. I was actually one of the original members that helped get that passed through all four governing bodies. We had ceremonies with the Ho-Chunk nation. We've gone out into the community and gotten their support. Getting Indigenous People's Day recognized throughout the state and now throughout the Nation—cause it is moving across the nation—that's another step in the right direction. The Land Recognition is a statement that NASA came up with, recognizing that the University of Wisconsin-La Crosse occupies the land of the Ho-Chunk Nation and honoring all of the ancestral lands that we're on. It's a reminder that wherever you go you're going to be on the lands of indigenous people," said Matilda Hainiwiragųųšgeing Sprain. 
Traditional dancers, Allie Magiksujewi Hopinkah and Heath Nasanehiga Littlejohn. 

About the Contributor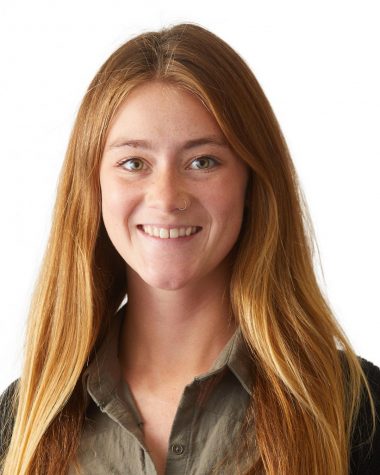 Carly Rundle-Borchert, Photojournalist

Year at UWL: 5th Year
PGPs: She/Her/Hers

Hometown: Bloomington, MN

Major: English with an emphasis in Writing and Rhetoric
Minor: Photography...