Photo Series: the Humor House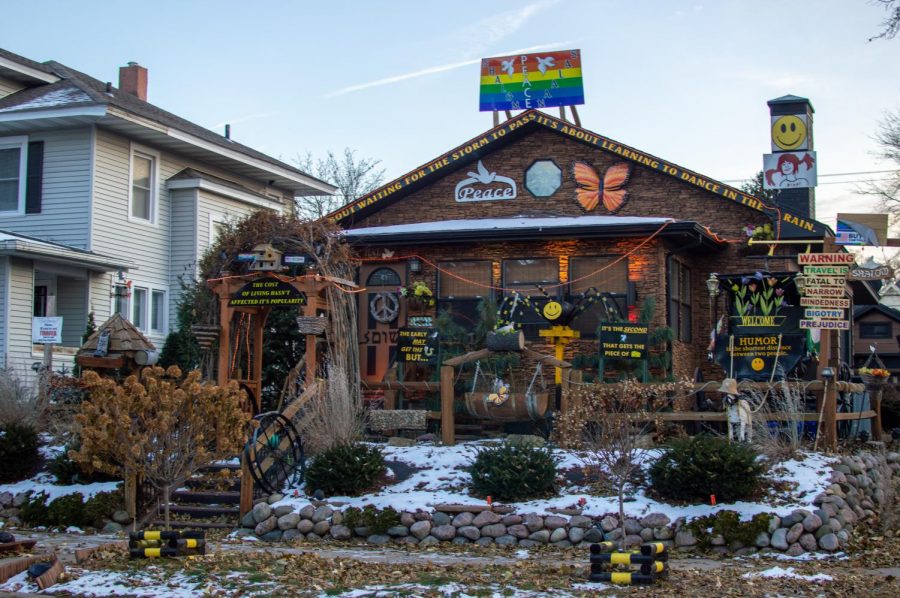 Steve New, born and raised in La Crosse, WI, lives across from the University of Wisconsin-La Crosse campus. Quotes and art shape his home, yard, and outlook on life. New sat down with The Racquet to share his unique, well-traveled perspective.
New said, "This house was just like everyone else's on the block before I moved here. I've been here about 12 years. I just want to be different. I've got a lot of joggers come by, they say 'You know I come by and I'm getting tired jogging they say you just gave me some more spirit. I just want to make people happy in my own way, as much as I can. I don't know why more people don't do it. My one sister thinks I'm a little wacky, well both of them do I think but… I think it'd be fun to have a whole row of houses that show what people feel about the world they're living in, their thoughts."
"Laughing makes you feel good. Some people are missing out by not laughing. One of the sayings I've got out there is a smiles the closest distance between two people. That was one of the earliest sayings that I collected. It is so true especially with traveling, and when there's a language barrier," said New.
The Racquet Press held a question and answer session with New.  
Q: How many countries have to traveled to? 
"I've probably been in thirty. But I've lived in Scotland on and off for three years. I've been to Israel four times, probably a year and a half total. And I've lived in Australia twice. I like absorbing myself in culture rather than zip through, see a few things, and go on my way. Living in the countries is what I'm most proud of."
Q: How have you been able to do so much traveling?
"I did a lot early. When I was growing up in the 60s there were a lot of factory jobs available, where you can work, save money and then take off. When I was 21 I went to Australia. I told my  my folks when I was 18 at graduation, 'La Crosse is such a great place I never wanna leave it. Less than three years later I was on my way to Australia. I love this town. It's a good home base. They've had fights over the years about putting a highway through the marsh. There's been a lot of opposition to it thank God. That would really be bad."
Q: Any moving memories from traveling?
A: "My most memorable memory traveling was my first time in Israel, 1973. I went to the bank to change some money, first day in Israel, Telaviv. It was an old time bank with bars in the window. The counters were really high for some reason. I looked about four tellers down and here is this short short older lady, her arms up on the counter. She could barely see over the thing. She had the blue number from the concentration camps tattooed on her arm. I'll never forget that as long as I live. It symbolized what she went through, what a whole race went through. It's stuck in my mind like a freeze-framed photo. As soon as I saw it I knew I'd never forget it." 
"I'm scared to death of heights. I hate ladders. It took every bit and more for me to go skydiving. But I get in the airplane and a calm came over me. I thought, well all these people are doing it; I've been to Israel and talked to soldiers who have jumped out of airplanes with live fire. If they can do it while being shot at I guess I can do it. You get people asking 'Why would you ever jump out of an airplane. But the quote I have up there, 'Take risks not to escape life but to prevent life from escaping'. I do things like that so life doesn't escape me. I can't do it when I'm dead." 
"When I was 21 and went to Australia I fell in love with traveling. I had to make a decision at some point. Do you want to have a family and kids or do you want to travel? You can't really do both unless you're pretty wealthy. So I thought well, I think I'd rather travel with my life. And it was the right decision. I could never see myself in a home life. There's… just too much to do."
"I'm all for family. It just wasn't for me," said New. "There's a lot of heart-ache in life. I do miss sometimes the closeness of a relationship. But then you either get close or farther apart; you don't ever stay the same."
This past year New traveled to England and Portugal. His next destination is Morocco in January. "It is something you have to balance though—traveling and having food on your table. It's been a struggle… I was hitchhiking in the Siani Desert with this Israeli guy, young guy—18 years old. He was going on a vacation before he goes in the Israeli military. We decided to get a hut on the beach for an overnight stay. It was a dollar a night. Just a straw hut in the sand. I said to him 'These are pretty spartan accommodations.' and he goes, very serious, 'If you wanted it easy you would've stayed home.' That always struck me. I guess that's why I do it; it's about overcoming obstacles and experiencing hardships.

About the Contributor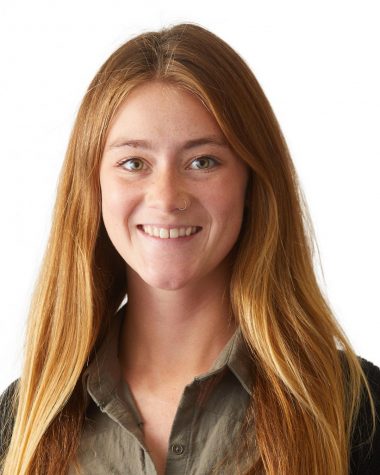 Carly Rundle-Borchert, Photojournalist

Year at UWL: 5th Year
PGPs: She/Her/Hers

Hometown: Bloomington, MN

Major: English with an emphasis in Writing and Rhetoric
Minor: Photography...