Club Close-Up: Women's Hockey Club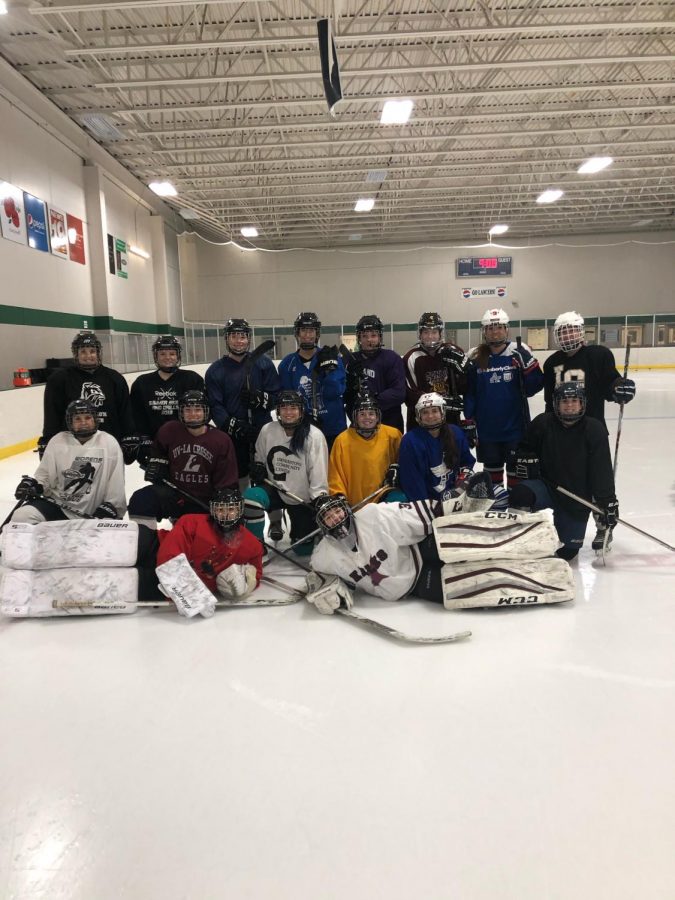 President of the Women's Hockey Club and senior at the University of Wisconsin-La Crosse Madison Roy joined the team in 2016, during her freshman year. Roy has been playing hockey since she was young and wanted to continue to play after beginning her collegiate career. "My family is really into hockey," said Roy, "So, I have been playing since I was in kindergarten." 
Vice President of the Women's Hockey Club and UWL junior Allison Mork also joined her freshman year. "My dad is really into hockey. He kind of shared that love with me when I was really young," said Mork. 
The team is low commitment, having practice two days a week and playing series on the weekends. "We practice Tuesday and Thursday nights, from 9-10 p.m. We play two game series most weekends, we have a couple weekends off here and there," said Roy, "We play Saturday nights and then Sunday against the same team."  
The season begins in early October and runs through February. "We played our first series in October, and we start practicing two weeks before that first series. Regular season will go through February and nationals, if we would make it, will be in March," said Roy. 
The club gives members a chance to travel and play around the entire Midwest. "We have gone to Iowa, North Dakota, Michigan, Madison, Eau Claire and Duluth for games and series," said Mork, "This year nationals is actually in Texas." 
Roy said the process of getting involved with the team is easy, and they are always open to emails with any questions. "We set up a booth at REC-Fest and we try to be really welcoming," said Roy, "We try to get girls to talk to us and convince them to play. I will also get emails from girls interested in playing, I've gotten a lot from incoming freshman looking to play prior to admissions." 
There are 18 girls on the roster this year, but they can hold up to 22. There currently is not a tryout period. "We typically, in the past years, haven't had tryouts because there weren't high numbers. If we ever did get more interest, we would definitely go through a tryout period, but for now we don't need one," said Roy. 
Mork said the season has been going well so far, and they will be having some big games coming up. "We have actually been doing really well," said Mork, "We beat Iowa, which is a pretty big rival, so that was a big win for us and really exciting. We also have Duluth coming up, and that will be a pretty intense game as well." 
The team allows students to get involved on campus, be active and make new friends. "It is an excellent way to meet people, that is for sure. The team spends a lot of time together," said Roy, "It is a really good way to be active and keep playing something you love." 
"I like being on the team because all of my friends are on it too," said Mork, "It is a low enough commitment where you can still make school a priority, but still be active in sports and not have to worry that you will be missing too many classes."  
There are no prerequisites to join the team, and they allow any skill level. "A lot of the girls have been playing their whole lives, but you do not have to be an expert. It's not as intense as a varsity sport, so a couple practices a week and a couple games just to keep your legs moving. It allows you to really still be a part of the game," said Roy.
Mork said she had nerves joining her freshman year but is glad she gave it a try and stuck with it. "I think the biggest thing I was nervous about coming in as a freshman was fitting in with a group of girls who were so much older than me," said Mork, "People are coming in at 17 or 18 years old and a majority of the team is 20 or 21 years old, but I think everyone is really welcoming. For the amount you are paying you really get a lot out of it."  
"Everyone is super welcoming. I understand why there would be hesitation or nerves though, because it is really scary coming into college. The age gap is hard because a senior has so much more life-experience compared to a freshman, but everyone is super welcoming, friendly, and easy to talk to," said Roy, "So I would definitely recommend it to anyone. Honestly, just give it a try."   
For more information about the Women's Hockey Club visit the MyOrgs page or email [email protected].