Photo Series: Climate Protest outside Representative Ron Kind's office
On Friday, Dec. 6 a group of University of Wisconsin-La Crosse students and community members stood outside of the La Crosse District Office showing their support for environmental action on local, state, and global levels. Protesters attended the sit in from 9 p.m. to 5 p.m., taking breaks to warm up in the lobby of Representative Ron Kind's La Crosse office. 
Students organized to wear all black to symbolize the danger and death that people and living things face due to the accelerating climate emergency.
Sophie Byrne is a freshman studying political science at UWL. "I'm here because I feel like our actions, no matter how small, really have a big impact. If we're here and we show that we care and that we're doing something it can really spread and influence a lot of other people. I really care about our environment, our climate and ecosystems. We're not treating them how we should be and I want change and I feel like this is how we do it," said Byrne. 
"The international youth climate strike #FridaysforFuture movement began is Aug. 2018 by Greta Thunberge. Teenagers, college students, and residents have been participating in 'protesting the lack of political will from adults to address the immediate climate crisis,'" reported Jennifer Lu from the La Crosse Tribune in July of 2019.
"It's important that these strikes continue and that we continue to spread awareness and be persistent with our message," said UWL student Gabriela Geller.
"Many of the issues that we face today, social issues especially are interconnected with the environment and the economy. You can't have one without the other. All three of those are needed to be in harmony to have a sustainable world, eliminate poverty, hunger… It's time that the government and people in power realize that it's not all about the economy; it's also about the social and environmental aspects," said Geller.
"I'm taking an intro to environmental studies class right now to start my major right now," said UWL student Tara Metzger, "We're learning that the United States has the ability to go completely renewable, with sun and wind energy, but we're lacking the willpower. So we need to prove to [politicians] that it's an important enough issue for us. That's why we're here," said Metzger.
"We'll continue to be out here spreading awareness. We won't back down and we won't stop until something changes. Thank you," said Geller.
About the Contributor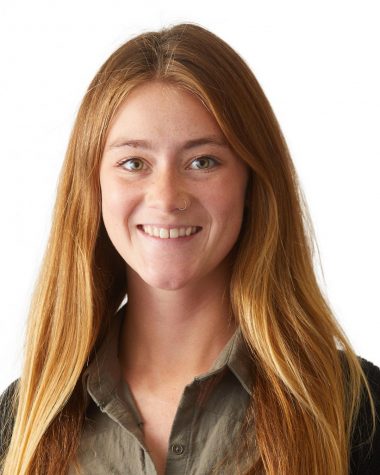 Carly Rundle-Borchert, Photojournalist

Year at UWL: 5th Year
PGPs: She/Her/Hers

Hometown: Bloomington, MN

Major: English with an emphasis in Writing and Rhetoric
Minor: Photography...