Election year begins with primary elections in the 7th ward of Wisconsin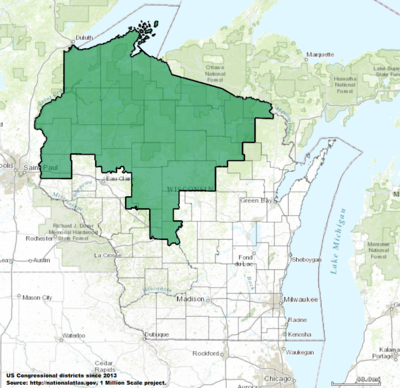 Luis Acosta Jr., Student Government Reporter
February 6, 2020
February in Wisconsin marks the beginning of the election year with the Spring 2020 primary elections. Special elections to fill the seats of Sean Duffy, who left his position upon the birth of his ninth child, for Wisconsin's 7th Congressional District in the U.S. House and of retiree, David T. Prosser for the Wisconsin Supreme Court are both set for Feb. 18, 2020.  
The Democratic primary candidates for the 7th ward of Wisconsin include Green Party insurance salesman Lawrence Dale, who will run against Ho-Chunk Supreme Court associate justice and Wausau School Board member Tricia Zunker.  
For the Republican primary candidates, former aid to U.S. Sen. Ron Johnson and veteran Jason Church, will run against the former owner of Wisconsin river cruises Sen. Tom Tiffany. Michael Opela Sr. will also be running as a write-in candidate after being disqualified from the Republican primary. 
Wisconsin's 7th Congressional District contains Ashland, Barron, Bayfield, Burnett, Clark, Douglas, Florence, Forest, Iron, Langlade, Lincoln, Marathon, Oneida, Polk, Price, Rusk, Sawyer, St. Croix, Taylor, Vilas, and Washburn counties, with portions of Chippewa, Jackson, Juneau, Monroe, and Wood counties as well.   
Marquette University law professor Edward A. Fallone, incumbent Daniel Kelly, and Dane County Circuit Judge Jill Karofsky will seek a 10-year service term on the Wisconsin Supreme Court.  
The Wisconsin Supreme Court election will be a nonpartisan primary, even though Kelly, who was formally appointed to the court by former Gov. Scott Walker to fill the vacancy from the retirement of David T. Prosser in 2016, will be supported by the court's majority conservative members. Fallone and Karofsky will adopt the court's minority liberal doctrine. 
For those who have residencies in Wisconsin's 7th district but reside away from their official polling station, will need to apply for an absentee ballot. Through My Vote Wisconsin, a program created by the State of Wisconsin Elections Committee, information can be found on how to register as a voter, updating names or addresses, finding the nearest polling place or requesting an absentee ballot. Absentee ballots need to be requested by Feb. 13. 
Registering at the nearest local polling location is also an option, one which would require a form proving your residence. The University of Wisconsin-La Crosse provides valid proof of residence for voter registration, which can be accessed and printed off through the wings student center. It can be found in the sections lower right-hand corner in "other resources." For UWL students living on campus, they would cast their votes in the Student Union. Eagle ID cards are also capable in serving as your Wisconsin voter ID.