A closer look at UWL women's throwing team
The track and field team at the University of Wisconsin-La Crosse has a long history of success, but the team is more focused on their culture for the upcoming 2020 indoor and outdoor season. Led by Coach Saul Banashak, the team is focused on progressing and creating a legacy beyond their sport.
"I care more that the athletes have a great experience and ultimately realize that they are a part of something bigger," said Banashak.
Banashak, who is entering his ninth year as a throwing coach at UWL, has deeps roots in the university. Banashak threw at UWL from 1993-1995, and he was given an All-American accolade in 1995. While he was a part of the men's team, he said that nothing has changed in terms of culture since his time attending UWL.
"The tradition, history, culture, family-vibe, it's all stayed the same," said Banashak.
Banashak said that with the collaboration with head coach Nickolas Davis, who is entering his third year as head coach, they have been able to yield wonderful results as a team.
The focus on culture has been very impactful on the athletes. According to sophomore Nicole Blagsvedt, Coach Banashak has been nothing but encouraging since her decision to transfer to UWL in January of 2019.
"The best thing about Coach B. is he does not give up on you. He chose to believe in me," said Blagsvedt.
Blagsvedt attended the University of Wisconsin-River Falls before transferring during her freshman year.
Blagsvedt said she felt confident in her decision as soon as she met the team and felt that it was an instant fit.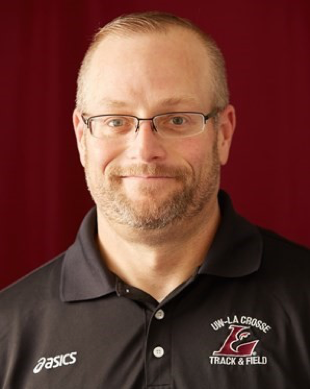 This tight-knit bond that the team shares is felt by more than just Blagsvedt. Senior Kara Gilmeister feels that their closeness is unique to their team.
"We're close. Annoyingly close. The throwers are kind of on their own, in terms of workouts and what we actually do. We are able to see track in a different way. We also have a lot of insanely talented people on the team," said Gilmeister.
Two of the top throwers for the team include Sophomore Skye Digman and senior Brianna Schyvinck. In 2019, Digman was awarded All-American honors in indoor and outdoor shotput, finishing fifth and seventh, respectively.
According to Banashak, this "good and healthy competition" is able to fuel the team forward to a more successful team.
The goals for the throwers this season are centered around progress. "We want to keep building the program. Where we end is where we end, but we are progressing the way that we want to," said Banashak.
For the athletes, winning the conference title is always the goal. However, they want to help their top throwers compete at their highest level.
"Throughout the season, we want to use our talents and abilities to push the nationally-qualifying throwers to be their best," said Blagsvedt.