"I am so disgusted and beyond disappointed" : UWL parents react to sexual health week in a Facebook group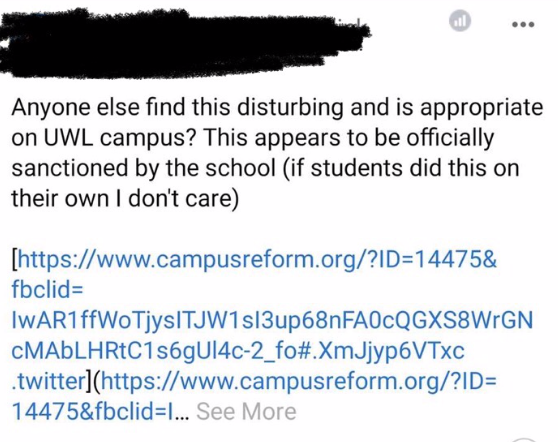 On March 6 a University of Wisconsin-La Crosse parent posted in the UWL parents and families Facebook page with a link to an article in "Campus Reform," a conservative news website focused on higher education and spotting "liberal bias." The UWL parents and families Facebook page is monitored by Sarah Joslyn, coordinator of new student and family programs at UWL.
Sexual health week took place March 2 through March 6 and had events such as breakfast and birth control, sex jeopardy, sexcessful communication, condom bingo, clitoral masturbation teach in and free vibrator giveaway, consent and pizza, flashback Friday to high school sex ed and a menstrual product drive.
In a press release for the Racquet Press, wellness coordinator Cassandra Worner said, "This week of education is extremely valuable to the campus community because most students do not receive adequate sexual health education in middle or high school. We aim to empower all students to make healthy decisions around sexual activity by providing unbiased, evidence-based, and truthful information."
In the article by Campus Reform, they share the details of the events of the week. Blair Nelson, campus correspondent wrote, "The University of Wisconsin-La Crosse, sponsored by Planned Parenthood and UW-La Crosse's Department of Psychology, will be hosting a 'Sexual Health Week' Thursday night, complete with a discussion of 'clitoral masturbation.' According to a schedule of events, the week includes an event called 'Teach-In: Clitoral Masturbation and Free Vibrator Giveaway,' where students can 'engage in a conversation about clitoral masturbation, dealing with stigma, and empowerment. First 40 attendees will receive a free vibrator,' according to the event announcement."
Sexual health week was sponsored by Student Life: Violence Prevention, the Pride Center, Campus Climate SEEDs, the Student Health Center, Campus Activities Board, College Feminists, the Department of Psychology and Planned Parenthood of Western Wisconsin.
Vibrators were given as a donation by a sex store in Minneapolis, MN, "The Smitten Kitten." UWL did not pay for these sex toys.
Parents on the Facebook page shared mixed responses. A source shared the screenshots below with the Racquet Press of parents who were more upset by the events.
We will be updating the UWL community as this story progresses.