Explained: Absentee voting and registration among a pandemic
For voters who were planning to head to their polling place on April 7, they might have to rethink their plans. In order to limit COVID-19 social distancing and self-quarantine have been suggested. These precautions have a likelihood of effecting voting and voter registration.
The April 7 election is for the spring election and presidential preference vote. Wisconsin has had a "no excuse" absentee voting since 2000, meaning that you can request an absentee ballot for any reason you want.
Wisconsin requires mailed voter registration forms to be postmarked before the third Wednesday before the election. March 18 will be the last day for voters to register by mail or online, so if you plan on voting absentee, you must register by March 18 online, or you can at your local municipal clerk's office until April 3 or in-person on election day.
How to register to vote online in Wisconsin
You can use myvote.wi to check to see if you are registered to vote. Many students that lived in the residence halls last year may be registered to vote, but for the incorrect address.
Fill out your information in the box below and then click "search." Remember, you must type in your full legal name, no nicknames. After you click "search" it will either show you that you are registered at a current or past address, or show you are not registered at all.
If you receive an image similar to the one in the gallery below, that means you are not registered. If you are not registered to vote, you will click the "register to vote" button which will lead you to a form.
The form reads:
"To register to vote online, only voters with a valid, unexpired Wisconsin Driver License or Wisconsin State ID Card may use this site to register to vote. You will need your Wisconsin Driver License or Wisconsin State ID Card Number in order to register to vote online. You will also need to match the name, date of birth, and address on file with the Wisconsin DMV in order to register to vote online. If a match cannot be made with the Wisconsin DMV, you will still be able to register to vote by printing, signing and mailing your registration form along with proof of residence to your municipal clerk."
For voters registering online, you must update your address with the Wisconsin DMV by following this link: https://wisconsindot.gov/Pages/online-srvcs/change-addy/default.aspx
You will need to know your driver's license number, the last four digits of your social security number and your date of birth.
You will select the "start now" button that will then lead you to a page that asks if you have your driver's license or id number. Select yes, and then fill out the following form.
Then, select "next" and go to the next form and update your address with the address you will be voting on for the spring election.
If you are already registered to vote and you just need to update your name, address or both, select "update name or address," and choose which one you would like to update.
If you need to update your address, but you were already registered to vote but just for the wrong address, you will need to follow the same instructions of going to the DMV website.
How to register to vote by mail
If you would prefer to register by mail:
"Eligible Wisconsin voters who do not have a current, valid Wisconsin Driver License or Wisconsin State ID Card may complete the voter registration form and mail or deliver their form to their Municipal clerk along with a proof of residence document.
If there is an upcoming local election in your area in less than 20 days, registration by mail is no longer available. You may deliver your registration form (with proof of residence) to your municipal clerk's office by the Friday before the election, or you may bring it to your polling place on Election Day.
Instructions on how to register using this process and where to mail/deliver your registration form will be provided."
All forms needed are hyperlinked above. You will follow the continuing steps to finishing registering.
The municipal clerk for the City of La Crosse – La Crosse County is Teri Lekrhe and they can be reached at: [email protected]
You must register to vote by March 18 if you are registering online or in the mail.
How to order an absentee ballot  
If you are registered to vote then you can order an absentee ballot. Follow this link: https://myvote.wi.gov/en-US/VoteAbsentee
Again, you must search for your full legal name to double-check your registration.
Once your voter information comes up, select "request an absentee ballot." The screen will look like what is shown below in the gallery. Select which address you want your absentee ballot mailed to and then select which elections you are requesting a ballot for. If you are graduating or moving, you may only want to select April 7.
You can view the status of your ballot by selecting "view my request."
Follow this link for instructions on how to fill out your ballot: https://elections.wi.gov/forms/voters-uniform-instructions
You must vote in the presence of one adult witness who is not a candidate for the election. The witness must verify by signing the ballot and providing their address. The witness must be a U.S. citizen over the age of 18.
Refold your ballot and put it inside of the envelope and seal it and address it to your municipal clerk:
Teri Lekrhe, La Cross County Administrative Center, 212 6th Sreet N – Rm 1500, La Crosse WI, 54601. 
If you live on campus, you can most likely vote in the Student Union, otherwise, you can request a ballot and vote absentee. You can mail your ballot on campus by dropping it off at any of the blue USPS boxes in and around the perimeter of the campus.
The ballot must be returned so it can be delivered to your polling place by 8 p.m. on election day.
The last day to request an absentee ballot in Wisconsin is five days before the next election, April 2. It is recommended that you request your absentee ballot as soon as you can.
https://myvote.wi.gov/en-us/ can help with any other questions or concerns you may have.
About the Contributor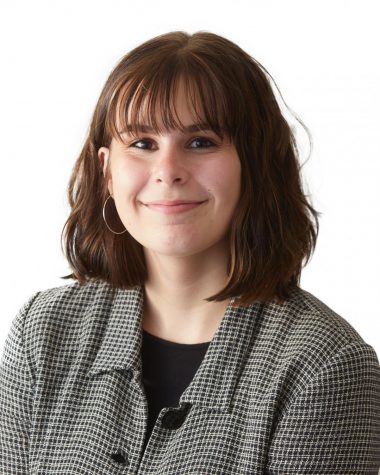 Sam Stroozas, Executive Editor

Year at UWL: Senior
PGPs: She/Her/Hers
Hometown: Hudson, WI
Major: English with an emphasis in Writing and Rhetoric, Communication Studies...