Humans of UWL: Sam Stroozas
Sam Stroozas is the executive editor of The Racquet Press and has worked with us for six semesters. While working for The Racquet Press, her top three most-read stories were: "Professor accused of sexual misconduct by UWL student," with over 20,000 views, "Caycee Bean speaks to media about sexual misconduct allegations against Joel Elgin," with 4,973 views, and "Viewpoint: Fight the New Drug, what exactly are you fighting?" with 1,624 views.
She is graduating this semester with a double major in media studies and writing & rhetoric and a minor in women's, gender, and sexuality studies. After graduation, she plans to move to Chicago, IL, and attend Northwestern University for her master's in social justice and investigative reporting.
"I think something that we don't talk about enough is the ugly underbelly of sexism for female student leaders. I have been underestimated, patronized, monopolized, and outrightly avoided because of who I am and the power position I hold on this campus as editor of the student news source. I have had administration members and other student leaders, even women, minimize me and my work for the lackluster duty of conformity. All of this, still coming from a point of privilege because I am a white woman.
A lot of people think that I am too hard on UWL. I feel like my job as executive editor is to be exactly that. I have to ask the hard questions, expose wrongdoings, and hold UWL accountable because who else will? We cannot make institutions change unless we reexamine them from multiple viewpoints and hold equity as a core virtue. UWL has to work for everyone, and until it does, we won't know the lengths we can go to further represent students and build community.
The Racquet Press has been a constant for me, it has kept me grounded. When many things felt like they were falling apart and I felt the cool burn of being a vulnerable adult, I could always throw myself into an article and distract my thoughts for long enough to regain some stability. Slowly, that stability became healing – something that would guide me and remind me that there is always a bigger fight in the midst and how we conquer that fight is through the power of language and education.
One time I was digging through the archives about the Racquet, and I found a paragraph in their first issue from 1910 that always stuck with me that I included.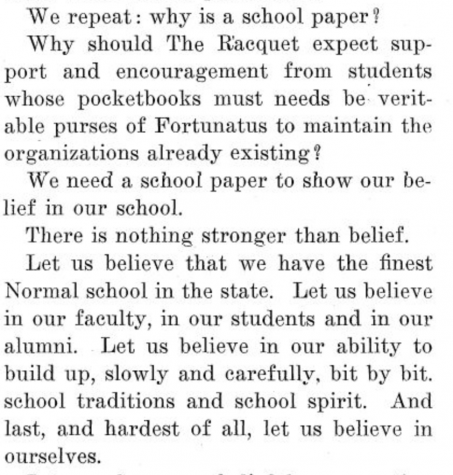 We need to believe in something real, and that is what free press is. For everyone that has ever interviewed with me, thank you for sharing your story.
Support student journalism at UWL, and women in power positions – we might just surprise you. Thank you to everyone who has ever believed in me and encouraged me. I see you, and I couldn't have done this without you," Stroozas said.