REC offers virtual fitness classes in the midst of COVID-19
Many of the services that the University of Wisconsin-La Crosse offers have reconfigured how to serve students due to COVID-19. On March 16, the Recreational Eagle Center (REC) released a statement announcing its closure due to COVID-19.  However, the REC has found a creative way to continue its work with students. REC sports fitness manager Tammy Zee will be leading online fitness classes, so students are able to work out at home.  
This idea came to Zee when she started to see the spread of COVID-19 hit other states and saw how other yoga studios were responding to shutting down. 
"I immediately thought let's keep normalcy in our student's lives by offering our group fitness classes online via Facebook," said Zee.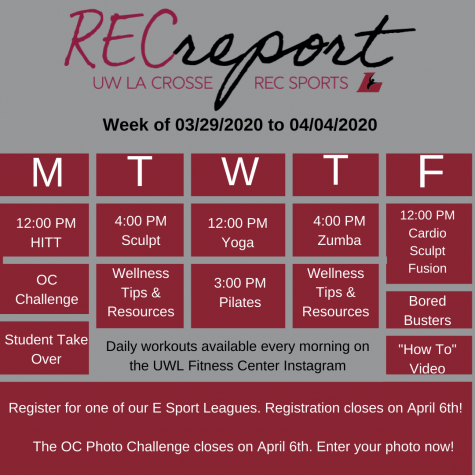 The classes will be at no cost to students and will run through May 1. The various workouts can be found on the REC Facebook page. The workouts will be done on Facebook Live with Tammy Zee, but they will also be on the page for students to view at any time or day of their choosing. In addition to Facebook, the workouts will be posted one hour after they are live on the REC's IGTV page on their Instagram account.  
Some of the classes that will be offered include zumba, yoga, pilates, and high-intensity interval training classes. While all of these are able to be done without equipment and can be challenging, Zee will show students how to use items in their homes to enhance their workout without the use of weightlifting equipment. 
"Along with handheld weights, I show how to utilize home items such as soup and bean cans, a jug of milk or laundry detergent which can be used as resistance," said Zee.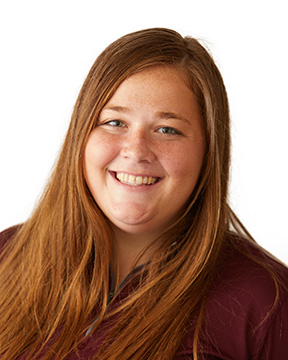 While COVID-19 has provided a lot of adversity for the REC in terms of figuring out ways to continue serving students, according to Whitney Burress, coordinator of competitive sports and event coordinator, the REC has a lot planned for the rest of the semester. 
"It is important for us to continue to provide opportunities and support for our students. We want to still provide and create a space that empowers and connects our students," said Burress.  
Some of the events that the REC has planned include Fortnite tournaments and leagues through UWL's Esports, Outdoor Connection (OC) is hosting a trail challenge with information that can be found on its social media pages, "bored busters" that will be posted on Fridays to the REC's social media pages, wellness tips, and much more. 
Zee stresses the importance of staying active and maintaining a sense of normalcy during this time of isolation. The classes at the REC are able to allow students to feel connected and empowered, all from their homes.  
"One of the best ways to help reduce stress, anxiety, depression and to stay positive is through movement, exercising and doing mind and body classes," said Zee.