Quarantine art: UWL student artists discuss inspiration and creativity amidst a pandemic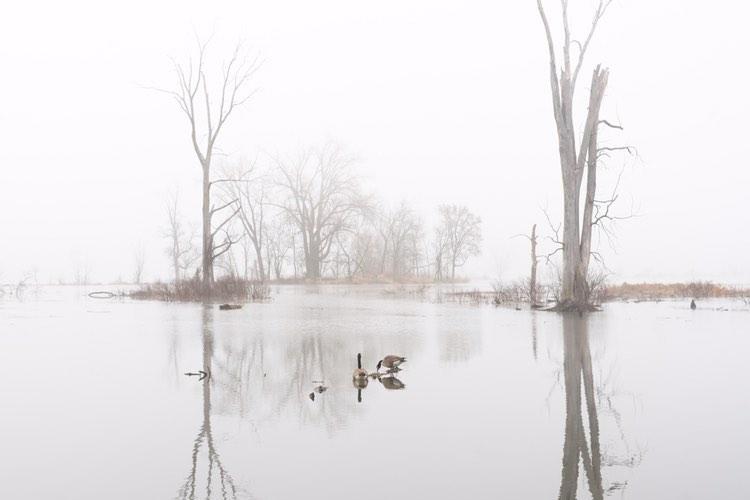 Alexia Walz, Arts and Entertainment Reporter
April 19, 2020
"Everyone is really stressed out and wants to do the best that they can but sometimes it is okay to not do the best that you can and just like get through the day. Do something stupid at home because you feel like it. Things are serious but that doesn't mean you have to make yourself completely sick over it," said Molly Korinek, a senior at the University of Wisconsin-La Crosse. 
Korinek has been using their time in quarantine to have more fun with their art. 
"I turned my house into a live-in-studio and I have just been trying to take it easy. I have been making stuff that makes me laugh and expresses my emotion in some way," said Korinek. "So, I have been using it as a way to entertain my own time. I am really sick of watching shows and stuff like that. I don't know, watching a show and laying on the couch all day just makes me feel even worse, so when I am able to make things even if it is not something I am going to share with the world, it allows me to goof around and have some room to play."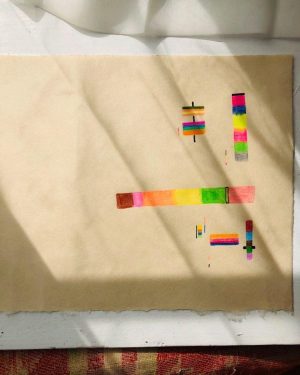 As an art major, Korinek says that art has been an outlet for them.
"I majored in art because it has been like the one thing in my life that has kind of kept me alive," said Korinek. "I use art to just figure out questions I ask myself or to figure out certain feelings. It is my coping mechanism, so a lot of my art is like feeling-based." 
According to Korinek, an art series that they have been working on during quarantine is dedicated to the people in their life.
"A small little series I started has been more of a meditation, so really anyone could do it. It is really simple, but I have been picturing the people that I really care about in my life and thinking about what colors would best represent them," said Korinek. "It has been a really nice way of thinking about the people in my life and how their relationships affect me." 
UWL Senior Austin VanBuren is currently taking photography courses and his class projects have been put on hold due to the COVID-19 pandemic.
"All of what is going on has kind of impacted that a lot. I would go along the river and find people out on the ice who were ice fishing and I would take their portraits. That kind of stopped with the quarantine," said VanBuren. 
UWL's online class format has given some students more time within their day for hobbies but according to VanBuren, quarantine has not given him more freedom with his photography.
"I think if anything it is more restrictive. With art, if you are given constraints you kind of learn to work around that and that can at times make me feel more creative, but it has been an effort to continue to make work regardless of what is going on around me," he said.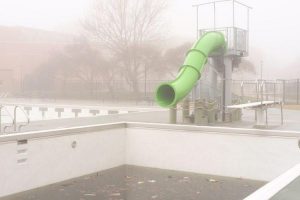 VanBuren has discovered that taking photographs during quarantine has reminded him of his younger self.
"In high school and when I first went to college, I would wake up early in the morning and go for a bike ride in the fog and see what I could find. I did it because it was exciting and it was something that I found that I love to do," said VanBuren. "I kind of stopped doing that because life kind of took a hold of me and I didn't want to wake up early anymore but having this free time to plan for a foggy day or you know, just wake up for the heck of it has allowed me to revisit those feelings." 
 The featured photograph was taken at the marsh in La Crosse.
"It reminds me of work that I used to make. That was work that I made purely because I enjoyed the process of taking an image, instead of the end product of it. I grew up around the Horicon marsh, so it reminds me of home," said VanBuren. 
As an English major, Junior Zoe Bossert said that writing during quarantine hasn't had the usual emotional release for her.
"I usually do a lot of writing and I love to read but there has been this like, different thing about this pandemic. I feel like the escape of reading a novel or the escape of writing hasn't been the same lately," said said.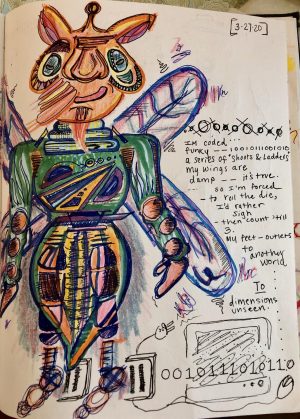 Instead, Bossert has made a goal of making a drawing each day of quarantine.
"I've got a really big window in my room, so I just kind of sit and have the window open and drink coffee and just kind of doodle," said Bossert. "A lot of my drawings don't make sense but a lot of feelings and thoughts right now don't make sense so it's pretty reflective of that." 
According to Bossert, her ideas for drawings are inspired by daydreaming.
"I haven't daydreamed this much in a very long time. It is not even a lack of things to do, it is just so much time with your own brain. You kind of forget that you have this much going on in your brain occasionally. But then it's cool, like how can I do this and kind of sort of make it constructive," she said. 
Bossert's favorite piece from her daily drawings is a depiction of a cat man.
"There's a really colorful one of the orange face, like cat man. I really like that one. I love those colors and I love the lines," said Bossert. "I feel like my mind is really scattered right now, so everything has been coming out messy and I have been trying not to be as rigid with my coloring and stuff. It is goofy, but it has been kind of fun, I feel like I am seven." 
On Instagram, follow Bossert (@wilde1198), Korinek (@mollyryan.xx) and VanBuren (@austvan) for more artwork and photography. 

About the Contributor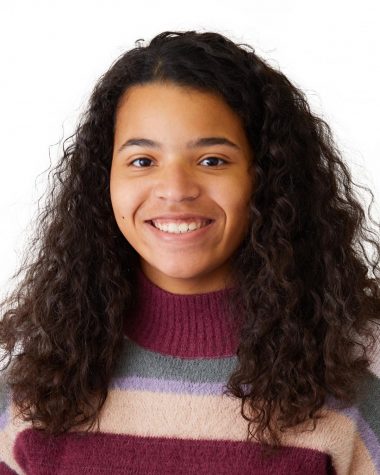 Alexia Walz, Multimedia Editor

Year at UWL: Junior
PGP's: She/Her/Hers
Hometown: La Crosse, WI
Major: Communication Studies with an emphasis in Media Studies
Minor: Creative...