UWL alumna opens up Etsy store to sell prints and polymer clay jewelry
Lydia Hicks graduated in December 2020 from the University of Wisconsin-La Crosse with a degree in art education, which she chose based on her love of children and creating art. She has been selling her art her entire life, recently deciding to make an Etsy store page to reach a broader audience. According to her Etsy page, "my art is based on things that make me happy, which usually includes flowers and bright colors."
"I started as an elementary education major, and I knew that I wanted to work with kids, but I realized I was missing something. I liked working with kids, but I still wasn't loving the classes," said Hicks. "Then I realized that I've loved doing art projects my whole life, so putting kids and art together made sense."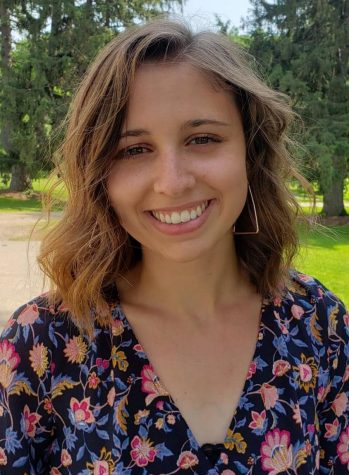 Hicks said she has always had a passion for creating and making new projects. She grew up crafting with her Mom and sold her projects at craft sales with her cousins when she was younger.
"I like that you don't have to do things a specific way. I like that everyone's project is different. Like you can never make something exactly the same way," said Hicks. "I think it's really cool that when you make something no one will ever be able to replicate it. It's so unique, it's all yours, your personality is in it."
Hicks said she really started learning more about different mediums and forms of art during her time in the art department at UWL, and her passion for creating art intensified. Even outside of her assigned projects she was always working on art projects for herself and her loved ones.
"I like to change it up and do different things all the time because I don't like doing the same thing for too long. I like printmaking the best because you can take one thing that you made and replicate it but in different ways," said Hicks. "When you carve a print, it's set however you carve it, but you can manipulate by printing it on different surfaces, or in different colors, or enhancing it with watercolor or dye. So you can take something that is the same every time but still make it different with your own personal touches."
In the Summer of 2018, Hicks developed her talent and passion for printmaking by receiving a research grant to visit France with two other art students. After a collection of prints were donated to UWL that depicted images of France, Hicks visited the original locations and made updated prints, later displaying the new prints next to the old at an art show at UWL.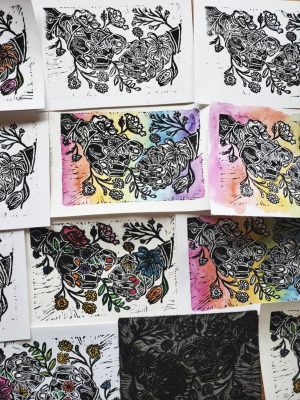 Hicks has been selling her art to her friends and family over social media for the last few years but recently decided to start an Etsy page to share her work with new people. She said, "I love making stuff, but I don't need all of it and it seems silly to just make a ton of stuff for myself when I want other people to be able to use and enjoy it."
Hicks said the money she earns is not significant enough to negate the need for a job or a separate income. She considers the money she earns to be "fun-money" and uses it for things she may not normally get.
"I am trying to make money, but I also know that I want other people to have it, so I keep the prices lower," said Hicks. "I know when I'm buying stuff I want to be able to have quality things and support my local artists without spending a bunch of money."
Hicks moved to North Chicago, IL with her husband after graduation but returned to her hometown, Portage, WI, due to COVID-19. She works as a barista as she waits for the next school year to start to begin her education career, but is unable to work right now due to the pandemic.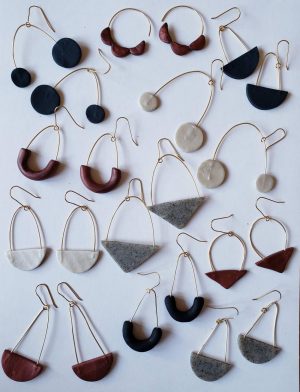 She said she's wanted to start a website for a while but hasn't had the time to maintain a website, photograph all of her products, and post everything. Since she has extra time now, she decided to start her page. She sells prints she's made, earrings made out of polymer clay and is open to doing commissioned pieces.
Hicks said that sites like Etsy cost money to use, and Etsy charges for posting items, credit card fees, and takes a small percentage of each sale. She prefers to sell her art in person or at art fairs but encourages people to support their favorite artists any way they can.
Hicks' art Instagram page can be found at @wildflowerfieldsforever. Her Etsy page can be found here.
About the Contributor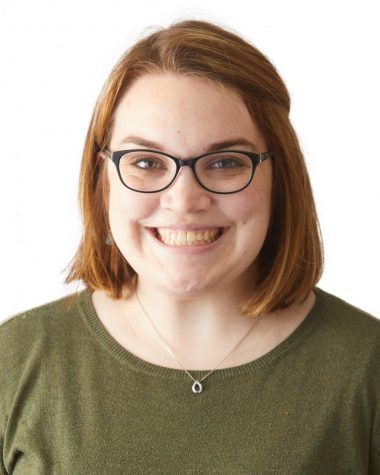 Kayleigh Marshall, Multimedia Editor

Year at UWL: Senior
PGPs: She/Her/Hers

Hometown: Portage, WI

Major: English with an emphasis in Writing and Rhetoric
Minor: Creative...