Humans of UWL: Kayleigh Marshall
Our third graduating Senior, multimedia editor Kayleigh Marshall. She is graduating with a major in English and a double minor in creative writing and women, gender, and sexuality studies. She has worked with us for three semesters. She first began as our general assignment reporter, and then moved into the multimedia editor position after only one semester of reporting. While working for us, her most-read story was "Navigating the media in the era of fake news," with 836 views.
"This is obviously not how I wanted my senior year to end. There are a lot of goodbyes I won't get to say and a lot of celebrations I won't get to participate in. However, the only thing we can do now is our absolute best to keep ourselves safe and to keep other people safe, and I am grateful for The Racquet Press for giving me an outlet to do that with.
Spreading information and keeping people informed with the free press is at the root of any democracy, and I am thrilled to have the opportunity to play any part in that, no matter how small. UWL, like every person, organization, business, or institution in the world, is flawed. I think this last year we've seen that more than ever.
Fighting to expose those flaws and working to fix them doesn't mean that I don't love UWL. It means that I love it so much that I think it's worth fighting for. I've loved my four years here. I have grown so much and am a completely different person than I was when I moved in freshman year.
The people that I've surrounded myself with have encouraged me and supported me in ways I didn't know were possible. The Racquet Press especially has pushed me out of my comfort zones, forced me to confront issues I didn't realize existed at UWL, and given me some of the people I now consider my best friends.
Working at The Racquet Press was one of the best parts of UWL, and one of the parts I will miss the most," said Marshall.
About the Writer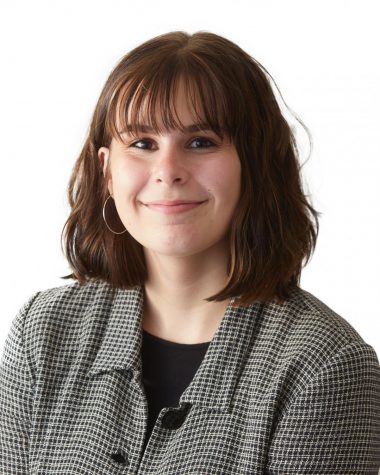 Sam Stroozas, Executive Editor

Year at UWL: Senior
PGPs: She/Her/Hers
Hometown: Hudson, WI
Major: English with an emphasis in Writing and Rhetoric, Communication Studies...