Photo Series: UWL seniors say goodbye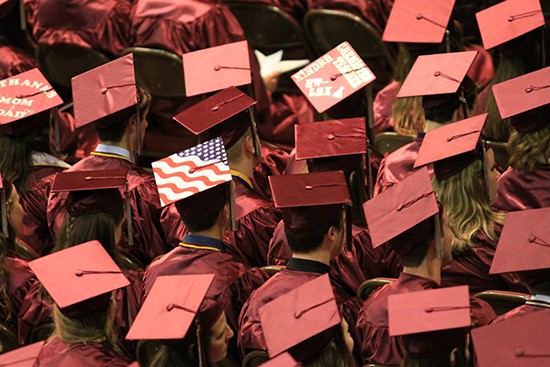 The Racquet Press asked the University of Wisconsin-La Crosse graduating seniors to send us a photo of themselves and information about their post-graduation plans as well as graduating during a pandemic. Here is what they shared with us. Congratulations to all UWL graduates and the UWL community!
Erin Bowden 
Bowden is a senior majoring in biomedical sciences with a minor in chemistry. She will be attending medical school at UW-Madison. Bowden said it is hard to leave UWL and move on to new things without "proper closure," but that the pandemic has reminded her that there are things in the world that are bigger than us.
"I will miss my friends and all the great people I have met at UWL. La Crosse and UWL has become my home over the past four years, and it is bittersweet having my undergraduate career come to an end. Let this situation broaden your world view. Gain perspective. See injustices and oppression. Demand and examine the evidence. Challenge your own thinking about the world around you. Care more about others," she said.
​Hannah Calhoon 
Calhoon is a senior majoring in interpersonal communication and minoring in psychology. Beginning in July, she will be volunteering in Little Rock, Arkansas. She mentioned events she was looking forward to that were canceled, such as her CST capstone presentation, Grandad half marathon, the senior bar crawls, and the WIAC athletic conference.
"I'm going to miss being on the UWL Swim & Dive Team! The swim and lifting staff is the best in the WIAC. Transferring from Western Technical College to UWL was the best decision I ever made," said Calhoon.
Marissa Widdifield
Widdifield is a senior double majoring in English and German as well as double minoring in creative writing and linguistics. After graduation, she plans to take a year off to travel to Colorado, California, or the Pacific Northwest. She wants to take time researching and applying to MFA programs for creative writing.
She said, "I left spaces without realizing I'd never return–my study spot in Murphy Library, Laux Hall where I worked as an RA, the Climbing Wall at the REC. It's surreal that I never had a proper goodbye to these places or the people. I never woke up one more morning with the thought: 'This is it. This is my last day.'"
Widdifield said she will miss the familiarity of La Crosse and her favorite places. "The scenery has become an old friend who knows me well. Grandad's Bluff, the Mississippi River, sitting at a window seat at the Root Note and looking at Deaf Ear Records across the street. Confession: I used to hop the fence to the football field during warm nights and watch the stars from the turf (great spot for seeing shooting stars, just saying). I'll miss those times the most–the moments where my surroundings made me feel like I belonged," she said.
"To all the people I never got to say goodbye to: please don't be a stranger. To future employers: please don't ask me what it was like to graduate the year COVID-19 emerged. To anyone who identifies as an artist: keep identifying yourself as such."
Sarah Stewart
Stewart is a senior majoring in psychology. Her post-graduate plans are to take a year off and work in the psychology field, and then go back to school for her doctorate in clinical or forensic psychology.
She said COVID-19 affected her end of semester plans with friends and commencement, which she was looking forward to. "I will miss so much about both UWL and La Crosse, the friends I've made are definitely at the top of that list, followed by the bluffs, and of course 3rd Street," said Stewart. "Shout out to UWL for giving me four great years, I wish I could make a victory lap, but I'll be back don't worry."
Rachel Schubring 
Schubring is a senior with a major in communication studies and a minor in leadership development. She says she will miss the Eagles Nest, and that "COVID-19 has truly impacted my final year at UWL and took away some of my last moments. But, I'm still looking forward to walking that stage for graduation whenever that might be."
Emily Riebe
Riebe is a senior with a major in media studies and a minor in theatre performance. After graduation, she will be interning with the 'Hollywood Casting & Film' for the summer. She said she was most looking forward to presenting her senior capstone project, 'The Feminine Gaze' which looks at gender and sexuality as well as #MeToo movement and third-wave feminism in modern film.
"My hope is that through this research, individuals will be able to recognize the patriarchal ideologies that are embedded within our society and begin to fight back against hegemonic masculine notions of gender and sexuality," she said. "While this opportunity has unfortunately been canceled due to the COVID-19 pandemic, I am still proud of the research I am conducting and I hope it will inspire future CST students to pursue social justice endeavors in their projects as well."
Riebe said she will miss the relationships she created with professors in and outside of the classroom in both the media studies and theatre department. She hopes to use her degree from UWL to create a more inclusive and diverse media landscape that "highlights the brilliance of marginalized voices within society."
Melody King
King is graduating with a degree in middle child and early adolescence education with a minor in social studies. Her post-graduate plans will be teaching seventh and eighth-grade literacy and social studies at Lake Denoon Middle School in Muskego, Wisconsin.
"It is truly heartbreaking that my family will not be able to watch me walk across the stage on graduation day. As a first-generation college student, graduation was something that I have been looking forward to since my freshman year," she said. "I will miss the amazing friends and relationships that I built at UW-La Crosse. I will also miss the marsh trails and beautiful views!"
Brittany Voigts
Voigts is a senior on the pre-OT track with a psychology major and at-risk child youth care minor. She is going to graduate school for occupational therapy at Mount Mary University. "COVID-19 has brought a lot of disappointment. After four years of hard work and constant dedication, I want a formal ceremony to celebrate my accomplishments. I'll find new ways to connect with my family and friends and share the accomplishment in a virtual manner," she said.
Voigts will miss the scenery, being close to her friends, and the atmosphere of UWL. "I cannot say enough great things about La Crosse! I highly recommend this University! It's important to make the most of this experience," she said.
Karly Willms
Willms is a therapeutic recreation major and a psychology minor. She will be attending UW-Parkside to get her MBA.
"It's disappointing that I have to wait to celebrate my accomplishments with my family and friends, but I am looking forward to when we get to all celebrate together," she said. "I will miss living with my best friends, rollerblading around campus, and hammocking in the bluffs."
Carolyn Long 
Long is a senior majoring in biology with a minor in theatre performance. Her post-graduate plans are to pursue a career in the biological or environmental field. She said that she feels like COVID-19 "stole" many lasts of her college career.
"Because everything changed so quickly, I believed I still had some time to get the closure that I wanted one week, and within the next week, that time was taken away in the blink of an eye," said Long. "I also worked really hard for most of my life to get my college degree, and potentially never having the opportunity to walk at a college commencement ceremony is very heartbreaking and just having a virtual ceremony and receiving my diploma in the mail will definitely not be the same."
She said she will miss the environment and campus the most, as well as Grandads Bluff and the people she has met at UWL. She thanks her fellow students, sorority sisters in Tri Sigma and professors who made her college experience.
For other seniors, she says: "Though we seniors will probably never be able to fully get the proper closure we wanted for our college careers, I believe that we will come out of these tough, unprecedented times stronger than ever and that we shouldn't let this very untimely setback mess up our potential once our last semester is done and we enter the real world. We all got this!"
Aliyah Grote-Hirsch
Grote-Hirsch is majoring in sports management with a minor in business administration. She is searching for a full-time internship or job in her field, and her career college is to work for a college or NFL team. She said she hopes to celebrate graduation with friends and family after COVID-19. She will miss the people from UWL the most, as well as football games.
"La Crosse has become my home away from home and I will forever be grateful for the people and the education I received here. Once an Eagle, Always an Eagle!" said Grote-Hirsch. "Make the most of your time at UWL! I know everyone says it goes by fast, but it truly does. So don't be afraid to explore the city, make new friends, and attend sporting events because before you know it, you'll be a senior and saying goodbye to UWL."
Darby DeGross
DeGross is a fifth-year senior with a major in public health and community health education. She plans to find a job in the Twin Cities area. She is currently doing an internship with the La Crosse County health department.
"I will miss all my friends here in La Crosse that I've made over the past five years. I will also miss all the coffee places, no one can compete with that many options!" she said. "UWL and La Crosse have become my home, and it will be so hard to leave this beautiful city."
Danielle Mumm
Mumm is graduating with a major in sociology and minor in Spanish. After graduation, Mumm has plans to get married and look for jobs in Texas. She said she will miss the food and coffee the most, but also the squirrels that roam the campus.
Tricia Pionke, Mumm's mother also shared a note about her daughter graduating.
"Danielle has adjusted well with the change and of course a little disappointed in not being able to walk across the stage. But she states it's not a big deal, she is a very humble young lady. I wanted to share that Danielle, took on bigger semester loads as well as summer school classes to graduate a whole year early. She'll be obtaining her four-year degree in just three years all while working as well," she said. "Although we agree with and understand the postponing of commencements, I can't even begin to tell you how proud I am of her and how my heart hurts not being able to watch her walk across the stage due to the COVID-19."
Amanda Scholzen
Scholzen is a senior majoring in communication studies and minoring in sociology. She hopes to find a career within the music or television industry. She said graduating during COVID-19 has "completely" shifted her experience, but mentioned that her adviser and professors have made the transition easier.
"I will extremely miss LC Hip Hop, meeting new people in a class setting, & all the fun in exploring La Crosse," said Scholzen.
Camyrn Larson
Larson is majoring in biology and double minoring in chemistry and professional and technical writing. She will be attending the University of Arkansas in the fall for a master's degree in biology. She said she was sad that she will not be able to walk across the stage at the La Crosse Center or visit the department offices of the professors who have helped her along the way.
"I am from La Crosse and have spent my entire life living in and loving this city. I will miss places on campus like the McNair office and the aquatics lab. I will miss places I frequent like Caribou Coffee and The Crow," said Larson. "I will miss my job as a show choir director at Logan High. I will miss my family. I will miss it all, but I find comfort in knowing that I can always call La Crosse home."
Anna Skroch
Skroch is majoring in medical laboratory science and minoring in biology. She will be working for the department of laboratory medicine and pathology at Mayo Clinic in Rochester, Minnesota after graduation.
She said, "COVID-19 has greatly impacted my graduation experience by taking away valuable class time and clinic experiences that would have further strengthened my education. Personally, it has also taken away the excitement and anticipation of graduating by postponing my graduation ceremonies and celebrations with family and friends. I am a first-generation college student and I feel as if my accomplishment has been taken away from me."
Skroch also said she will miss hiking Grandads Bluff and walking by the La Crosse River Marsh.
"UWL has given me so many meaningful memories and educational experiences. I wish that I would have been able to properly say my goodbyes to my college career, but I look forward to what comes next!" she said.
Grace Marco
Marco is a senior majoring in communication studies with double minors in Spanish and leadership development. She will be attending the University of Kansas in the fall for her master's in higher education administration and working in their international short programs office. She said at first she was upset about not being able to walk across the stage, but she is thankful to celebrate with friends and family at the rescheduled date in August.
"I will miss spending time with friends, hanging out in the CST lab, and talking with professors. I am going to miss the landscape – the river, bluffs, and everything in between still leave me in awe. La Crosse is my hometown and a lot of my family is here, so I'll miss them the most," said Marco.
Morgan Kuske
Kuske is majoring in organizational and professional communication and triple minoring in interpersonal communication, leadership development, and digital media and design studies. She has accepted a full-time job as a public relations and event coordinator for La Force, Inc in Green Bay, Wisconsin.
"Obviously because of COVID-19, I don't get to walk with my friends and classmates. But the virus has also impacted some of those 'lasts' with my friends we were looking forward to, like one last trip to Rudy's or one last night downtown," said Kuske. "It has also taken away some of those Comm Studies rites of passage, like the senior project poster sessions or the CST celebration. But ultimately, COVID-19 has robbed me and other seniors of a cathartic end to our UWL career."
She said she will miss the people the most, including the communication studies department and the Academic Advising Center and Career Services. "I'm forever grateful for the connections UWL has brought me! My dad, another UWL alum, always told me 'it's all about the people', and I never understood how right he was," said Kuske. She also adopted a dog, Murphy, who will be brought home on May 19.
Olivia Schauls 
Schauls is a double major in cultural anthropology and archaeology. She plans to apply for jobs in her field and work on archaeology digs to gain experience.
Due to COVID-19, she will not be able to do her archaeological excavation in Israel this summer. Schauls said, "I will miss cramming for finals in the library. During that time in the semester, you really feel like 'we're all in this together.' Free press! Free speech!"
Victoria Bucolt 
Bucolt is a therapeutic recreation major and recreation management minor. After graduation, she will have an internship this summer and then begin graduate school at UWL for her master's in therapeutic recreation.
Bucolt said, "Who would have thought that a global pandemic would take away my last few months of undergrad? Certainly not I. Chances are, I won't get the big ceremony that I always envisioned, but that doesn't take away from the almost four years that I had filled with memories and with friendships that have molded me into the woman that I am today. Though this is not how I thought my undergraduate chapter was going to end, I don't need to walk across a stage to be proud of everything that I have accomplished in my college career."
She said she is going to miss the people the most and that her UWL experience would not have have been the same without the friends that she made along the way.
Alyssa Glassen
Glassen is an elementary education and special education major and a psychology minor. She plans to move back to her hometown of Kenosha, WI, and teach fourth grade. "COVID-19 cut my student teaching experience short which was devastating. I miss my students and learning with them every day. I am also deeply saddened that I will not be able to walk the stage with my fellow graduates and friends," she said.
Glassen said she will miss the community of UWL the most and Grandads Bluff. "I want to thank my family for constantly supporting me for the past five years and for helping me to achieve my dreams."
Hannah Schwartz
Schwartz is majoring in exercise and sports science on the pre-professional track with a minor in nutrition. She hopes to apply to the UWL clinical exercise graduate program which will start in June of 2021. She said she has missed out on lab experience, interpersonal connections, and last memories of senior year.
"I am grateful for how accommodating UWL and the professors in the sports science program have been during this difficult transition. I am especially grateful for Dr. Carl Foster, who still met with both of my classes Monday – Thursday Via zoom. It helped make things still feel more like normal school, and less like we are on our own," said Schwartz.
Kylie Zimmerman 
Zimmerman is majoring in biology and minoring in nutrition. She is staying in La Crosse for another year working in healthcare and then applying for physician assistant school to become a PA. She said she will miss her friends and the community she made from being a resident assistant and science major.
"Thanks to all the teachers, staff, and students that made my time at UW-L so special. Especially my friends in res life, who taught me to fight for those who don't have a voice," said Zimmerman.
Alexa Bohnsack 
Bohnsack is a senior majoring in biology and plans to attend UW-Madison's accelerated nursing program. 
"The unfortunate circumstances has taken away those final moments on campus that I was looking forward to sharing with my professors, friends, and classmates before what was already going to be a bittersweet May afternoon. Online instruction is not the same as face to face and I definitely miss interacting with my professors and classmates. I even miss the procrastination laughter as some of my study buddies and I struggle to find motivation in the dreaded library study rooms!" she said.
As she leaves La Crosse, Bohnsack said she will miss walking in the city, running along the river, watching the sunset every night, hiking Grandads Bluff, and making memories with her best friends. 
Whitley Barman
Barman is a senior majoring in biomedical sciences and minoring in chemistry. She will be working as a dental assistant while applying to dental school.
"It is very hard to leave UWL without proper closure. However, I am very glad UWL took the precautions needed to keep everyone at the university safe. I am sad that I will not get the opportunity to walk across the stage with my friends, but at least we get the chance to walk and have the real experience at a later date," she said.
She will miss members of the Office of Residence Life and eating at Rudy's. "I would like to thank my friends and family for the constant support over the last four years. I would not have been able to do it without you!" said Barman.
About the Contributor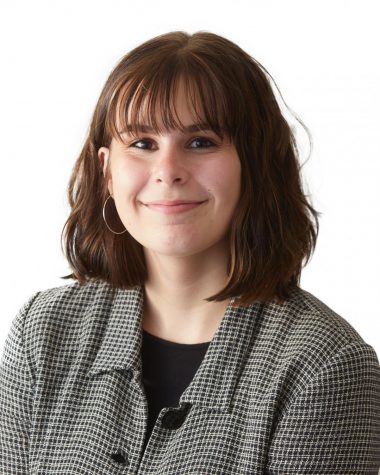 Sam Stroozas, Executive Editor

Year at UWL: Senior
PGPs: She/Her/Hers
Hometown: Hudson, WI
Major: English with an emphasis in Writing and Rhetoric, Communication Studies...