Bubble Tea, Squaring Dancing, and more at Cultural Coffee Hour
Understanding other cultures is a viable need for growing young adults, Cultural Coffee hour in the Hall of Nations promotes students to learn and respect other ways of life besides their own.
Paige Navis first-year graduate student and the organizer of the presentations opens it up to students who are studying abroad in America, or UWL students who completed their study aboard programs to come with a presentation about an aspect of the country they visited and why it is important and relatable to us.
Studying abroad is a life-changing event, Navis said, "I studied abroad and when I came back I wanted to continue making a difference so I went into student and international affairs."
Miranda Panzer, International student advisor who oversees the program says, "This is a unique opportunity from a different perspective and it provides international awareness and clarity, the intellectual engagement is good."
At the event, a table was assigned to each presenter. Between the four presenters, we learned about square dancing in China, music in Spain, clothing in Spain, and bubble tea in China.
Yi Hang, an international student, discussed square dancing in China and how it differs from what we think it means in the US. During her discussion, she explained that there are groups of retired and middle-aged women that join in the squares of cities and dance for pleasure.
Hang says, "It is good for their mental and physical health. It expands their social circles and makes them less lonely."
Although there are benefits, Hang says, "Some downsides are the noise pollution among it and simply the fact that some people are too embarrassed to dance."
Megan Lemberger, who studied abroad in Spain last semester gave a presentation on the culture and music, "A lot of the music that I heard in Spain was American, it was fifty-fifty. Some Latin popstars still use English in their music to appeal to Americans."
"Spanish music is undoubtedly known as dancing music and from the energy and beat of each song", Lemberger says, "it is evident dancing is the root of culture and expression."
Tessa Rhodes, who also recently studied abroad in Spain disclosed information about Spanish clothing and the similarities and differences between it and America, "It is still traditional in certain aspects and they have things they resort back to for special occasions, but it is not as traditional as we constantly perceive it to be."
Rhodes discussed the stigma of traditional Spanish clothing, "It is associated with Spain, but they are modernized like any other country."
Siyang Huang, a second international student gave a presentation on bubble tea and how it differs from the Americanized version,  "Everywhere you go in China there is bubble tea, people drink it after school and to work, it is part of the culture."
When it became Americanized it was sugary and rich in calories versus the subtle addition of milk and strong tea flavor from the Chinese version.
Huang said, "The places people get it in America is just not the same or even similar to China."
Cultural Coffee hour was filled with learning about different countries and how we as UWL students can grow in our understanding.
About the Photographer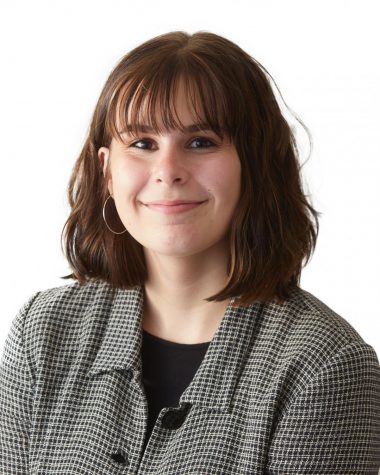 Sam Stroozas, Executive Editor

Year at UWL: Senior
PGPs: She/Her/Hers
Hometown: Hudson, WI
Major: English with an emphasis in Writing and Rhetoric, Communication Studies...