Appropriate to Open at Toland Theater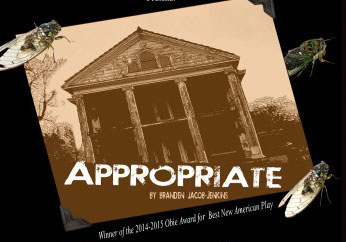 Megan Roddy, Guest Reporter
October 12, 2017
Beginning October 13th, the University of Wisconsin-La Crosse Department of Theatre Arts will present Appropriate, winner of the 2014–2015 Obie Award for Best New American Play, written by African American playwright Branden Jacob-Jenkins.
Appropriate is a riveting story of the estranged Lafayette siblings, Toni, Bo, and Franz reuniting at their crumbling Arkansas homestead to close the debt-ridden estate of their late father. After a disturbing discovery in their father's possessions, the reunion devolves into explosive confrontations about racism and personal identities are shaken.
Appropriate approaches the uncomfortable conversations on racism with full force, but through the eyes of family, which hits home to many. And although the topics are difficult and heavy, the important message is loud and clear. Sophomore Theatre major, Willie Pearson, who plays the character of Bo, believes that the show's story is especially important to share today.
"The show is especially relevant because it shows how, even when you think 'that's all terrible, but it's so distant,' it's not. If you're not actively working against racism in America, you're saying it's ok. I hope the audience takes away some good ideas, and that they take the conversation with them. This isn't the end all, be all to anything, but it's a solid start, " Pearson said.
Appropriate will play at 7:30 p.m. on October 13-14 and 19-21 and Sunday matinees at 2:00 p.m. on October 15 and 22 in the Toland Theatre, Center for the Arts on the UW-L campus on the corner of 16th and Vine Streets. A post show discussion is tentatively set to immediately follow the Thursday, October 19th performance.  Explicit language and content.  Not recommended for children.
IF YOU GO:
WHO:  UW-La Crosse Department of Theatre Arts
WHAT:  Appropriate by Branden Jacob-Jenkins
WHEN:  October 13-14 & 19-21 at 7:30 p.m.; October 15 & 22 at 2:00 p.m.
WHERE:  Toland Theatre, Center for the Arts, corner of 16th and Vine Streets, La Crosse
COST:  $18 adults; $16 seniors citizens/non UW-L students; $6 UW-L students.  Tickets may be purchased online beginning October 4 at www.uwlax.edu/theatre-arts.  In person/phone reservations begin October 9 by calling 608-785-8522.  Box office hours are Monday through Friday 1:00-4:30 p.m. and one hour prior to each performance.
CAST:  Alec Berchem, Carly Boles, Maya Dougherty-Harris, Avital Maltinski, Evan Medd, Jenna Moilanen, Willie Pearson, Autumn Schiffer, Devin Vogel
CREW:  Beth Cherne (Director), Tyler Kachel (Stage Manager), Megan Morey (Scenic Designer), Ben Golden (Lighting Designer), Rachael Ries (Sound Designer), Joe Anderson (Costume Designer)