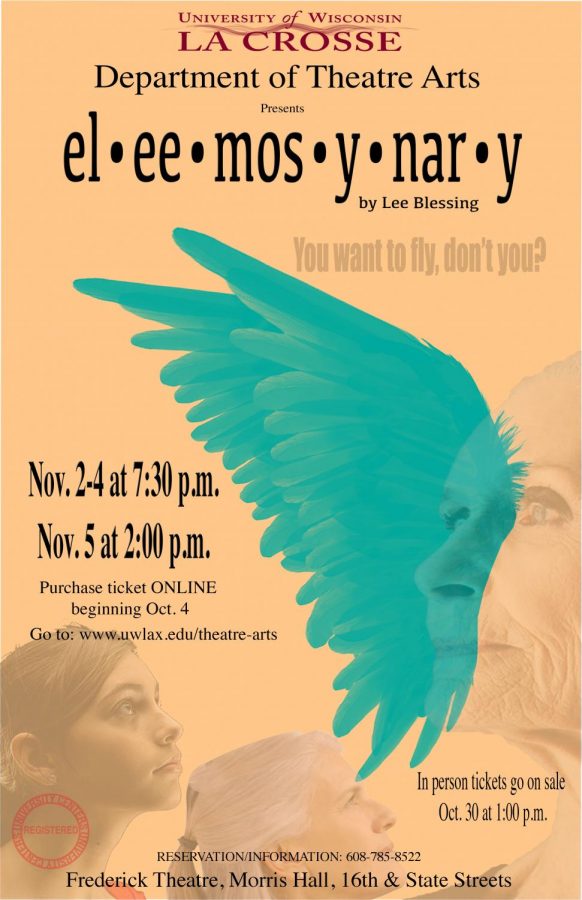 Megan Roddy, Guest Reporter
October 31, 2017
UW-L Theatre's Eleemosynary discovers the interdependence of a family of three extraordinary women.
The University of Wisconsin-La Crosse Department of Theatre Arts presents Eleemosynary written by Tony Award and Pulitzer Prize nominated playwright Lee Blessing. Eleemosynary tests the family ties that bind three generations of women. Will they withstand the personal ambitions and resentments they hold against one another?
Eleemosynary explores the delicate family dynamic of three generations of women, Dorothea, Artie, and Echo. Dorothea is the grandmother and head of the family and her eccentric nature causes tension in her relationship with her daughter Artie. When Artie feels the pull and pressure to become a part of the male dominated academic world, she leaves her daughter, Echo, to be raised by Dorothea. When Dorothea suffers a stroke, Artie and Echo are forced to confront the pains of the past, and the familial connection that bonds them.
Elissa Wolf, a UW-L Senior Theatre Performance Major and seasoned veteran of  the stage is starring in her final production at UW-L as the strong willed, eccentric matriarch Dorothea. "Eleemosynary is about love, relationships, and forgiveness. It highlights the longing for human connection," Wolf says. "The play shows how we can have unconditional love for one another, but we might not always go about displaying our love or giving our love the right way. We must accept the mistakes we made if we want forgiveness. And asking for or giving forgiveness can lead to a more open direct path of communication that can contribute to a more open and honest love."
As the matriarch of the family, Dorothea faces many challenges. But with these challenges she continues to show a strength and determination in what and whom she believes in. "Dorothea's greatest strength is that she is able to take what life has given her and make it her own. She was of a time that women were expected to be wives and mothers, but she wanted more. She found spiritualism, which led her to choose to be eccentric. Eccentricity allowed her the freedom to "…stay a wife and mother, and still converse with the souls of animals." She was able to find a way to survive within the constraints of social expectations, by finding an outlet that didn't hold her responsible, allowing her some freedom." Wolf says.
Eleemosynary will excite and challenge audiences on November 2-4 at 7:30 p.m. and November 5 at 2:00 p.m. in the Frederick Theater, lower level of Morris Hall on the UW-L campus on the corner of 16th and State Streets.
IF YOU GO:
WHO:  UW-La Crosse Department of Theatre Arts
WHAT:  Eleemosynary by Lee Blessing
WHEN: November 2-4 at 7:30 p.m.; November 5 at 2:00 p.m.
WHERE:  Frederick Theater, Morris Hall, 1615 State Street, La Crosse, WI 54601
COST:  $18 adults; $16 senior citizens/non UW-L students; $6 UW-L students.  Tickets may be purchased online beginning October 4 at www.uwlax.edu/theatre-arts.  In person/phone reservations begin October 30 by calling 608-785-8522.  Box office hours are Monday through Friday 1:00-4:30 p.m. and one hour prior to each performance.  General admission seating.
CAST: Emma Henry, Sarah Lambert, Elissa Wolf
CREW:  Greg Parmeter (Director), Mandy Kolbe (Scenic Designer), Sarah Herkert (Lighting Designer), Michelle Collyar (Costume Designer)