Time to go Back to Giving Thanks this Thanksgiving
Thanksgiving: the holiday in which we eat our weight in fall food and pie, reflect on the year, and give thanks for the great things we are lucky enough to have in our lives. Although celebrated to give thanks, Thanksgiving has become the shopping holiday of the year. With "Black Friday" the day after, and many sales starting Thanksgiving night, people are left with an ultimatum of either giving into consumerism as everyone else does, or sticking to celebrating the holiday with the intent it was crafted to have – to give thanks.
Now the true history of Thanksgiving stemmed from Europeans coming into land that was not theirs, adopting it as their own, and disrespecting the Indigenous people who resided here. By teaching America's history to look as if the Europeans had a meal with the Native Americans and that our ancestors were "thankful" and prosperous, we adopt a false perception of what Thanksgiving really is when we mirror the Pilgrims in our dining rooms.
Even though the history of the European immigrants' attitude towards Native Americans is not as welcoming and accepting as we have been told, we as learning citizens can twist our ancestors' slanted ways into gratitude that we have the privilege to be in spaces and conversations that promote diversity and inclusion.
Giving thanks, and recognizing the advantages that we have in our lives, not only creates success in our personal growth but allows us to be grateful and respectful of our lives as a gift. We need to give thanks for many reasons, but especially as college students, we ought to realize how fortunate we are to be able to receive higher education at all. We are doubly lucky for the chance to attend such a quality college as the University of Wisconsin La Crosse that encourages students to stand up and have voices in areas that students usually do not.
Beyond the sales and the food and family, Thanksgiving values and traditions need to resort back to what they once were. By living in a world that favors shopping and money over togetherness, we are perpetuating the idea of the elimination of giving thanks altogether.
Sometimes it may be hard to look past what is now a staple of thanksgiving, Black Friday, but I dare you to think of the wonderful opportunities you have received by not only getting a higher education, but by simply existing.
Giving thanks can be on any scale. You can be thankful that Whitney had mashed potatoes at lunch or that your test was postponed, or heck, that the $20 you found in your drawer last week was enough to top off your gas tank. On another spectrum, you can be thankful for your friends and family and the organizations and grade of education at UWL and all the other small and large accomplishments you perform every day.
Thanksgiving is the type of holiday created on a false assumption, but the way you celebrate it is purely up to you. Take some time out of your day and try to online shop (if you must) instead of going out; watch the Macy's Thanksgiving Day Parade with your family; spend time with the people you love because being thankful is not about capitalist discounted products.
About the Contributor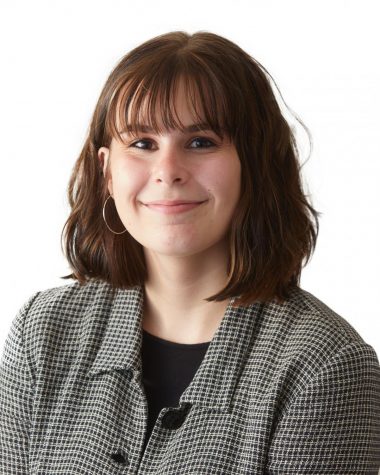 Sam Stroozas, Executive Editor

Year at UWL: Senior
PGPs: She/Her/Hers
Hometown: Hudson, WI
Major: English with an emphasis in Writing and Rhetoric, Communication Studies...