The History of Anna P. Wentz and Her Residence Hall
Born in 1873, Anna Wentz was a courageous and determined woman who set the standard for all woman and faculty at what was "La Crosse New School," now the University of Wisconsin – La Crosse. Wentz entered UWL with multiple teaching experiences. She finished a completion of a two-year course at Winona Teachers College, and then taught sixth grade at both Albert Lee and Brainerd Minnesota (La Crosse Tribune).
After her teaching, she moved on to achieve her Bachelors of Art degree at the University of Minnesota and Master of Science while serving as principal at New Prague, Minnesota and teaching part time physics later at South High School in Minneapolis, Minnesota.
Reflecting about her career, Wentz reported, "I taught science and studied science in a day when women were not generally accepted into the field" (La Crosse Tribune).
Wentz was the toughest professor students had in Anatomy and Physiology. In the La Crosse Tribune, a former student of Wentz said, "We not only had to learn every bone and muscle but we had to spell them correctly. When I was done with the course, I knew anatomy and physiology but also English. Wentz was strict at spelling and grammar."
As Wentz furthered her career, she received so much praise and recognition for her 28 years of dedication to the Biology department at UWL that she had a residence hall named after her.
After her retirement in 1948, Anna Wentz Residence Hall opened to the public in 1964. Wentz was front and center at the open house of her residence hall on Oct. 11th, 1964. Anna Wentz Hall was introduced as an all-female residence hall with strict rules and regulations. One rule that many residents of Anna Wentz Hall are still partially familiar with is the call-boxes.
Every room has a call-box, regardless of the now co-ed hall it has become. A gentleman caller would enter Anna Wentz Hall and ask the front desk assistant to ring up to his lady. The call-box would ring in the woman's room and she would be alerted her date has arrived.
Allison Lemke, two-year desk assistant at Anna Wentz Hall, recalls a story that was told to her one of the first times she worked the front desk – "I was checking residents in when an older couple entered the hall. They said hello and told me about their story with the call-boxes. The woman started off by saying how excited she was to go on a date with a man she had met on campus and that night when her call-box rang she walked down anxiously to the front desk and went on the first date with her now husband of 40 plus years."
The couple visited Wentz to recall their past collegiate years in a hall that has been welcoming to many UWL students over the years. The call-boxes are no longer in use but serve as a reminder of simpler times.
The rules of Anna Wentz Hall dictated every act of daily life. In a booklet discovered in the UWL archives entitled, "Dormitory Rules – Anna Wentz Hall 1964-1965" the expectations of the hall were laid out: "Skirts will be worn to class and in the main building unless otherwise specified. Blue jeans are to be worn in the dorm only. Calls are limited to five minutes local, fifteen minutes long distance. Beds will be made every day by ten a.m. No yelling in the halls." The list goes on and on to demonstrate the differences between the past and current residents of UWL.
Anna Wentz died at her retirement home in 1973, nine years after the completion of her residence hall. The legacy Wentz left is a lesson for all to chase your interests and be the one to follow a path that has never been walked. Wentz has never truly left Anna Wentz Hall. Her spirit is constantly felt – whether it is the ghost stories discussed about her haunting of the fourth floor, or her lively confidence that radiates through every resident.
Every so often when leaving the building you will hear a student say, "Make Anna proud!" And that is what each Wentzian attempts to do – give the woman that gave us so much the love and memory she deserves.
About the Contributor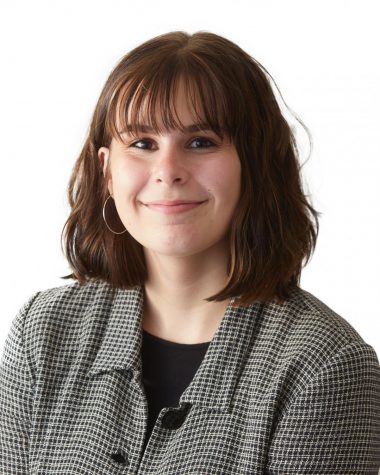 Sam Stroozas, Executive Editor

Year at UWL: Senior
PGPs: She/Her/Hers
Hometown: Hudson, WI
Major: English with an emphasis in Writing and Rhetoric, Communication Studies...