Big Fish – Lively Musical Casts A Spell with Charm, Imagination, and Hope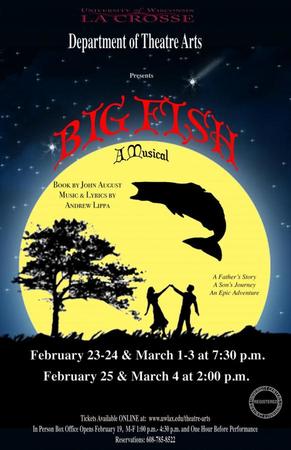 Megan Roddy, Guest Reporter
February 19, 2018
Hang on for a minute...we're trying to find some more stories you might like.
La Crosse, WI–The University of Wisconsin – La Crosse Department of Theatre Arts is proud to present the musical, Big Fish.
Adapted from the much-loved book and Tim Burton movie, Big Fish brings the cinematic experience to life through the music of Tony nominee Andrew Lippa (The Addams Family, The Wild Party), and the book by original Big Fish screenwriter John August. With rousing, foot stomping chorus numbers and heartwarming ballads, Big Fish will leave audiences wanting to hold their friends and family just a little bit tighter and dream a bit brighter.
Big Fish stars senior Theatre Performance major and La Crosse native John Divney in the leading role of Edward Bloom, an ordinary man with a fierce imagination and zest for life. Divney has played many iconic roles on the stage, including Don Lockwood in UWL's Singin' in the Rain and the Prince in the La Crosse Dance Center Nutcracker ballet this past winter. But for John, Edward holds a new challenge: to bring to life a good and imperfect character that is not as well known to the public.
"Edward can come off as showy, arrogant, and fake if his heart is not fully invested in sharing his love. He somehow talks about himself in the majority of what he says in the play. If the audience doesn't know his stories are meant to teach Will to "Be the Hero", they will assume he only cares about himself. I would hope the audience sees a man so excited to be alive that he loses track of reality. Edward fears death because he doesn't want his essence, his story, to die," Divney said.
Edward tells his son, Will, tall tales filled with beauty, love and imagination. As Will grows older, he begins to doubt his father's exaggerated life stories of meeting witches, kissing mermaids or joining the circus. More importantly, Will questions his father's character. When Will confronts his father about what is truth and what is fiction, they go on a life-affirming journey that will change them forever.
Divney further explained that one of the greatest challenges Edward faces is his relationship with his son Will. "Edward and William Bloom are continually grappling with stories too big to swallow. Their mortality and a blurred line between fiction and reality strain on their relationship. The audience will be posed two thematic questions: How does a hero live on? What makes a good Dad? Edward wishes to live on in stories because he wants his love to stay with those who have his heart. His desire to live on blinds him to truly seeing his son. I hope the audience leaves with a deeper love for the people in their lives. Edward is right.."the best part about adventure is the people you meet."
Bursting with heart and humanity, Big Fish will play February 23-24 and March 1-3 at 7:30 p.m. and with Sunday matinee performances on February 25 and March 4 at 2:00 p.m. Tickets are available for purchase online at www.uwlax.edu/theatre-arts. In person/phone ticket sales begin at 1:00 p.m. Monday, February 19. Box office hours are 1:00 to 4:30 p.m. Monday through
Friday, and one hour before show times. Tickets are $20 for adults, $18 for senior/non UWL students and $6 for UW-L students; call (608) 785-8522.