Awareness Through Performance Explains Privilege to UWL
The talented performers involved with Awareness Through Performance showcased the key social justice issues that impact the University of Wisconsin – La Crosse campus on Monday, Feb 19th at their 7 p.m. show.
This year's theme was "Privilege: Unplugged" which was evident in every skit the group performed. The crowd was intrigued for the duration of the show with the performers proving that there is still a long way UWL has to go with their diversity and inclusion values.
Some of the social justice issues ATP discussed were many of the 'isms' – racism, sexism, classism, and ableism. They also touched on trans rights, white privilege, and domestic violence, sexual harassment, and environmentalism. These social justice issues are pertinent to the UWL campus for many reasons, number one being the lack of enforcement of UWL's core values.
An interview with performer Karter Etchin supported this theory. He said, "We try to present important knowledge that touch on a variety of issues so no one on this campus feels alone in their struggles."
Etchin participated in a scene entitled "Three Black Men." In this scene, three ATP performers – Karter Etchin, Isiah Thomas, and Bedston Burrell Jr. – stood at the front of the stage and talked about why they have a right to be afraid of the police, how they feel as a minority group on campus and the targets that society knowingly puts on their backs.
Etchin commented on their performance post show, "Three Black Men was my favorite scene to put on because we need to talk about racism on this campus. I have heard the 'n word' multiple times on this campus and it is not okay."
During the performance, Etchin discussed his childhood friend, Tony Robinson. Robinson was shot and killed by a police officer in Madison, Wisconsin on March 6, 2015. Etchin commented on his friend's death, "I used to play basketball with him; he was my friend. People cannot forget about his death- do not forget his story."
February is known for being Black History Month all around the world. Unfortunately, Chancellor Gow has not made any comments regarding this month. Etchin commented on Gow's absence of words, "I go to a University that prides itself on diversity and inclusion yet our chancellor has not made an effort to celebrate Black History Month or come to the ATP performance."
Another performer, Amber West, took the stage as her own during ATP and spoke after the interview about why ATP is important to her. West stated, "ATP is not an attack on those who have privilege. It is an opportunity for people to come and learn and be taught about things that they have never discussed."
West starred in the scene entitled, "But They Like You" where people shared their stories about sexual assault and harassment. West commented on the scene, "But They Like You was my favorite scene because it was personal. I helped design it and I am proud of how it turned out."
Jessica Jablonski, another performer, discussed what she wants UWL students to know about ATP. Jablonski said, "These are our stories and our experiences. This is not just happening on the news, it happens every day on this very campus. You must be vulnerable to learning about social justice issues because we must make change in our community."
Awareness Through Performance permits UWL students to think about their identities and those around them in ways we are not taught to in the classroom. What was discussed at ATP are worldly issues, but also UWL issues. What are you going to do change that? How will you respect the diversity and inclusion virtues of UWL that are never enforced fully? Checking your privilege is the first step.
About the Contributor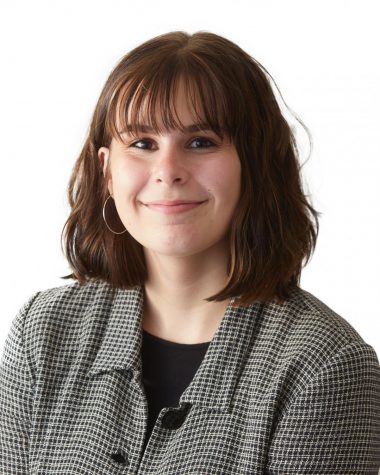 Sam Stroozas, Executive Editor

Year at UWL: Senior
PGPs: She/Her/Hers
Hometown: Hudson, WI
Major: English with an emphasis in Writing and Rhetoric, Communication Studies...