UWL Wrestling Review and Championship Preview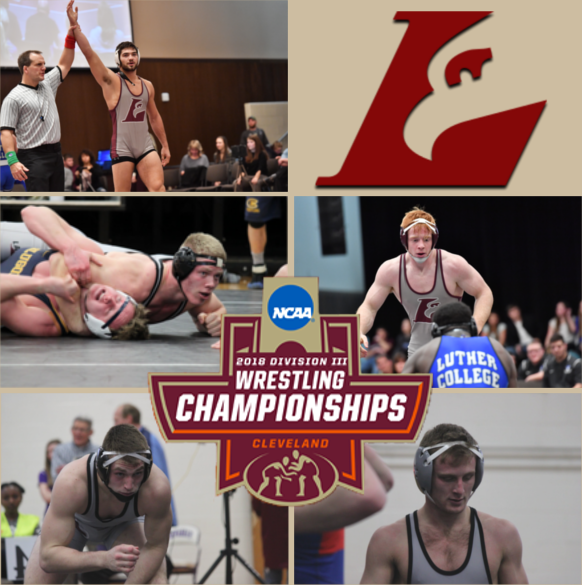 Melissa Petroff, Sports Reporter
March 8, 2018
Hang on for a minute...we're trying to find some more stories you might like.
Coming into the season unranked was not going to stop the University of Wisconsin-La Crosse wrestling team. The team had no returning national qualifiers, which would be worrisome for most, but not for the Eagles who are sending five wrestlers to the NCAA Division III National Championships this weekend.  
The Eagles lost some close matches this year to ranked teams, they finished with a 10-4 overall record in dual matches, including 4-1 in Wisconsin Intercollegiate Athletic Conference play.   
Despite these losses, the team came through at the conference tournament on February 9 in Whitewater, WI by securing UWL's second straight title. The Eagles continued this momentum in to Regionals, where they placed second out of seventeen teams at the NCAA Division III Upper Midwest Regional in Minneapolis, Minnesota on February 23 and 24 (uwlathletics.com). 
Head Coach Dave Malecek said, "there's a lot of training that goes into this sport. We have guys coming in at 6:30am to work out, working hard in practice, and even some that will work out again at night – all along with being great students too."  
UWL seniors Reid Johnson and Sean O'Neil see success on and off the mat as pre-med students with 4.0 GPAs. Malecek noted that both are great examples for the younger athletes on the team as over half the wrestlers maintain a GPA higher than 3.0, "it's amazing what these guys are doing," Malecek stated.  
Johnson said that this season was a year of growth for the team, it was a time for them to trust the process, "It was definitely a reloading year. As a senior, I think of it as passing on the torch". He said that coming in with no returning qualifiers didn't stop the team much because there is solid depth in all the weight classes.   
A favorite memory from the season for Johnson was at the conference tournament, "there were ten of us in the finals, the most out of any of the schools. To look around and see all of us in that position, you know that the group you're apart of is pretty special".  
According to the most recent rankings update from the National Wrestling Coaches Association, UWL is currently ranked within the top 25 Division III schools at No. 10.   
The five Eagles that will be competing this weekend include senior Wesley Schultz (197-pounds), and sophomores Konrad Ernst (285-pounds), Sawyer Massie (174-pounds), Spencer Nevills (149-pounds), and Hayden Schlough (141-pounds). This will be all the wrestlers first time competing at the NCAA Division III National Championships.  
"We're going to take it one match at a time and control what we can control. Our ultimate goal is to have as many All-Americans as we can," said Malecek on the expectations for the weekend.  
All the action this weekend will start at 10 a.m. (Central) on Friday, March 9 and 9 a.m. (Central) on Saturday March 10th at the Cleveland Public Auditorium in Cleveland, Ohio.