Viewpoint: What Do You Do In Sports Management?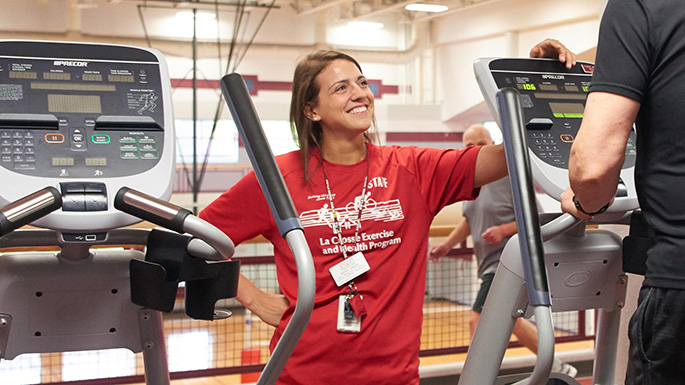 Melissa Petroff, Sports Reporter
March 21, 2018
If I had a dollar for every time someone asked me "what do you do with a sports management degree?" I would no longer be a "broke" college student.  
But in all seriousness, I do enjoy telling people about my major and what it entails. Does this mean with this degree I will be the next general manager of the Green Bay Packers? Well, it is possible. After all, University of Wisconsin-La Crosse alumni Brian Gutekunst recently became the new general manager for the franchise (GO PACK GO!). Although someone with a sport management degree could quite literally manage a sports team, there is a lot more that someone can do with this major.  
I remember as a young high school student not knowing exactly what I wanted to major in in college. When junior year rolled around and it was "that time" to start applying to schools, I started to do some research. What I came across was a program here at UWL in the Exercise and Sport Science Department. The word "science" freaked me out a bit as that subject is not my strong suit, however once I looked more into what the sport management program offered, I was hooked on coming to UWL to pursue a degree in it.  
My freshman year, I had a career goal of being the Director of Basketball Operations for a team either at the collegiate or professional level. This position deals with setting up the team with travel accommodations, recruiting, and in a collegiate setting, the academic progress of student-athletes. These are only a few of the duties that a "DOBO" handles on a daily basis. 
What I learned in my Intro to Sport Management and Sport Management and Communication courses is that there are so many other positions I could hold with this degree that I never knew or even thought about. I also realized that there is a plethora of other opportunities available than just focusing on the four major sports of baseball, football, basketball, and hockey. 
If you like to work with an organization or team to enhance their public image and deal with crisis management, public relations in sport might be a career choice for you. If you enjoy being in front of the camera and talking about news in the sport world, a career in sport broadcasting might be a career option. I realized that I wanted to work in a setting communicating and interacting with people, so I started to lean more towards a position in sport marketing or (down the road) creating my own consulting business in a sport setting. 
UWL junior Carly Atkins expressed that she would like to work in Community Relations in the sport industry, "sport has opportunities to give back and I want to be a part of that connection that sport organizations can have with the community". Atkins has experience in working in community organizations with the YMCA here in La Crosse and her hometown Parks and Recreation department in St. Paul, Minnesota.  
The classes in the sport management program gives students the chance to learn and explore different career options. Facilities management, event operation, sport law, and media relations are some of the areas that gives students perspectives of what kind of work is involved in different sectors of the industry.  
Being in the sport management program here at UWL has given me experiences and friendships that I will carry on in my future endeavors. When you have something you're passionate about, find a school that offers an outstanding program, and can turn that passion into a career; you know you made the right college choice.