Yamazawa Performs at UWL
University of Wisconsin – La Crosse celebrated the end of Social Justice Week by hosting G. Yamazawa, a social justice rapper, poet, and comedian. The event was sponsored by ASO, the Asian Student Organization. Yamazawa was born and raised in North Carolina, he is a full-time poet and MC and has competed at the National Poetry Slam, appeared on ABC, NPR, and more. He performed at over 200 universities, the Sundance Film Festival, and the Pentagon.
Yamazawa performed poems such as, "10 Things to Know About Asians In the South" and "16 Bars" which told the story of his Japanese meets American culture and his parent's immigration.
Yamazawa rapped, "My parents had to dumb down our identity, my name was not given to me it was given to the rest of the country…English is like climbing a barbwire fence – his tongue knows turbulence. My father's accent is not smooth like my birth certificate… He cooked because he knew standard English wasn't going to feed his children… I am a star-spangled banner with a red hole through it."
Throughout each poem, there was a keen focus on cultural identity. Migdalia Simpson, Junior at UWL commented on the performance. Simpson said, "I absolutely loved it. I connected so much to the immigration stories and being a child that was born in America but feels unconnected to their homeland because of their mainstream birthplace."
During the Q&A Yamazawa discussed his growing sense of self-awareness and passion for his job. He explained, "I love what I do. I get to connect with others and share my story, it is a true blessing. My art aligns with who I am as a person and social justice."
Social Justice week at UWL showcased events similar to this where students and faculty came to learn about social issues. Some people think that social justice does not play a part in their life but Yamazawa argued, "The responsibility of social justice is inscribed in all of us as humans. We all have to find ways to help and engage the world."
Aprajita Singh, the Public Relations chair of ASO commented on her favorite part of the event, "The performance was amazing, I think my favorite part was the whole show. Being able to plan for this event and see it turn out was motivating to me because it means that my work is making a difference on campus. The show was incredible."
Yamazawa's performance captivated students and encouraged them to learn about social justice matters in their own lives. He concluded the show with, "Vulnerability is one of our most important emotions to evolve as humans. My art, poetry, and music has helped me understand the world a bit more and pushed me to be a better person. I always want to have the agency to express myself freely."
About the Contributor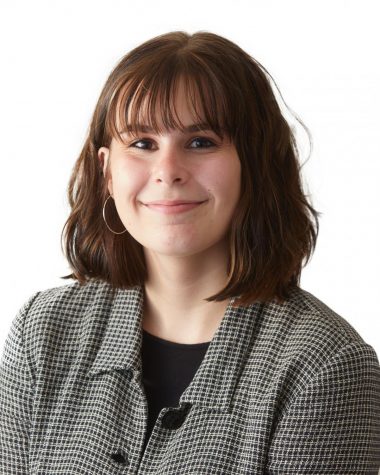 Sam Stroozas, Executive Editor

Year at UWL: Senior
PGPs: She/Her/Hers
Hometown: Hudson, WI
Major: English with an emphasis in Writing and Rhetoric, Communication Studies...