The Arsonists – a fiery satire absurdist comedy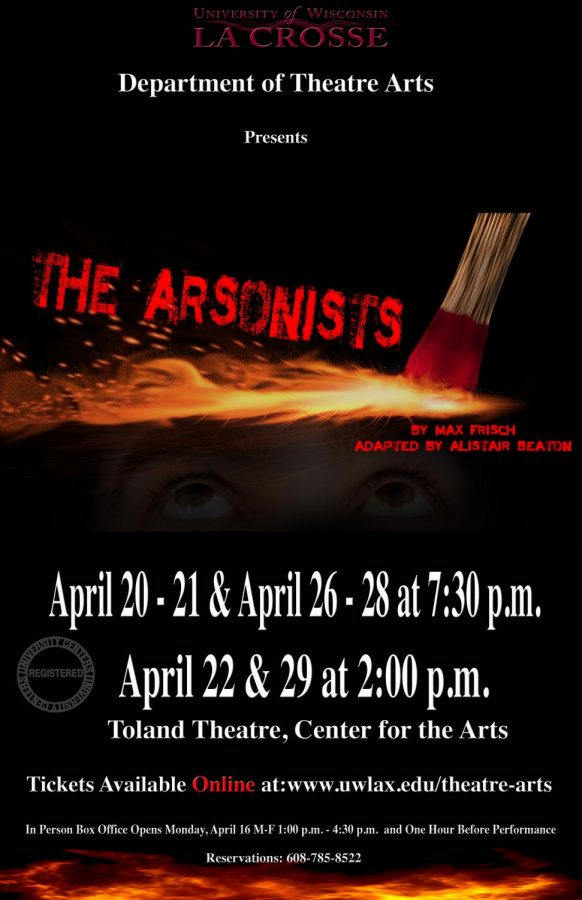 Megan Roddy, Guest Reporter
April 17, 2018
The University of Wisconsin – La Crosse Department of Theatre Arts is proud to present The Arsonists by Max Frisch in a new translation by Alistair Beaton. Originally presented at Royal Court Theatre in London, this contemporary British satire is a delightful combination of humor and disaster.
Junior Theatre Performance and English major, Morgan Gates, stars as Mr. Biedermann, a naive businessman who is oblivious to the problems and the world around him. "One word to describe Biedermann would be "blustery". Biedermann is proud of how far he has come in his life, forming a successful business from the ground-up, and becoming a part of the upper middle-class that he never thought would be attainable. His fear of losing everything he has worked for is what drives him to avoid showing his terror at the town's peril, and why he comes across as larger-than-life. His bravado is how he defends himself from the terror of the world," said Gates.
A dark comedy, The Arsonists, is "comedy with consequences." It is an ominous tale of a town with an imminent aronsinst problem. With the town ablaze, Biedermann, a respected businessman and upstanding member of the community, feels pressure to invite two strangers into his home. He ignores his loved ones loud protests and the multitude of evidence that is right in front of him, refusing to confront the obvious truth…these two guests are the things he fears the most: arsonists.
"Audiences should leave amused, but also, reflective. This play is meant to make you think about the characters and what their actions represent. It takes a while to break this one down after watching it. We're hoping that audiences will leave thoughtful of what this tale of middle-class belonging means in their lives, as well as others' lives in today's world," Gates shared. But this dark comedy is not without a multitude of laughs. "The show has its own share of blatant jokes, but a lot of the humor comes from the characters' reactions to each other, and their different mannerisms. Being a dark satire, the actors are doing a fantastic job of creating laugh-out-loud moments, that later on will make you think, "Oh no, why was I laughing at that?"
This comedy will go up in flames on April 20-21 & April 26-28, 2018 at 7:30 p.m. and April 22 & 29, 2018 at 2:00 p.m. at the Toland Theatre, Center for the Arts, on the UWL campus.
IF YOU GO:
WHO: UW-La Crosse Department of Theatre Arts
WHAT: The Arsonists by Max Frisch; new translation by Alistair Beaton
WHEN: April 20-21 & April 26-28, 2018 at 7:30 p.m. and April 22 & 29, 2018 at 2:00 p.m.
WHERE: Toland Theatre, Center for the Arts, 333 N. 16th Street, La Crosse, WI 54601
COST: $18 adults; $16 seniors citizens/non UW-L students; $6 UW-L students. Tickets may be purchased online now at www.uwlax.edu/theatre-arts. In person/phone reservations begin April 16 by calling 608-785-8522. Box office hours are Monday through Friday 1:00-4:30 p.m. and one hour prior to each performance.
CAST: Carly Boles, Gabe Burdette, John Divney, Morgan Gates, Aaron Hinz, Richard Klinge, Rachel Krause, Sarah Lambert, Grant Latus, Emily Ludewig, Evan Medd, Caitlyn Nettesheim, Megan Roddy, Alexis Violette, Leah Williams
CREW: Beth Cherne (Director), Greg Parmeter (Movement), Scenic Designer (Mandy Kolbe), Ben Golden & Willie Pearson (Sound Designers), Sarah Herkert (Lighting Designer), Joe Anderson (Costume and Makeup Designers), Alexis Wells (Stage Manager), Hannah Steele (Master Electrician)