Ask 5: Other Products to Consume During Finals Week Besides Coffee
Finals are in the air at University of Wisconsin – La Crosse and students are hoarding food and study spaces to buckle down for the stress filled week. The Racquet asked 5 UWL students what drink or food keeps them focused during finals week, besides the usual black coffee.
Alex Butler, freshmen at UWL said, "Tangerine flavored La Croix hits the spot for me when I am stressed." Butler, a pre-med track student said his finals week is fast-paced, "I have final after final so sitting down with some of my friends from my fraternity and going through my flashcards knowing that I can taste La Croix afterwards is the best motivator."
Although La Croix has become a large part of beverage culture, there is nothing better than the original – water. Sophomore Aaron Ruud said he sticks to the essentials during finals week instead of spending any extra cash.
Ruud said, "Water keeps me hydrated and is completely free. I have easy access to it, and it keeps my immune system up instead of letting the stress get the best of me."
If you're looking for some cheap food around campus, Burrito House is the place to be. Sophomore, Sophia Jaume described her love of this restaurant, "A chicken burrito and a lime soda is all I need during finals week. It always tastes good and does not cost that much."
Many people get extra anxious around finals week, but Jesse Solberg has found the cure for her worrisome moments. Solberg said, "I drink lots of chamomile tea with raw sugar because it calms me down and focuses me to study. It is a nice alternative to coffee so I am not always drinking a lot of caffeine."
Although coffee has its downfalls, it can be used wisely and effectively during cramming. Freshmen, Erik Sells drinks vanilla lattes to encourage studying. Sells said, "It is the theory of classical conditioning – I study, I get my coffee. It's a reward to motivate me to continue my good habits."
Finals at UWL can be nerve-wracking and stressful but making sure to eat and drink your favorite foods and beverages will make studying a little less painful. Checking out on campus coffee places or restaurants to use up the rest of your maroon dollars is always the best option, but if you are tired of campus food, try going off campus to some new places – check out their menu and find a nice study place. Eating and drinking right during finals week will not only encourage hard work but promote overall healthy physical wellness during a stress-filled time.
About the Contributor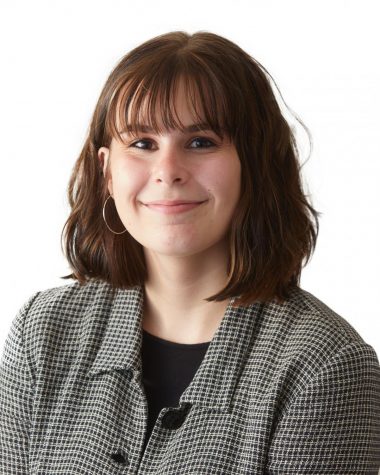 Sam Stroozas, Executive Editor

Year at UWL: Senior
PGPs: She/Her/Hers
Hometown: Hudson, WI
Major: English with an emphasis in Writing and Rhetoric, Communication Studies...