UWL Ranked Sixth Most LGBTQ-Friendly College
The University of Wisconsin – La Crosse has recently been ranked sixth in AffordableColleges.com's "Top LGBTQ-Friendly Colleges of 2018-2019". The website stated that "Students attending the University of Wisconsin-La Crosse will become part of a vibrant and diverse community. The UWL Pride Center not only provides this environment for LGBTQ+ students, but also seeks to spread awareness for LGBTQ+ issues and how they pertain to campus life and culture."
The Pride Center's mission statement reads, "The Pride Center shall foster a safe environment for all LGBTQ+ students, faculty, and staff, educate the campus and community on issues, and advocate for student success and inclusivity" (uwlax.edu). The mission statement serves as public testimony of the goal of the Pride Center and what all students should be aware of when seeking assistance.
In an interview with Will Vanroosenbeek, the director of the Pride Center, UWL has come a long way in inclusivity but also always has room for growth. Vanroosenbeek said, "We have done a great amount of work over the years to make UWL a better place. We have improved our campus climate for LGBTQ+ students, faculty, and staff which is intentional.  Of course, we still have work to do.  I am proud of the work UWL has done to be a welcoming place."
The Pride Center offers ally-training a few times a year and meetings to help those with questions about themselves, sexuality and gender as a whole. Vanroosenbeek said UWL students should know to educate themselves, "Be aware that not everyone is heterosexual or cisgender. Attend an Ally Workshop or a Pride Center event, speak up when you hear derogatory words, jokes, etc. Vote for pro-equality candidates, work to attend oppression, and teach others."
Being aware of your privilege and working to deconstruct the cisgender and heteronormative norms embedded in western culture is some of the goals of the Pride Center. "We have become a more well-known resource to the campus and area. Students are coming out at earlier ages and more high schools have GSA's (Gay Straight Alliances) than ever before. Students expect to have a center or services on campus for them," stated Vanroosenbeek. "However, many students do not have the support to explore their sexual orientation and/or gender identity/expression. Some students need the Pride Center to help and support them through their process."
As students learn more about the Pride Center, initiatives of the Pride Center including gender inclusive housing/bathrooms, personal gender pronouns and the respect associated with all sexualities – become more of a reality. Vanroosenbeek ended with what students need to know about the Pride Center, "We are open and available for all students, faculty, and staff.  We have books and videos available for checkout.  The Pride Center has a graduate student and three undergrads who work as Peer Educators in the Pride Center."
The Pride Center is located in the COVE on the second floor of the Student Union.
About the Contributor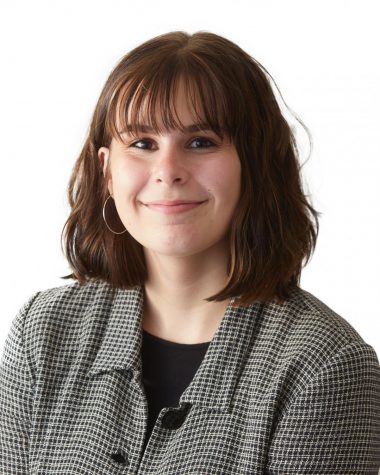 Sam Stroozas, Executive Editor

Year at UWL: Senior
PGPs: She/Her/Hers
Hometown: Hudson, WI
Major: English with an emphasis in Writing and Rhetoric, Communication Studies...