The Energy Behind UWL Football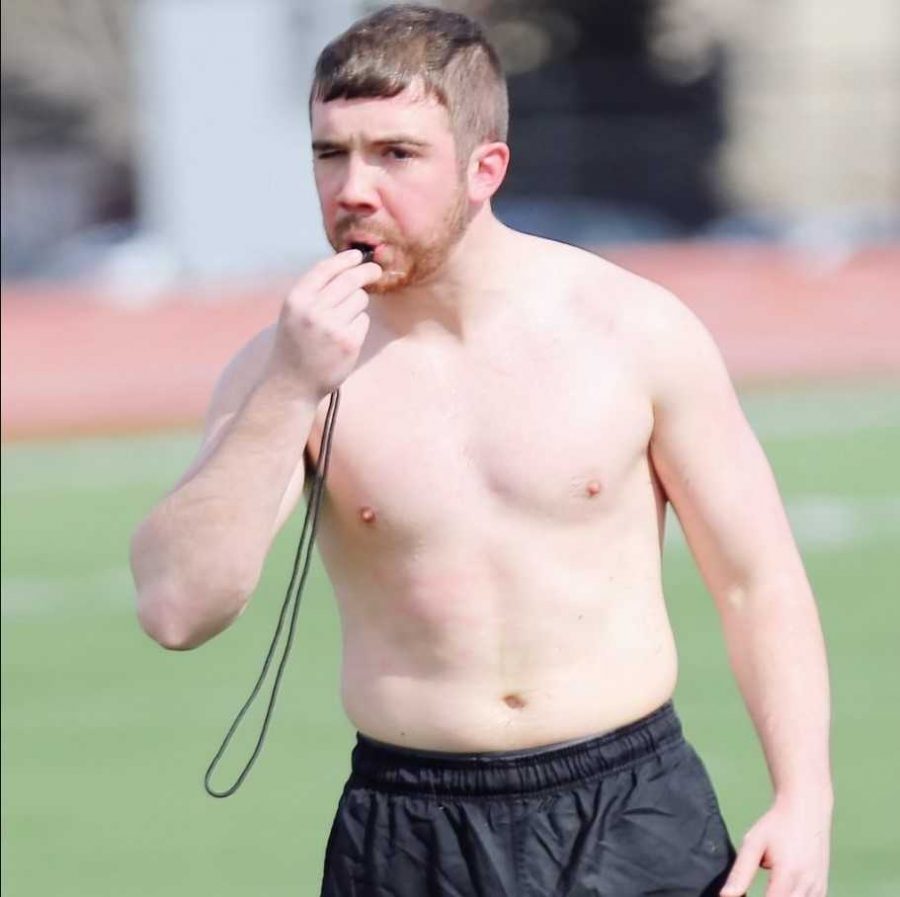 Melissa Petroff, Sports Reporter
September 5, 2018
It's easy to see when a team has that special energy about them. If you have ever witnessed a University of Wisconsin-La Crosse football practice within the past year, you might wonder why a young man runs to the middle of the field, rips off his shirt, and chugs a Kickstart Mountain Dew – with the all the football players rallying around him, fueled with the intensity and spirit of the young man. His name is Louden Brown, a student assistant coach for the football program, who has a very special role on the team.
Brown is the team's proclaimed "hype-man", so, taking off his shirt and running around to pump up the rest of the team is nothing out of the ordinary for the program. With an already energized team and coaching staff, Brown lights the fire with his ability to get the team loud and ready to play.
It all started his freshman year, in the basement of Mitchell Hall. Brown was with his mother visiting campus when head football coach, Mike Schmidt bumped into the family and asked if they needed help finding their way around. This "run in" turned into a conversation and eventually a job for Brown as a student assistant coach for the team.
Brown's father, Louis Brown, has been the head football coach at Franklin High School in Franklin, Wisconsin for 27 years. He previously coached wrestling at the school and is also a physical educator teacher. Brown's major is secondary mathematics and wants to be a high school math teacher and football coach. "My dad is definitely an inspiration for me, he's very well known around Franklin," Brown said. Schmidt also knew of Coach Brown, so the two had a lot to talk about.
When asked how the "hype-man" role came to be, Brown said it wasn't really planned. "During one practice a year ago, a guy took his shirt off. One day I did it, and it seemed to really pump everyone up," Brown said. "When spring ball came around, we ended up planning some crazy stuff to do". He expressed that he wouldn't be in the position he is today without the culture that Schmidt has made for the team.
The culture of the football makes Brown's hype-job fairly easy. Schmidt encourages an atmosphere of fun and craziness for his staff and players. "We don't want to take ourselves too seriously and never want to lose sight that we want to have fun," Schmidt stated. "Our culture is energetic, we're here to have fun, but we also know when it's time to be serious. Overall, we want our guys to show up and be themselves".
Although Brown may be known as the hype-man for the team, his role is more than just that. The beginning of practice is full of hyping the team up, but he also runs ten minute training fundamentals for warmups. Brown works with the defensive backs and is very involved in the game planning. "He has a very vital role on the team. He's not just a hype-man, as a student assistant coach, he's respected and valued. Being the hype-man is just one component of who he is," Schmidt said.
The UWL football team won their season opener against Luther College in Decorah, Iowa on Saturday, Sept. 1 with a score of 52-21. The Eagles travel next to Bloomington, Illinois to face Illinois Wesleyan University on Saturday, Sept 8 at 1:00 PM.