Gubernatorial candidate Tony Evers visits UWL
On Monday Sep. 24, Wisconsin gubernatorial candidate, Tony Evers visited the University of Wisconsin – La Crosse and talked to The Racquet about the importance of voting, his care for the UW system and how he will include diversity and inclusion within his political career.  
Come election day on Nov. 6, Evers will challenge incumbent Scott Walker, (R) and well as the other nominees on the ballot for governor including Phillip Anderson, (Libertarian) Michael J. White, (Green) Maggie Turnbull, (Independent) and Arne Enz (Wisconsin Party).  
Evers discussed the importance of college aged students voting, "College students need to get registered and get voting because everything on the ballot directly influences them. It changes whether or not they can refinance their loans and if tuition will drop more so than just being 'frozen.' The University of Wisconsin system has taken a huge it in the last few years and UWL is part of that. There is less state money and always a constant pressure on tuition increasing. The state has to understand that the UW system drives economic development in this state and if we do not support it, it is going to fail."  
The New York Times reported that "during the 2014 midterm election only 12 percent of eligible 18- to 21 -year-old college or university students voted. In 2016 – with the presidency at stake – less than half college undergraduates voted."  
Given the historically low turnout for college-aged voters during midterms, Evers stated "students need to care about voting, it is important to exercise their undeniable human right. I understand that voting can be difficult because of policies that have suppressed students from voting and it takes extra effort, but we must do it."  
Evers is also the on the Board of Regents for the state of Wisconsin and is the only member who was not appointed by Gov. Walker. Evers discussed the spots opening on the board and his stance on who to appoint and what values need to be discussed, "There are three seats up next year on the Board of Regents and if elected, I will be appointing people who actually care about the UW system in a proactive way. From a governance point, we can learn to value the student voice again and make sure we have people on the board who understand the mission of the university. We need locally elected people to make these decisions." 
Diversity and inclusion are included in the UWL mission statement and for Evers' campaign. He values the importance of these ideologies and works to embedded them in his political culture. Evers commented on his integration of them by saying "Diversity and inclusion are not only important to my campaign, but important to the state of Wisconsin. We need to value diversity, it makes us smarter and it makes us a better state. Inclusion is critically important, not just for the UW system, but the state itself."  
Stephanie Boebel, Co-Chair of UWL College Democrats was also at the meeting and commented on Evers as a candidate and his caring nature towards students. Boebel said, "It was so great he stopped by, it shows that he cares about the students. Even if he could only come for a few moments he still was willing to do so and talk about the issues that are important to us. Students need to be voting this midterm election because there is a lot on the line, many of these issues directly impact students and Tony is a great person to help fix a lot of the problems."  
A member of College Democrats, Betsy Rilling was pleased by Evers appearance, "I was so happy to meet him. As a future teacher I enjoyed learning about his pro-education values. All UWL students need to get out there and vote in November because it is our right to do so."  
The midterm election will take place on Nov. 6, 2018. If you are not registered to vote in the state of Wisconsin, click here and learn more.
About the Contributor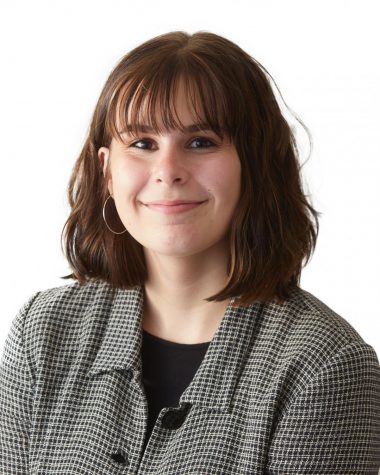 Sam Stroozas, Executive Editor

Year at UWL: Senior
PGPs: She/Her/Hers
Hometown: Hudson, WI
Major: English with an emphasis in Writing and Rhetoric, Communication Studies...