How new Pay-by-Phone Parking program affects UWL students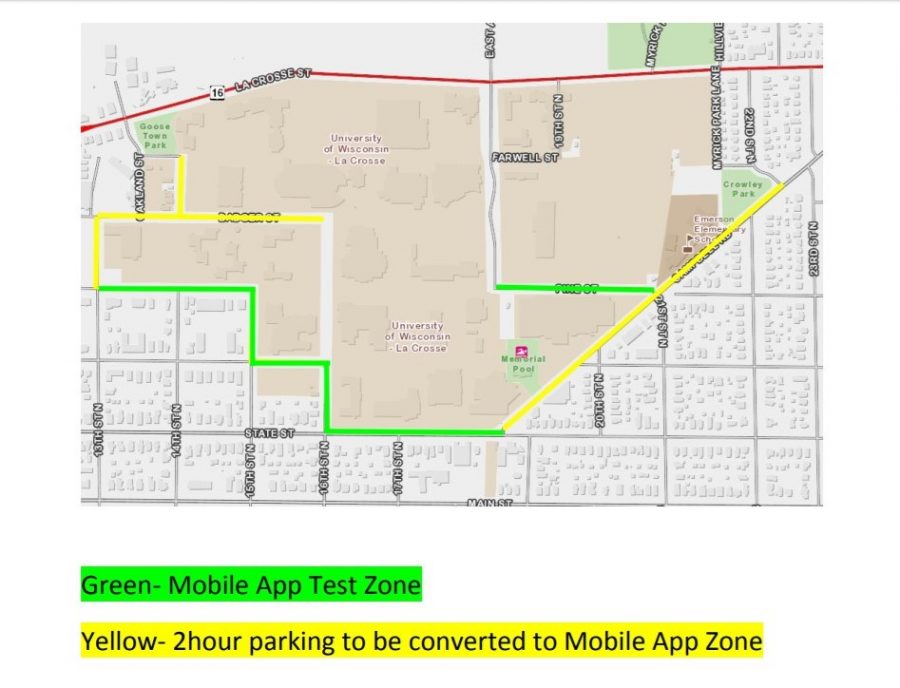 Melissa Petroff, Sports Reporter
October 14, 2018
There has been some buzz in recent weeks regarding a parking program that the city of La Crosse is implementing – a program that will significantly affect University of Wisconsin-La Crosse students. Streets that are directly connected to UWL campus will be changed from free to $1/hour parking, with a maximum time limit of 4 hours. There will also be changes to certain streets right now that are currently 2-hour zones, which will also require a fee with the new program. See the map for which streets are included.  
News first broke of the proposed plan for this program when a La Crosse Tribune article was published on Sep. 11 of this year. The article expresses that La Crosse Police Department Assistant Chief Rob Abraham and parking utility coordinator Jim Flottmeyer discussed this plan with the Board of Public Works. The article states that the change would help the permanent residents who live around both the UWL and Western Technical College campuses park near their homes. 
For especially off-campus residents, it can be frustrating to try to find street parking near campus, whether it's because students would otherwise have a 20-minute walk to campus, need to come to campus for a group project, or for a lot of people who live on the borders of campus, the place they rent from does not provide any or enough off-street parking. "I know when I drive to class, it's because I'm already short on time, so this is just another thing to worry about," UWL Student Jessi Ewing said. She was also frustrated about the extra money students have to shell out just to park at their residence, "Last year, they [the city] started charging "renters" (college students) to buy a residential parking permit. So since I lived on a street with 2 hour parking, I had to pay $50 a year to be able to park there longer. If you owned your house, you got the same permit for free though". 
UWL Student Association president Ben O'Connell voiced his frustrations about the plan. "Despite the claim by the city that this program is designed to prevent UWL students and personnel from parking in front of permanent residents homes, it will actually drive UWL parking into the actual residential areas, working against the program's intent," O"Connell stated. He explained his initiative in going door-to-door to residences that will be affected, most of them being student-occupied apartments and houses. Eagan Norman, another student at UWL, echoed O'Connell's view, "They [students] will be driven to park farther from campus, causing more student-drivers to park in residential areas, creating higher demand for parking in areas the city wanted to reduce parking in". 
This parking program was recently OK'd by the city, another article published Sep. 18 by the Tribune made the public aware. People will be able to call 1-800-789-7593 to pay for the parking or use the app that is already implemented with the parking lots on campus, PassportParking, in which users can link a debit or credit card to pay for their allotted parking time. 
Director of Parking and Transportation at UWL, Victor Hill, stated, "We [Parking and Transportation services] had a feeling this was going to occur, but weren't sure when and what form it would take". Hill noted how there is not a "one size fits all solution" to whether parking should be free or not. Students have to pay for the parking on campus because the parking operations must be self-funded to make enough money to keep the lots in good order.  
La Crosse mayor Tim Kabat articulated in the Sep. 18 Tribune stated that, "the burden to pay for parking facilities shouldn't only fall on taxpayers but also those who use the parking facilities, including on-street parking". O'Connell argued this notion from the mayor, that students contribute to property taxes through paying rent, which already is a big expense for college students – who aren't exactly the wealthiest people on the block. 
Student Christina Czajkowksi agreed with this point, "Not every student can afford to pay for this additional parking, enforcing people to pay for parking where they live and work is exploiting the means they live by".  
UWL plays a big part in the atmosphere of the city of La Crosse. Many students feel drained when programs like these directly affect their presence in the city, "While I have loved my three years in La Crosse so far, and I think of it as my home, programs like these make me feel like we, as students, are not considered members of the population that makes this city great," Norman said. 
Although UWL Parking and Transportation is not connected to this new program, they are always willing to answer students' questions regarding parking on campus and encourage students to browse their website. Hill gave some tips on how students can park effectively; students can buy $3 half-day passes for the commuter lots and students living together can purchase a year-long permit and split it with their roommates, as long as there is only one car on campus at a time. 
The city parking utility will be ordering signs and putting them up on the streets where the program will be implemented in about a month.