REC 2.0: Improvements beyond facility expansion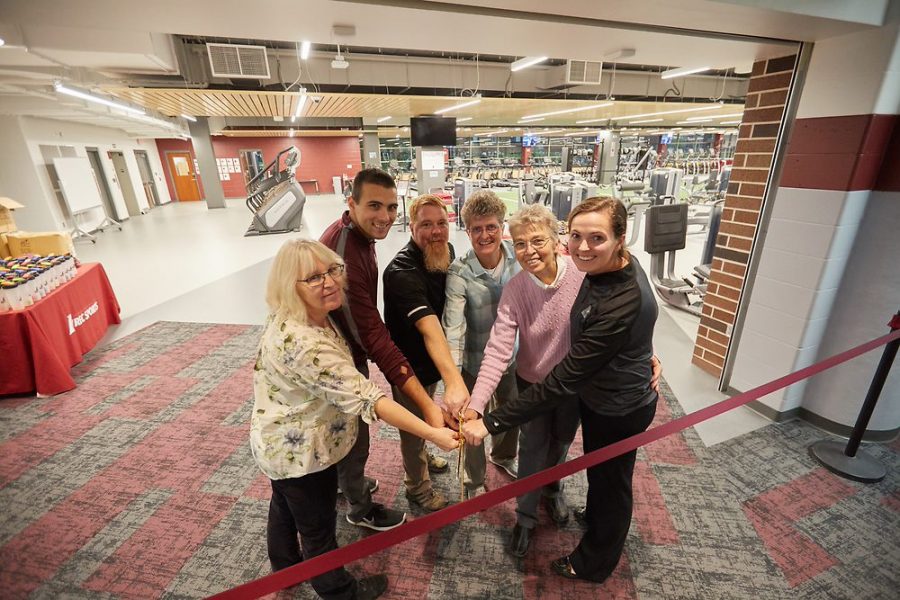 Melissa Petroff, Sports Reporter
November 14, 2018
The University of Wisconsin-La Crosse experienced growth for their highly active campus when the Recreational Eagle Center (REC) addition was completed last month. Although construction is complete, the staff at the REC strive to continue to develop the REC and the features it offers – not only to those who frequent the REC but also to those who do not. 
"The whole mindset of addition is to make it more open, inviting, and welcoming," Director of Recreational Sports Sue White stated. "Our strength and cardio area is finally large enough to accommodate use of our active campus". 
In the old Strength Center, the space was separated from the cardio machines, creating a large divide for people who want to strength train and also work on their cardio. "The addition is built well with the acoustics and layout. There are no big obstacles, so you can see through facility and the variety of equipment it offers," White said. 
The staff at the REC has been working hard throughout this first month to encourage use of the space for regular users, but also bring in people to the REC who may have never stepped inside before. Nick Berg, the fitness coordinator at the REC, is working to make this vision into a reality. 
"This new transition is all about development. A lot of growth and training goes into the staff here, which is why I think it's one of the best places to work as a student. One of the reasons I came back to UWL is because I knew about the amount of development the REC puts into their staff," Berg said. 
Berg leads one of the student staff committees through the REC, called Student Inclusivity Networking Committee (SINC). "My role in leading SINC is very important to me. We want to push our programs to other diversity organizations and campus climate. We want those who are underrepresented on campus to know we're making changes to increase inclusion. It is a big part of our programs; some people don't know the benefits of health and wellness. We need to reach out to those people, which is why we are making a shift to be more proactive and inclusive in that approach." 
To increase this developmental mentality for the REC, feedback is a key element. Surveys are starting to become available and there is also a white board located near the entrance of the new addition. This is meant to be a collective place to share a response to a question that is posted on the board.  
One of the questions posted was, "What equipment/services do you want to see in REC?" With the feedback from this board, the REC staff can meet about what is an actual need in facility, what a good purchase would be, and how it would meet student needs. Overall, they want to make a space that is constantly getting better over time. 
A resource that the REC has improved is its personal training program. This resource gives students a chance to work with certified trainers that are also students. People can work 1-on-1 or 1-on-2 if they want to work out with a friend or another person for motivation. There is a separate room in the new addition for this personal training so that people can feel as comfortable as possible. 
"With our personal trainers, we are trying to develop these people in their roles. There are a variety of different people with different experiences which leads to fresh ideas and mindsets about how to make the training process better. They are not all just power lifters and weightlifters either. We have a personal training supervisor position to enforce policy, prevent injury and risk, and be a welcoming ambassador for fitness," Berg said.  
There are currently two student personal trainers at the REC, both Graduate Assistants. In the future, the REC hopes to get people working to gain experience and then obtain personal training certification. 
"It's all about getting this information out there and having students become aware of that service is available. It was intentional to make a specific space for 1-on-1 training, we hope that catches on," White said. 
The entirely new program that came along with the addition is the LAXFit classes. "These classes are up tempo and make you work out in a way you might not be used to. You're getting coached, you have other people around you to motivate you. It's also college-budget friendly, $3.75 for a 45-min session. We wanted to make these classes accessible and affordable for everyone," Berg stated. 
Another unique feature of the REC which has gotten positive feedback from students is the turf, located in the center of the new addition. "It's great to see people utilize the turf. It's a space where different kinds of training and stretching can be done. What I really want to do with this space is show people there are more ways to train than they are used to," Berg said.  
"The new turf is unique for a fitness center on a college campus, it allows for students to do any type of activity that they want. Our REC overall is very unique to other schools in the University of Wisconsin system – every other university besides UW-Madison has to share their recreation building with athletics. Our center is stand-alone as 100% recreation," White added. 
With all of these new and improving features, the future of the REC is bright. "Hopefully we look a lot different in a year. We want to be educating our users, adjusting group training and fitness, influencing the introductory/novice people, and really being specific to what our users want," Berg concluded.