Trump's comments revisit the dangers of football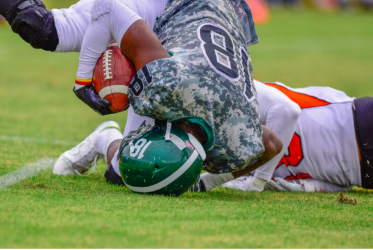 Trevor Kliebenstein, Sports Reporter
February 11, 2019
Hang on for a minute...we're trying to find some more stories you might like.
Earlier this week, President Donald Trump stated he ideally wouldn't like his son to play football, calling it "a dangerous sport." Asked if he would allow his son Barron to play football, Trump stated, "very tough question…If he wanted to? Yes. Would I steer him that way? No." President Trump's comments bring back the discussion of player safety in football, specifically in terms of concussions and Chronic Traumatic Encephalopathy (CTE).
CTE is a disease of the brain found in people with a repetitive history of brain trauma. Football players are at a large risk of acquiring CTE.
Like Trump, many parents are steering their kids away from playing one of the most popular sports in the United States. Football players on the University of Wisconsin-La Crosse campus are especially aware of the risk they are taking when stepping onto the field.
Brad Tobin, a UWL defensive back, can attest to the severity of concussions. Tobin experienced a concussion while playing high school football. Detailing the aftermath of the significant injury, he stated, "The biggest symptom was my sensitivity to bright light. Other than that, I just remember right after I got the concussion, I kind of like woke up and didn't know where I was."
Tobin also described one of his teammates who got knocked out in a game, "One of my teammates in high school actually got knocked out unconscious. That was probably the most impactful [concussion] that stuck with me." He added that while he doesn't like to think about concussions, it is something that comes to his mind every now and then.
Unlike what Trump stated this week, Tobin's parents are focused on the happiness of him and not on the dangerous aspects of the sport. Tobin said, "My parents really just want me to do what I love, and I think they are more concerned about me being happy and having fun than a concussion, I guess."
Concussions have been an increasing issue in the game of football. Head officials have been trying for years to figure something out to prevent the amount of concussions.
First and foremost, new helmets have been developed and tested to try to protect the players. According to the National Football League (NFL), 74 percent of players used advanced helmets this past season, an increase from the 41 percent of players who used them in the 2017-2018 season.
In 2018, the NFL teamed up with the National Football League Players Association to ban the use of 10 helmets that were least effective in preventing concussions. New NFL rules have also been put into place such as the "helmet rule" and a reimagined kickoff. The "helmet rule" prohibits the lowering of helmets to initiate contact and carries a 15-yard penalty and a possible fine or even an ejection. The new kickoff rule eliminated running kicks for kickoff coverage teams.
These actions resulted in a 24 percent decrease in concussions from the previous NFL season. With 214 total concussions throughout preseason and regular season action, there is hope the problem of concussions and CTE is slowly fading away.
The increase in player safety awareness and decrease in concussions has also transpired into all levels of football.
"From my freshman year of high school to my senior year, the helmets had gotten much, much better. They just had more padding inside and they fit much better," Tobin stated.
Describing the change in tackling, he said, "Especially in college here, the coaches teach us to, instead of tackling and bringing our head in front of our runner, we tackle and bring our head behind the runner instead. It was a pretty easy transition."
Tobin agreed that all the rule changes and equipment changes have made the game a lot safer, adding that "it could benefit my safety as well."
While there has been improvement in football player safety, it is an issue across all sports. Braden Schubring, a UWL freshman who played lacrosse for six years and coached his local youth team for two years, dreadfully remembers his experience of a concussion. He recalled, "The main symptoms lasted about three days. I experienced difficulty looking at screens on my phone. I couldn't really focus in class and I couldn't focus that well in practice."
Some new rules set in place to decrease concussion rates in lacrosse include no contact to the helmet whether it be stick or shoulder and no cross checking above your shoulder. However, when talking about if he experienced any major changes while playing lacrosse during the past six years, Schubring said dejectedly, "They didn't do much for concussions."
Concussions aren't just a problem in football; they are a problem across all sports. For more statistics related to concussion cases in football and other sports, along with ways to prevent them, visit brainline.org/article/concussion-and-sports.