UWL wrestling team staying focused after WIAC Championship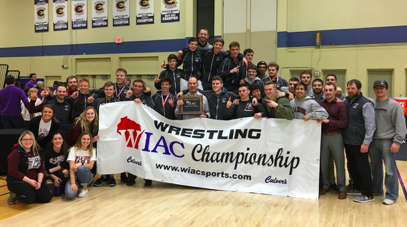 Trevor Kliebenstein, Sports Reporter
February 20, 2019
Hang on for a minute...we're trying to find some more stories you might like.
The University of Wisconsin-La Crosse wrestling team won their third consecutive Wisconsin Intercollegiate Athletic Conference (WIAC) Championship Feb. 8 at the University of Wisconsin-Eau Claire. The Eagles won convincingly, finishing with a total of 159 points, which was 32 points ahead of second-place finisher, University of Wisconsin-Whitewater.
Earlier this year, the Eagles crawled away with a 22-21 comeback victory against a nationally ranked UW-Whitewater squad, so a 32-point victory in the WIAC Championships may be a sign that the Eagles are starting to peak at the right time.
"We love the rivalry against Whitewater, so it always feels good to end up placing higher," said Eagle wrestler Grant Zamin. Zamin finished first place in his weight class (159) on Feb. 8. Prior to that weekend, the rivalry between the Eagles and Warhawks was stuck at 17-17. With the Eagles' victory, it puts them ahead of UW-Whitewater and makes them the all-time winning WIAC team.
Eagles Head Coach Dave Malecek, who's led the team for 13 years, attributes his consistent success to the players. He said, "The team has really bought into our training process. I think that it's a group of young men that have worked really hard to accomplish their goals."
"I don't think a lot of people understand how hard these guys work. They're going three times a day … They're going to class. They are involved on campus," added Malecek. He also explained that his team has to watch what they eat and drink every day just so they can stay within their respective weight class throughout the entirety of the season.
Malecek said, "You put all that into place, plus we're in one of the toughest conferences in the United States. We wrestled one of the top five toughest schedules in the United States. These guys have shown that their hard work and determination, and really that grit, has really helped them become very successful."
Zamin attributed his team's success this year to the coaching staff, team leaders and team's overall commitment towards being the best team they can be. He said, "Our coaches put in so much time and effort into our guys and myself. The team leaders have helped hold people accountable to their goals and keep the morale high. And the guys themselves have done an excellent job of trusting the process and just buying into our program."
Malecek added that the team's culture has been a key aspect in their success these last couple of years. He said, "It starts with a guy like Grant Zamin. With his energy, that kind of spreads to everybody else. His positive attitude and his work ethic, and our work ethic of our team is probably one of the better ones that I've had in a long time."
Zamin's work ethic can be credited to one word Malecek shared with him freshman year: consistency. He said, "I just try to be consistent with my routine-my diet, my sleep, my extra drills, my studying. Also, I am a firm believer in, as my early morning workout crew calls it, 'beating the sun.' What I mean is starting your day with something as simple as waking up early and being time efficient. For me, this usually means wrestle, watch film, read mindset books or yoga."
Zamin ranks 8th nationally in his weight class and has improved tremendously during the past year. Last year at this time, his goal was just to qualify for nationals. This year, he's looking to come out on top.
"This year it's different because, though I want to qualify, that's not my only goal. My goal and plan this week is to win regionals and take out the returning national champion," said Zamin.
Both Malecek and Zamin speak very highly about the UWL wrestling players from top to bottom.
"Our team talent is high, we set high expectations for ourselves and we hold each other accountable. Wrestling around so much talent makes you a tougher, better wrestler," said Zamin.
"The other ranked guys, Sawyer Massie, Josh Stenger and Konrad Ernst, are all good friends of mine, but I find it astonishing that a lot of other guys on our team haven't broke the top ten rankings," said Zamin.
Malecek stated, "Josh Stenger has come a long way since last year … Grant Zamin has been a team leader all year with his energy and work ethic and he's wrestling very well right now. He's one of the better guys in the United States and most humble guy you're going to meet. Jackson Schoen's starting to wrestle a little better … Sawyer Massie's work ethic and attitude is going to take him a long way in life, not just wrestling … Konrad Ernst; it's always nice having a junior. He's undefeated and wrestling well."
Although the team is happy about winning the WIAC, they have much bigger goals in mind as they approach the final stretch of the season.
"I think these guys have yet to wrestle the best and we hope to peak. Our expectations are to peak at regionals and peak again at the NCAA Championships," stated Malecek.
Although the Eagles can bring only ten players to regionals, Malecek would like to get as many of those players as possible into the NCAA Championships. His ultimate goal is to get multiple Eagle wrestlers into the top four at the NCAA Championships. Placing inside the top four would ensure a spot on the podium.
In order to achieve these goals, the Eagles are focused on improving and recovering this week in advance of regionals on Feb. 22 in Eau Claire.
Zamin said, "My focus is to keep getting better a little bit more each training session, keep adding to my arsenal and to fix small mistakes. Other than that, just recover and be fresh for regionals."
"Be great," Malecek stated. This has been the team's mindset throughout the season and has helped them succeed in practices and games.
Individually, Zamin reminds himself to have fun before every match, citing that he sometimes gets so caught up in trying not to lose. He added, "I also remind myself that I am the best division three 157 pounder in the nation."
Zamin and the UWL wrestling team compete next at the NCAA Division Three Upper Midwest Regional in Eau Claire. The regional will last two days and will occur Feb. 22-23.