Student-Athletes of the Week: Sam Weyker and Taulvish McCray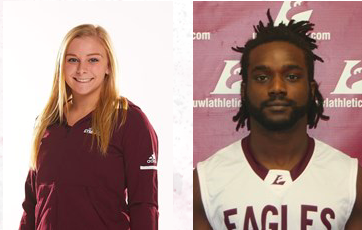 Trevor Kliebenstein, Sports Reporter
February 23, 2019
On Feb. 19, University of Wisconsin-La Crosse Eagles sophomore gymnast Sam Weyker and senior basketball guard Taulvish McCray were announced as the Student-Athletes of the Week.
Sam Weyker
In UWL's dual matchup at Winona State University on Feb. 15, Weyker won the vault title (9.500) and tied for first on the floor exercise (9.600) with her teammate Ally Blixt. The Kenosha native scored her second-highest vault of the season while tying her season-high score on the floor exercise. Weyker helped the Eagles secure a 189.000 to 183.150 dual victory.
Weyker had one word to describe how she felt winning both the vault and floor exercise last Friday: unexpected. She said, "We don't really look at scores until they are announced, so it was really fun hearing that I won vault and then tied with my teammate on the floor."
Weyker never skipped a beat during her transition from high school to college gymnastics. In 2017, she won the Division One State Championship while competing for Kenosha Bradford. Last year at the National Collegiate Gymnastics Association Individual Championships, Weyker won the national championship in beam (9.825) and finished 13th on the floor exercise (9.725).
Weyker said that she found so much success freshman year because of the team atmosphere she's experienced on the Eagles team. She stated, "I never had that [team atmosphere] before coming into college. It just really helps having all the support of the team with you and next to you. It just makes the competitions a lot more relaxing."
UWL Head Coach Kasey Crawford can be credited to her consistent success the past two years. "She is on us about mental health and she really pushes us to relax," said Weyker. "It's a lot of fun. She brings fun to practice … I think that really helps."
Weyker also attributed her parents and friends to her success as a gymnast these past couple of years.  She said, "[My parents] are at every competition. They really support me."
She added that she's made so many friends on the team, making the atmosphere more comfortable and "real" when performing her events.
"I'm hoping that we can win nationals as a team this year. We have a really good chance," said Weyker regarding her goals for the rest of the season. She also added that she would love to get another individual national championship but emphasized that she'd much rather enjoy a team national championship.
UWL ranks fourth nationally in NCAA Division III, so a national championship may be within reach for the team.
Not only is Weyker enjoying her successes in the gymnasium, but she's also enjoying her studies in the business program at UWL.
"Coach Kasey makes it clear that school comes first," stated Weyker, who majors in marketing.
On how she balances her academic and athletic life, she said, "It's actually not as hard as people would think as long as you just prioritize your time."
Outside of gymnastics, Weyker enjoys hanging out with friends and watching reality television shows with her teammates.
She noted her hidden talent is making balloon animals. "It's kind of a fun fact, but I wouldn't say it's a hobby," Weyker said with a smirk.
Her favorite place to eat in La Crosse is Howie's and the Old Crow. She also added, "When it's warm out I really like to go to Pettibone to just swim and hang out. I also like to walk downtown."
The Eagles will conclude regular season action at Gustavus Adolphus College on March 1 at 6:30 p.m. in St. Peter, Minnesota. The Wisconsin Intercollegiate Athletic Conference (WIAC) Championship will begin Saturday, March 9, at 2 p.m. in Menomonie.
Taulvish McCray
During the Eagle's two basketball victories against the University of Wisconsin-Oshkosh on Feb. 13 and the University of Wisconsin-Stout on Feb. 16, McCray averaged 9.5 points, 2 assists and 1.5 steals. He also added a couple crucial plays late game that helped UWL secure both victories.
With a time of 2 minutes and 13 seconds remaining against UW-Stout, McCray nailed a three-point field goal, helping the Eagles pull away from the UW-Stout Blue Devils. Against third-ranked UW-Oshkosh on Senior Night, McCray had a key assist with 44 seconds left to cut UWL's deficit to one point.
"Beating Oshkosh on Wednesday for our senior night was a feeling I will never forget," said McCray. "Not only were they the number three team in the country, but this was a team that had beaten us the previous four times we met, including all three times we played last year. So, to finally get them back and on such a special night for our seniors and team, in general, was a great feeling to experience."
The win against the UW-Oshkosh Titans broke a three-game losing streak for UWL.
"It was a tough stretch of losses that we had going into the game against Oshkosh," McCray admitted. He noted the team's hard work in practice was key in the Eagles knocking off the Titans, who were previously undefeated in conference play.
McCray, a leader on the Eagles team as a senior, explained that he has always led by example, but as he grew older, he learned how to lead vocally.
He said, "I've gotten better at leading vocally by using my voice on the court, in huddles and off the court as well. I've learned that it's not all about leading by example but by also showing how much you truly care about your teammates and their well-being along with how they do on the court."
McCray realizes that his time as a UWL basketball player is nearing an end. He said, "I would just love for Eagles fans to remember how much I put into this game and into this program. I want them to know all of the hard work, countless hours, extra time, everything that I did to make sure I could be the best that I can be, so our program succeeds."
McCray is an example of how a student-athlete can develop from freshman to senior year. As a freshman, he got cut from the team, but he didn't give up. Three years ago, McCray averaged 0.5 points per game. This year he is averaging 8 points per game and creating havoc for opposing guards with his defense.
"My goals at this point are to win the conference tournament championship, get to the NCAA tournament and get a national championship," stated McCray. While the Eagles fell short to the University of Wisconsin-Platteville on Feb. 21 in the WIAC semifinals 61-51, there is still hope that UWL can grab an at large bid into the NCAA Tournament.
As a senior, McCray knows all about balancing school work and basketball. He explained, "Time management is the biggest factor in balancing school with basketball."
McCray is majoring in exercise and sports science with an emphasis in fitness and minoring in nutrition. His goals after he graduates are to complete his internship and find a job in the field of exercise and sports science. However, he would also jump at the opportunity to play professional basketball if the opportunity is available.
Besides basketball, McCray enjoys hanging out with his friends, playing other sports like football, listening to music and watching shows or movies. His favorite activity in La Crosse is going to the bluffs, as he loves the views. As far as his favorite place to eat, he said, "Howie's. Barbeque Bacon Cheddar Chicken Philly every time."
The 64-team field for the NCAA Division III Championships will be announced Monday, Feb. 25 at 11:30 a.m. Until then, McCray and the UWL basketball team will be biting their nails hoping they receive an at large bid into the tournament.