Hate has no home here: La Crosse's journey to inclusivity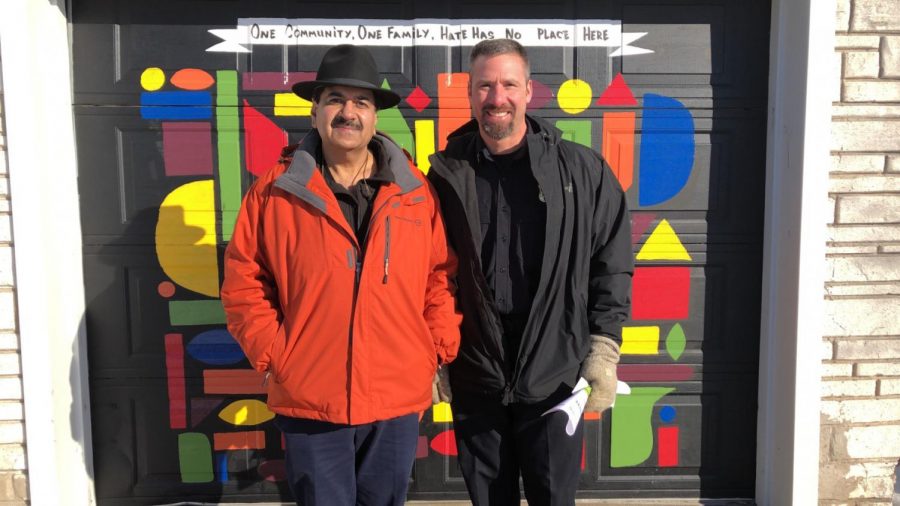 Marian Haile, Diversity, Social Justice, and Inclusion Reporter
February 23, 2019
The La Crosse community gathered and rallied on Feb.15 in response to an Islamophobic hate crime that occurred at a local Muslim owned business. The overall message was that this city is 'one community, one family and hate has no business here.' The act occurred exactly one week before the rally, with the words 'Sand [N-Word] Mike' spray painted on the garage door of the building, owned by Mian "Mike" Ahmad. 
The rally took place where the incident occurred—in front of Ahmad's garage—in which there was an enormous amount of people that came in support of the business owner, his family, and the Muslim community. Ahmad made note of this high turnout in relation to the hate crime at the rally, "One cowardly act committed by a person in the middle of the night is responded by hundreds of brave people in the daylight."  
Amongst these brave people was Wale Elegbede, the main organizer of the event as well as a member of the La Crosse Interfaith Shoulder to Shoulder Network (LISSN) –a group created to empower those of all faiths (Muslims, Christians, Buddhists, Jews, etc.) to end Islamophobia, which is the general prejudice or dislike of Islam or Muslims when looking at politics and terrorism. With the help of LISSN, and as a member himself, Elegbede helped spread the word of what happened to Ahmad through a Facebook post the same day the hate crime occurred, which has now garnered 811 shares on the social media site. In addition to this, LISSN launched a Go Fund Me Page that had a goal of one thousand dollars for Ahmad and his business. The La Crosse community has already raised double the price target.  
The rally began at 9a.m. with 10 speakers offering words of solidarity and unity to the community, with signs that read 'welcome' and 'all are welcome here.' La Crosse Mayor Tim Kabat, Wale Elegbede, and Mian "Mike" Ahmad were just a few of the people that spoke. Alongside words of camaraderie and peace, people also spoke of solutions and exactly why this incident happened. Assistant Chief Abraham of the La Crosse Police Department said that this crime occurred because of "ignorance and immaturity," and that "the La Crosse Police Department trains all our staff in 'unconscious bias's' recognition" and has given "training to other groups in the community in an effort to help people understand and overcome those bias."  
In regards to the individual that committed this offense, Assistant Chief Abraham said that "We have received some tips which we are following up on and we feel that we have good potential to solve this crime." 
"I am very thankful to the city of La Crosse administration, to the civil society organizations, and to the community of La Crosse for standing with me and my family," said Mian "Mike" Ahmed. Ahmed's business—which was once vandalized with hateful graffiti—is now painted over with vibrant colors and the city's strong message of 'one community, one family, hate has no business here' by La Crosse artists.