UWL women's swimming and diving wins WIAC Team Championship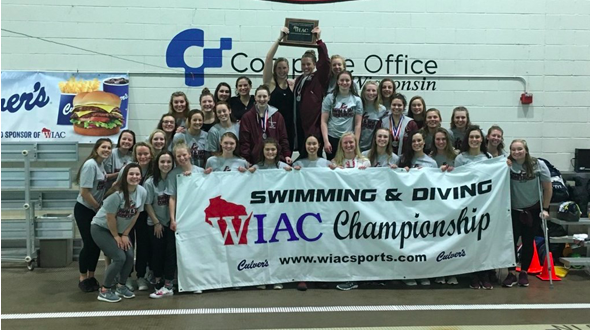 Trevor Kliebenstein, Sports Reporter
February 25, 2019
Hang on for a minute...we're trying to find some more stories you might like.
The University of Wisconsin-La Crosse women's swimming and diving team captured their eighth consecutive Wisconsin Intercollegiate Athletic Championship (WIAC) team championship on Feb. 16 In Brown Deer, Wisconsin. The Eagles finished with 835.0 points. University of Wisconsin-Eau Claire and University of Wisconsin-Whitewater finished second and third respectively.  
Five individual titles were won for the Eagles at the championship event. On the final day of action, sophomore Lilly Larson won the 200-yard backstroke (2:07.68), junior Maria Vaudreuil won the 200-yard breaststroke (2:21.44) and sophomore Elizabeth Konkel took the one-meter diving title with 409.05 points. Both Larson and Vaudreuil won their second straight title in their respective event. 
Sophomore Ellie Szczupakiewicz captured the 100-yard butterfly title (57.66) on the second day of action while sophomore Sydney Vian won the three-meter title on the first day with a score of 405.60. 
UWL swimmers and divers had phenomenal results from top to bottom at the WIAC championships. Vian also took third place in the one-meter diving event with 396.70 points. Vian has shown success all year as she captured the one-meter diving title in both her matchups against University of Wisconsin-Whitewater and University of Wisconsin-Stevens Point. 
Vian stated, "The key to my success this year has been my coaches, Barry [Schockmeil] and Kayley [Alioto]. Barry knows so much about diving that my diving technique has changed so radically since I started learning from him … Coach Kayley is always challenging me to do more than I ever thought I could. Whether she's asking me to throw crazy new dives or helping me through the rough practices, she's always keeping me going." 
Vian added that taking third place in the one-meter diving event was a tremendous feeling because the Eagles captured the top three spots for the event. "I got up on that podium with my teammates and I was so proud to see so much maroon on the podium," said Vian. 
One of Vian's teammates that has shown flashes of greatness this year is freshman Amanda Wciorka. While Wciorka's season is over since she didn't qualify for nationals, she showed lots of promise as a freshman swimming for the Eagles.  
Wciorka finished fifth in the 100-yard freestyle at the WIAC Championships. Earlier this year, she captured the 100-yard freestyle title against UW-Stevens Point with a time of 55.31 seconds. She's also won the 200-yard freestyle relay twice this year with teammates Maddie Volk, Aubrey Lonergan and Jamie Kloehn. Her most recent relay win was on Feb. 14, the first day of the WIAC Championships. 
Not only was Volk a teammate of Wciorka's on the 200-yard freestyle, but Volk was also the team captain this year for the Eagles along with Sammy Seymour. "I don't think I could've picked better leaders for my first season," said Wciorka. "They made me and all the freshman feel so welcome and were great role models in and out of the pool." 
Vian also had high praise for her team captains, specifically Seymour. She said, "Seymour was one that really stood out to me as motivating and supportive. She gave a really wonderful speech to the whole team about how proud she was of us for working so hard and it just showed how great it was to be included on this team." 
Vian and the Eagles have big goals heading into the end of the season. On March 1 and 2, the National Collegiate Athletic Association (NCAA) Division III Diving Regional takes place in Crawfordsville, Indiana.  
While Vian's goal all year was to qualify for Regionals, she has even bigger aspirations now that she's already qualified. She said, "Looking forward to next weekend, my new goal is to really put all my best dives together and show off all the hard work and improvements I have made this season." She also added that she would love to set a personal record at Regionals and end the season on a high note. 
After the Eagles diving squad returns to the pool on March 1 and 2, the NCAA Division III Championships will be held in Greensboro, North Carolina March 20 through March 23.