Black Student Unity's Reflections of Ebony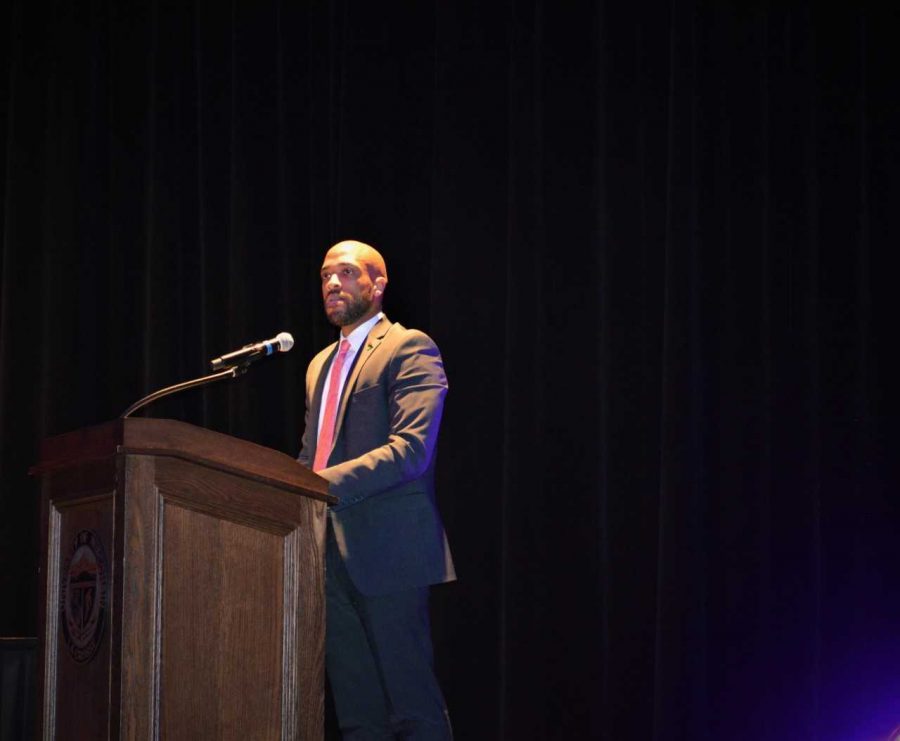 Marian Haile, Diversity, Social Justice, and Inclusion Reporter
March 3, 2019
Black Student Unity (BSU) held its annual Black History Month Event Reflections of Ebony on Saturday, Feb. 23 in The Bluffs room of the Student Union. The yearly celebration focuses on black excellence at the University of Wisconsin – La Crosse, as well as observing both black history and culture as a whole.   
This year, the theme of the sold-out event was "Paving the Way & Leaving a Legacy," where the speaker of the event was the first African-American lieutenant governor elected in Wisconsin history–Lt. Gov. Mandela Barnes. Barnes a Milwaukee native discussed issues that have and still impact black communities within the state of Wisconsin, such as environmental racism, the racial wealth gap, and racial inequity across all institutions throughout the state. Moreover, Barnes made sure to highlight in his speech that to pave the way and leave a legacy was to enact change through policy for black people, and for there to be social justice there first must be environmental justice.  Barnes elaborated on this and said, "No person's health and safety should bear the burden of peoples' ignorance and greed," especially women and children. In addition to this, Barnes said, "one of the priorities of this administration is to ensure that every child in the state has access to safe drinking water and protecting our children from lead exposure."  
Barnes' statements regarding safe drinking water and lead exposure wasn't only an expectation of Wisconsin's administration, but also an allusion to the well-known Flint water crisis in Flint MI, a predominantly African American city—the demographic making up 53.9% of the city, according to the United States Census Bureau—switched its water supply from the Detroit River to the cheaper Flint River. Due to this change and according to the article "Flint Water Crisis: Everything You Need to Know," there was an "inadequate treatment and testing of the water," which "resulted in a series of major water quality and health issues for Flint residents." This problem in the city began in 2014 and affected 40 percent of Flint households, in which health problems like "skin rashes, hair loss, and itchy skin" arose. As a result, this caused many families to drink from bottled waters and still today there is a concern when it comes to the safety of Flint's drinking water.  
According to The Observatory, when it comes to lead poisoning, "Milwaukee's rate is even higher — four times higher than in Flint." In fact, according to the DHS data in 2016, "10.8 percent of Milwaukee children who were tested had elevated levels of lead in their blood." Considering this, Barnes' mentioned the "Healthy Women, Healthy Babies" initiative that was introduced into the Wisconsin administration by Gov. Tony Evers, which focuses on the accessibility of refining preventative care for health exams and cancer screenings; this making a point in emphasizing the racial disparities that go along with the health maintenance and coverage of mother and child.  
Reflections of Ebony began with the singing of the Black National Anthem and also gave recognition to faculty of the Office of Multicultural Student Services (OMSS) and members of BSU alike at the event. Some of these faculty and members included Assistant Director of OMSS Thomas Harris, La Crosse activist and educator Shaundel Spivey, President of BSU Bedston Burrell, and BSU member Sadie Szabelski. The night consisted of the education and origins of soul food, such as collard greens and cornbread, whilst eating the historical cuisine where students, students' families, and members of the La Crosse community were in attendance.  
"My family comes to this even after I graduated. They continue to come to Reflections of Ebony," said Shaundel Spivey. "Going to a Predominately White Institution (PWI) is hard, it's frustrating, it's painful. It requires you to be strong…there's some memories you never let go of. With all of that, I also have to say to BSU: continue to keep the family strong. It was BSU on this campus that kept me connected. It was BSU that, when I had moments and I needed to go to a room and vent to somebody, it was BSU that was there for me…keep y'all unit strong, work together, and persevere."