Lacrosse experiences spike in popularity at UWL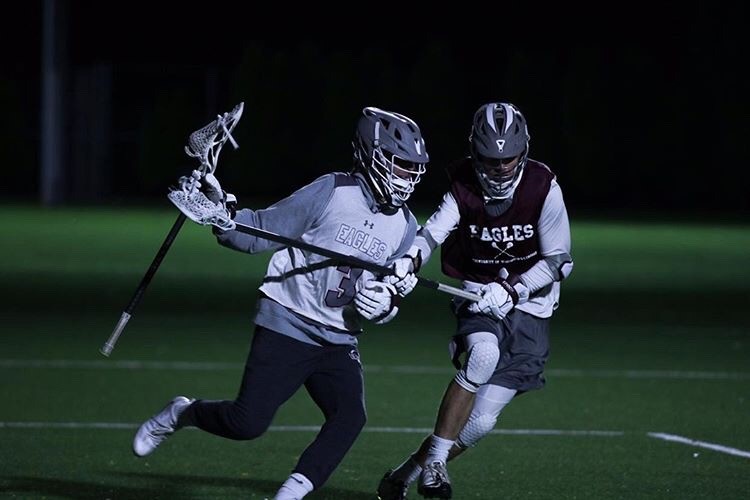 Trevor Kliebenstein, Sports Reporter
March 5, 2019
Peyton Lightfoot was in his sixth-grade gym class when he got introduced to a game he wasn't familiar with. He started playing and caught on quickly; He found it fast-paced and enjoyable. Coincidently, his cousin started playing the game at the same time he did, and they would talk about it all the time together. Since being introduced to this game back in sixth grade, he's been obsessed with it. The game Lightfoot began to fall in love with was lacrosse.  
Lightfoot, University of Wisconsin-La Crosse Sophomore, is the team captain and coach on the club lacrosse team at UWL.  
Lacrosse is considered one of the fastest growing sports in the United States. According to sisuguard.com, the participation rate of lacrosse grew 39.3 percent from 2011-2016. In a study conducted by uslacrosse.org, they found that, as of 2017, a staggering 826,983 play the fast-paced sport in the U.S. Just ten years ago, only 480,627 U.S. athletes played Lacrosse. 
Lightfoot said, "During my Freshman year, I believe I was one of five freshmen to join the [club lacrosse] team. Throughout that year we struggled to field a full team for practice and have enough guys for games to make proper substitutions." This year, the UWL club team boosts 30 members with a decent number of them being freshman. 
"This not only helps us get quality reps at practice, but also creates a competitive nature in practice…I can see the growth increasing as we go into next school year, which will only help push our club forward," said Lightfoot. 
Lightfoot, along with the other 800,000 plus in the U.S. who play lacrosse, has a true passion for the sport. He explained that he struggled with numerous sports as kid, and lacrosse came naturally to him. "Lacrosse is a game that almost any kid with any body type can play," said Lightfoot. 
The biggest reason Lightfoot loves the sport is because of the customizability. He explained, "Each stick has three parts to it; the head, shaft and strings. There are so many options you can choose from within those three parts to find the perfect stick for you," said Lightfoot. "Then once you find that perfect set up, you get to string it to throw the perfect way for you," the captain went on to say. 
He also added that he was always intrigued by the history of the game. Native Americans were the founders of the game, at first calling it 'the medicine game' since it supposedly healed their spirits. 
UWL hasn't only seen the increase in popularity of lacrosse impact its' men's club team. Last year, it was announced that UWL was adding women's lacrosse as its 21st varsity sport. Cassandra Berger was named the head coach, and its inaugural season is slated to begin in 2019.  
"I am beyond excited," Berger said when discussing how she feels being the first head coach of the women's lacrosse team at UWL. "Having the opportunity to shape the culture of a collegiate-level program and begin making history at UWL is very exciting to me and I can't wait until we can actually start playing games next year," Berger stated.  
Berger played Division 3 lacrosse at the University of Dubuque for four years and has seen the increase of popularity of the sport impact her in three ways.  
First off, when she began playing for the University of Dubuque, she had to constantly travel countless hours to other universities to simply play a road game. As her four-year career progressed, she explained that it became easier to schedule games closer to Dubuque since more colleges were adding the sport around their area. 
Secondly, she said recruiting is much easier every year. "[This is] partially due to the increase in high schools throughout the Midwest that have lacrosse teams," Berger stated. Finally, she said the average joe who doesn't know much about sports is starting to know how lacrosse works, since it's becoming more and more popular nationwide. 
Like Lightfoot, Berger loves that lacrosse doesn't require a certain body type. She said, "I'm five foot four inches tall, so I obviously never would have made it to the WNBA. But with lacrosse, height doesn't necessarily matter. It's more about your speed, technique on the field and stick skills." 
Berger also explained that she loves the team aspect of the sport as well as the fact that it combines numerous other sports such as basketball, hockey and soccer. 
If anyone at UWL is interested in joining the men's club lacrosse team or the women's varsity team, it's simple and easy to join.  
The best way to join the men's club team is to message their Instagram account @uwlmenslax or by emailing Lightfoot at [email protected]. "We don't require any experience to join the team. All we ask of new players is for hard work and the drive to get better," said Lightfoot. 
The team practices twice a week throughout the school year, excluding November through January. Six to eight regular season games are played followed by championship weekend in April. The team travels to schools relatively nearby such as The University of Wisconsin-Stout and The University of Wisconsin-Eau Claire.  
For those interested in joining the newly added women's team at UWL, the first step is to contact Berger at [email protected]. Berger will also be holding a fall ball tryout session this fall and those who are eligible to play are welcome to tryout. 
For more information on both teams, visit Men's Club team and Women's Varsity Team.