#ElectHer at UWL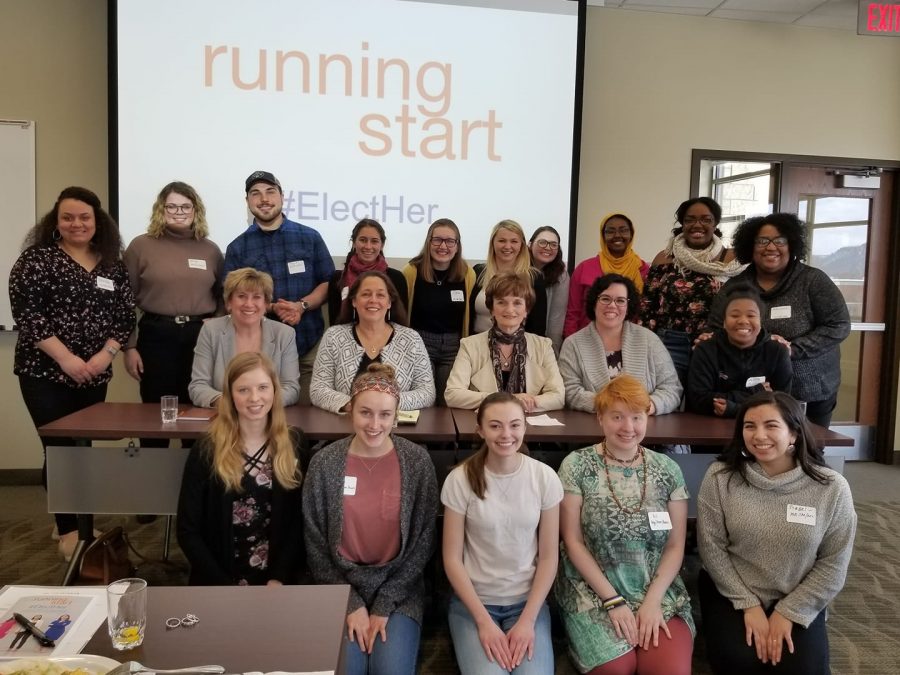 The University of Wisconsin-La Crosse helped host an Elect Her session in partnership with the organization Running Start on Saturday, Mar. 2. It is a five-hour long training for college and high school women that encourages participants to run for student government as well as public office.  
The program began with UWL students and Elect Her Coordinators Katheryn Draper and Jack Lawlis welcoming partakers, and the session being facilitated by Amy Budner Smith who is an advisor for Running Start. When asked how the program was brought to UWL Draper a senior said "Last May, I went to a conference in D.C. through American Association University of Women (AAUW) and Running Start did a presentation at one of the programs. It really sparked my interest because I thought that this was something UWL could definitely value and use, so I brought it back and talked to Larry Ringgenberg about it and he was on board and very supportive. Jack and I have been working the last semester and a half on bringing it together and coordinating everything with them in D.C."  
The training consisted of a few exercises throughout the program from an Elect Her Workbook. These exercises helped participants establish and share with the group an issue they cared about, the network of people that would be able to support them on this issue, a thirty second elevator speech, and a campaign simulation. There was also a presentation done by UWL student association Vice Pres. Haley Jurecki and a leader panel of four local women elected officials at the session.  
Jurecki's presentation focused on her experiences and the advice she had when it came to serve as Vice Pres. at UWL. She also discussed the difference of expectations between men and women in the student government environment, "I think, as a woman, you have to try a lot harder. You're doing twice the amount of work to get the same result as a man, but I think the more that we run, as woman, now, and the more we prepare ourselves, the more that those that follow us and the younger generations will consider that the norm." 
Echoing a similar sentiment of women working hard and paving the way, panelist Dr. Laurie Cooper Stoll a school district of La Crosse board of education member and UWL sociology professor—said, "It's about representation. It's about perspective. Data shows women get things done." The Huffington Post reported that, up until 2015, "the average female senator submitted 96.31 bills, while the average male senator only submitted 70.72." As far as representation goes, history was made when 127 women were elected to Congress at the end of last year, according to NPR, with the "first Native American women, Muslim women and youngest female member ever."    
Other panelists spoke on the double standards and microaggressions they experienced as elected officials in La Crosse because of their gender identity. Rep. Jill Billings spoke to the sexist language she has come by as a state legislature. Monica Kruse the first vice chair of the La Crosse county board mentioned the progress and statistics of women in political institutions in the U.S. since the early 1900s. As a final takeaway and solution to the inequities and disparities when it comes to women in public office WI State Sen. Jennifer Shilling said, "When you're not in the room, they want to talk about you. When you're in the room, they talk to you. You have to be in the room." 
In addition to being in the room, the facilitator of the Elect Her session Amy Budner Smith mentioned networking, "When it comes to networking, there are two things: the first, you have to become engaged. You have to build sincere and authentic relationships. Second, you just have to practice and put yourself out there." 
 For more information on #ElectHer, visit runningstart.org.