Student-Athlete of the Week: Caitlyn Hughes and Seth Holden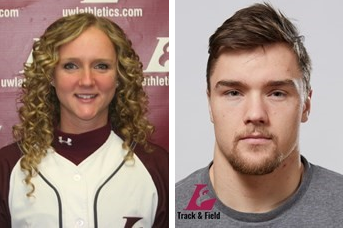 Trevor Kliebenstein, Sports Reporter
March 17, 2019
On March 12, University of Wisconsin-La Crosse Eagles Senior softball pitcher Caitlyn Hughes and sophomore track and field standout Seth Holden were awarded Student-Athlete of the Week. 
Caitlyn Hughes 
In the Eagles softball two wins this past weekend, Hughes recorded a 1.27 earned run average in 11 innings pitched allowing only two earned runs. On March 8, the senior allowed six hits, one run, three walks and three strikeouts in her seven innings pitched. She followed this impressive outing with a four-inning appearance on March 10 in a 14-1 win over Loras College (Iowa). She allowed only one run with one walk and four strikeouts against Loras. 
The Eagles scored 20 runs in the two victories, improving their record to 5-3 on the year. Hughes was ecstatic to get some momentum going for the Eagles following these two key victories. She said, "I feel really excited for what's to come with our season and it feels good to get team victories. Our defense has been working together really well and we have been hitting the ball to score runs which makes my job a lot easier." 
Hughes realizes her career as an Eagle is ending in the next couple of months, saying, "I will play every game as if it could be my last and embrace all the memories."  
She's also looking forward to reaching her goals in her final season as a pitcher for UWL. She stated that her goals are to work hard and improve so that she can help her team become the best team possible. "I also just want to have fun, being that it's my last year," added the senior.  
Two years ago, Hughes was a member of the All-Wisconsin Intercollegiate Athletic Conference (WIAC) First Team. She was also the WIAC pitcher of the year and finished with a 1.90 earned run average. Last year, she was on the WIAC First Team and led the Eagles in strikeout with 67.  
"I owe everything to my team, coaches, and family for always supporting me and having my back," stated Hughes.  
Hughes is a sports management major with minors in both business administration and organizational and professional communication. She will be a marketing intern with the Green Bay Booyah's baseball team after graduation.  
Outside of softball, she loves hanging out with her family, friends and her dog. She enjoys spending time outdoors, whether it's hiking the bluffs, running through the marsh, golfing or paddle boarding in the summer.  
Hughes and the Eagles softball team head to Tuscon, Arizona over spring break to play ten games against high quality opponents. Their first two games will be on Saturday, March 16 against Millikin University (Ill.) and Buena Vista University (Iowa). 
Seth Holden 
Holden was awarded three NCAA Division 3 All-America honors at the track and field indoor national championships in Boston March 8-9. He earned these honors for finishing sixth in the 60-meter dash (6.99), seventh in the distance medley relay (10:05.22) and helping the 4*400-meter relay finish fourth place.  
Holden said that earning the All-America honors were one of his proudest moments in his life. "I felt [that] all the hard work put in over the season had paid off and it felt good knowing that I helped contribute to my team's overall score at the national meet," stated Holden. 
The Eagles won their 18th consecutive WIAC indoor championship on Feb. 23 and finished second at the national championship on March 9.  
"It is a privilege to be part of such a prestigious program and it fills me with pride to be able to contribute to its' success," said Holden.  
Holden also received All-Region honors on March 4 for his excellence in the 60-meter dash, 200-meter dash and 4*400-meter relay. He contributes his consistent success this year to the UWL coaching staff, teammates and the hard work put in to the track and weight room. 
Holden's season is not over, however, since he will also be competing for the Eagle's outdoor track and field team. He will be competing in the 100-meter relay, 200-meter relay, 4*100-meter relay and 4*400-meter relay. He said, "My goals are to help the 4*400 win nationals and to help contribute to winning nationals as a team." 
Holden is majoring in biology and has stayed on top of his academic studies with a lot of late-night study sessions. Outside of track and field, he enjoys frisbee golf and weightlifting. He also enjoys hiking the bluffs in La Crosse. 
Holden and the Eagles track and field team begin their outdoor season April 6 at the University of Wisconsin-La Crosse Ashton May Invitational.