Student-Athletes of the Week: Sadie Spahn and Alex Alt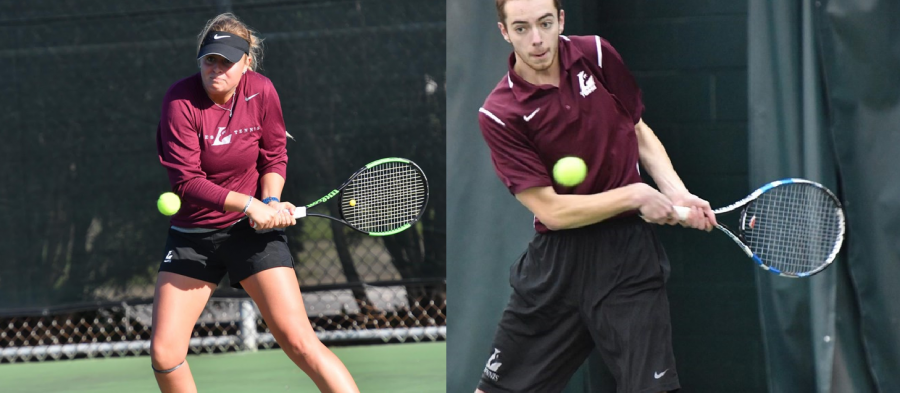 Trevor Kliebenstein, Sports Reporter
April 5, 2019
On April 2, University of Wisconsin-La Crosse Eagles senior tennis player Sadie Spahn and sophomore tennis player Alex Alt were awarded Student-Athlete of the Week.
Sadie Spahn
Spahn got a straight-set victory (6-1, 6-2) over Katelyn Rice of St. Scholastica (Minn) on March 30. With her 5th straight win, her record on the season is now 14-3. Spahn also won in doubles with teammate Kimberly Steinert 8-1 over Elise Hauer and Elizabeth Fink.
Winning has felt great this season for Spahn, and it's felt even better and more rewarding with her new mindset to tennis matches. She said, "For so long I was in the headspace that if I didn't win, it wasn't a good match that was played. This year I've really tried to live in the moment and just appreciate being on the court with my teammates and playing the sport that I love competitively."
At the beginning of the season, Spahn was paired with senior Hayley Clope for doubles matchups. However, after struggles up and down UWL's doubles lineups, head coach Bill Hehli made the decision to switch the lineups and pair Spahn with freshman Kimberly Steiner.
"Kimmy is a very quick, smart, and skillful player, making her a fun partner," Spahn said of Steiner. Their 8-1 victory is doubles play showcased the flashes of the potential they have going into the end of the season. "We work well together. I am excited to see what we will do in the next couple of weeks," said Spahn.
Since Spahn is a senior, she's embraced her role as team captain. She's prioritized her leadership role so that the entire team can build a longstanding relationship both on and off the court. "Just as I looked up to the older girls, I feel the other players look up to me for advice and guidance on and off the court," said Spahn.
Spahn realizes that being a senior comes with its ups and downs. She gets to put all her hard work on the court for one last season, hoping for good results. She also realizes her UWL tennis career is coming to a close. She said she's extremely blessed with having teammates and coaches that will always be there for her even after her collegiate tennis career is over. "I have a great support system through the UWL tennis program," Spahn stated.
Spahn attributes her success as a UWL tennis player over the past four years to her teammates and competitive edge mentality. "I hate losing, meaning I know that I need to continue to work hard to be competitive at the spots I play," said Spahn. She also added that her success can be credited to coach Hehli as well as the extra hour of practice she's put into her game.
Spahn is majoring in Psychology with a minor is At-Risk Child and Youth. She's graduating in December and plans on working full-time at her current job, Chileda Institute. "I am a Direct Support Professional for children with developmental disabilities and severe behavioral issues," said Spahn. She also plans on attending grad school in the future.
Outside of tennis, Spahn enjoys hiking the bluffs in La Crosse, and just spending time outdoors in general. She also added, "The Root Note's crepes are my favorite food here."
Spahn and the UWL Women's tennis team play next April 6 in Cedar Rapids, Iowa. They will matchup against Coe College (Iowa) and St. Norbert College to try to improve on their 12-4 team record.
Alex Alt
Alt was victorious in a matchup March 30 against Rafa Gonzalez of St. Scholastica (Minn.). This was Alt's fourth win in a row. He also won in doubles action with teammate Kyle Wogahn, beating Rafa Gonzalez and Jake Jolowsky.
With the singles victory, Alt improved to 10-6 on the season. "It's been great getting a few wins in a row, and is something that I'm hoping to build on as we head into the end of the year," said Alt.
Alt is satisfied with the results he has had this far into the season, and he is focused on working hard to try to help the success of the team. "Going forward, I just want to contribute wins to the team so we can win these close matches coming up to end the season on a high note," said Alt.
In doubles play, Alt has had a lot of success this season with Wogahn. Since their March 19 matchup against Virginia Wesleyan in Hilton Head Island, South Carolina, the Alt-Wogahn combo has won five straight matchups together. Alt said, "It's been a lot of fun playing with Kyle for the first time this year. He's a great player and we've had some big wins this year."
Alt has spent a lot of time practicing doubles since he's not too familiar with it. "For me, doubles was new to me coming into college so it's something we've spent a lot of time on," said Alt. The hard work has paid off as Alt and Wogahn are 11-3 on the season.
Alt has already had a massive amount of success on the tennis court, given it's only his second season playing for UWL. He credited his hard work in practice and not settling for mediocrity to his success on the court. His mentality of learning and improving also can be attributed to his consistent success as a UWL tennis player.
Alt is majoring in Business Management at UWL. As a student-athlete, he knows all about balancing school work with sports. He said, "I find the best balance by staying on top of my school work and getting that done before practices and matches. It takes a lot of stress out of my life by getting things done early."
Outside of tennis, Alt enjoys absorbing the city of La Crosse in its entirety. From hiking the bluffs, going to the beach or grabbing a bite to eat at Howie's, he really loves everything the city has to offer.
Alt and the UWL men's tennis team compete next April 12 at University of Wisconsin-Eau Claire. They will try to improve on their 9-6 team record.
---
Show Global Grounds cashier this article for a FREE bagel with the purchase of a regular-priced drink! Limit one coupon per customer.